Superstars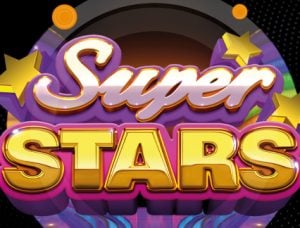 If you're looking for a slot game that combines classic slot gameplay with modern graphics and features, then you should definitely check out Superstars. This game is the perfect example of how a simple concept can be transformed into something truly extraordinary.
Superstars is a 5-reel, 45-fixed-payline slot game developed by NetEnt. The game features a mix of characters and icons from other popular NetEnt slots, making it a great choice for fans of the developer's previous work. But even if you're new to NetEnt games, Superstars is easy to pick up and play thanks to its intuitive interface and user-friendly gameplay.
One of the best things about Superstars is its flexibility when it comes to betting. The minimum bet per spin is just 0.1$, which is great for casual players who want to enjoy the game without risking too much money. On the other hand, high rollers will be pleased to know that the highest bet per spin is an impressive 100$. This means that there's something for everyone when it comes to betting options.
When it comes to winning potential, Superstars is no slouch either. The game has an RTP of 96.08%, which is higher than the industry average. Meanwhile, the volatility is medium-high, which means that you can expect a mix of smaller and larger wins as you play. With all these features combined, Superstars is a game that's definitely worth checking out.
Overall, we would definitely recommend Superstars to anyone who's looking for a fun, easy-to-play slot game that offers plenty of winning potential. So why not give it a try? Who knows, you might just become the next superstar of the slot world.
Minimum Bet and RTP
Are you a high roller or a cautious player? Either way, Superstars has you covered with a minimum bet of just 0.1$ and a maximum bet of 100$ per spin. That's right, you can either penny-pinch your way to the top or go all out and play like a baller!
But here's the kicker – this game has a RTP of 96.08%! That means, statistically speaking, you're more likely to come out on top than in other casino games. And with medium-high volatility, you'll experience some nail-biting moments as you wait for those rare but exhilarating big wins.
So, whether you're looking for a slow burn or a rollercoaster ride, Superstars is the game for you. Just don't forget to take a few deep breaths before you hit that spin button. Your heart might start pounding as the reels begin to turn!
Bonus Game and Special Symbols
Superstars is generous with bonus features. In addition to the usual Wild and Scatter symbols, this game has an exciting Bonus Game that can be activated in two ways. If you land enough Scatter symbols, they transform into random prizes and give you a chance to win even more. It's like a piñata party, but instead of candy, you get cash!
Superstars also has special Dice symbols that offer multipliers and free rolls. You get to roll the dice to move your token on the board, just like in a classic board game. The best thing is that you don't have to argue with your siblings about house rules or who gets to be the banker.
Overall, Superstars offers a lot of bang for your buck when it comes to bonus features. The Scatter and Dice symbols keep things interesting and add a fun new dimension to the game. Whether you're a casual player or a seasoned slots veteran, Superstars is worth checking out for its innovative approach to bonus games.
Experience Fun and Creative Features
Superstars is the perfect game for those who want to enjoy a multitude of exciting features. From an enticing board game that will remind you of Monopoly to a thrilling wheel game that will keep you on the edge of your seat, this game has it all.
The Replay Feature allows you to enjoy certain features even if you didn't activate them during the game. That's right, you can relive the excitement and fun of those missed opportunities. Plus, the Final Game feature is a great way to end things with a bang. Prizes are given out on all squares, ensuring that everyone walks away a winner.
As if these features weren't enough, Superstars also comes with a Buy Feature that allows you to activate the Bonus Game for 150 times your bet. That's right, you can buy your way into the excitement, just like the wealthy characters in Monopoly.
So, what are you waiting for? Come on down and give Superstars a spin. You might just walk away feeling like a superstar yourself!
Are You Ready to Win Big? Here's the Maximum Win Potential in Superstars
Get ready to take your online slot gaming experience to a new level of excitement with Superstars. This game offers players an impressive maximum win potential of up to 4,586 times their current bet, which is sure to have you sweating with anticipation. After all, who wouldn't love to strike it rich with just one spin?
But it's not just about the big bucks – Superstars offers a variety of features to keep you engaged and entertained. Multipliers and special symbols can boost your winnings even further, while the Buy Feature allows you to jump straight into the bonus rounds for a chance to score even bigger payouts. Who needs patience when you can just buy your way to the top?
Ready to give it a spin? The Superstars game is straightforward, easy to navigate, and packed with potential. So, what are you waiting for? Grab your lucky charm, put on your best poker face, and spin to win. With a little bit of luck on your side, you could be cashing in on those maximum win potential in no time.
Overall, Superstars is a highly engaging and exciting online slot game that offers plenty of incentives to keep players spinning those reels. Plus, who doesn't love a chance to win big? So why not give it a try and find out what all the fuss is about? You just might end up becoming the newest superstar in the online gaming world.
The Ultimate Party: Superstars Game Theme and Design
Superstars slot game is all about having a good time with your favourite slot game characters. Gonzo and Finn are here to party with Lady Pig and Brute, making sure that nobody is left alone in a corner. The developers at NetEnt have gone all out to create a game that is visually stunning and fun to play.
The game symbols are incredibly cute and well-designed. The Lady Pig and Brute symbols will put a smile on your face, and the eight-sided star symbol is definitely unique and adds to the overall party theme. You can tell that NetEnt put a lot of effort into creating a game that offers something different and original, while still maintaining the fun and excitement of a classic slot game.
Superstars is a combination of different themes that come together seamlessly. It's like the ultimate party where everyone is invited, and the fun never stops. You can feel the incredible diversity of the game's design with each spin. The special symbols are not only unique but also offer a different gameplay experience. This is the perfect game for players who want to experience something new and different without straying too far from what they already love about classic slot games.
In summary, Superstars is an excellent game with a fun and engaging design, offering a rare combination of themes that will keep you coming back for more. So, grab your dancing shoes and join the ultimate slot game party, and remember to keep Lady Pig and Brute close by; they know how to have a good time!
FAQ
What is the minimum bet for Superstars?
The minimum bet for Superstars is 0.1$.
Can I play Superstars for free?
Yes, you can play Superstars for free by selecting a top-rated online casino and looking for the game in demo mode.
What is the RTP of Superstars?
The RTP of Superstars is 96.08%.
What is the maximum bet for Superstars?
The maximum bet for Superstars is 100$.
What is the bonus feature in Superstars?
The bonus feature in Superstars is the Bonus Game, activated by either Scatters or Dice, which can trigger a Wheel Game, Replay Feature, and Final Game.
What is the maximum win in Superstars?
The maximum win in Superstars is up to 4,586 times your current bet.
What is the volatility of Superstars?
The volatility of Superstars is medium-high.
Can I buy bonuses in Superstars?
Yes, you can activate the Bonus Game feature through the Buy feature option for 150 times your bet.
What we like
Variety of exciting features
Chance to win up to 4,586 times bet
Unique combination of characters and icons
Diverse and original design
What we don't like
Less frequent prizes
More risky gameplay