Lost Relics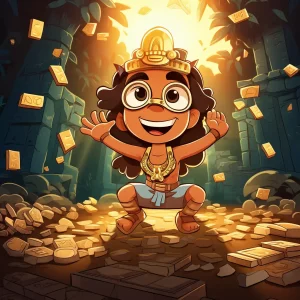 Are you tired of the usual casino slots? Lost Relics has got you covered, with its 5×5 game grid and a unique cluster payout system. It's like playing Tetris, but this time, you actually get rewarded for matching at least six identical symbols appearing continuously in any direction. You can even get a whopping 25 symbols in a cluster! How's that for a challenge?
As if that wasn't enough, Lost Relics is packed with so many special features and symbols, you'll feel like you just entered a treasure hunt. With mystery symbols, free spins, and coin wins, there's always something to look forward to! Add to that the fact that you can easily land more than one feature at a time, and you'll see why this game is every adventurer's dream come true.
Get Lost in the Gorgeous Graphics of Lost Relics
Not to sound like an art snob, but the graphics in Lost Relics are downright stunning. The level of detail in the illustrations and symbols is impressive, capturing the essence of different historical populations. With a protagonist that looks like they could lead you on an adventure, it's easy to get lost in the mystique of the game's setting.
The overall aesthetic is intricate yet accessible, wrapping players in a world that feels both historical and fantastical. Even with all the action happening on the reels, it's hard not to appreciate the fine details and stunning visuals that make Lost Relics a truly gorgeous game to experience.
Symbol Design: A Historical Touch
Get ready to taste a slice of history with the casino slot game, Lost Relics. The game designers have put in a lot of effort to make the game's symbols look like a piece of valuable history and not like a cheap knockoff from a thrift store. Kudos to the designers' attention to detail and historical accuracy.
The symbols within the game are not your ordinary fruit symbols that have been overused in every other casino game. Lost Relics takes players back to the ancient times, with every symbol representing different cultures and historical periods. It's like a time travel movie you never knew you wanted.
Design-wise, the game's overall aesthetic will transport you to a world of mystery and wonder. It's not just the game's symbols; the whole design fits well with the game's theme, making it a truly immersive experience. You'll want to take a picture just to show your grandma how fancy the game is!
Lost Relics vs. Other Historical Slots: There Can Only Be One Winner!
Are you tired of the same old boring historical-themed slot games? Then it's time to try Lost Relics! Not only does it have a unique cluster payout system, but it also pays attention to the little things. You won't find any generic symbols here!
But don't take my word for it. Let's compare it to other historical slot games! Sure, Gonzo's Quest by NetEnt might be popular, but can it compete with Lost Relics? Nice tries, but Lost Relics is the one true winner.
Experience the Thrills of Lost Relics
Step into the world of Lost Relics, NetEnt's slot game that delivers an exceptional gaming experience with stunning visuals and captivating design. Rumor has it that playing this game will make you feel like Indiana Jones, minus the whip and fedora. The cluster payout system and special features will keep you on the edge of your seat and give you the chance to score big.
If you're looking for something different from the standard 5×3 payline layout, Lost Relics is the perfect game for you. It's like going on a treasure hunt without leaving your couch. With an adventure-filled gaming experience like this, you'll forget that you're not actually sitting in an ancient temple dodging booby traps.
We highly recommend giving Lost Relics a spin. Trust us, your inner explorer will thank you for it. But be warned, it's highly addictive, so make sure you have your snacks and beverages within arm's reach.
FAQ
What is Lost Relics about?
Lost Relics is an online slot game that embodies an archaeologist searching for lost artifacts from different historical periods.
What kind of symbols can be found in Lost Relics?
The symbols found within the game screen can refer to different populations and historical periods, including objects belonging to ancient Greece, Egypt, and pre-Columbian peoples.
What is the gameplay mechanism in Lost Relics?
The game grid is a 5×5 that has the possibility of showing twenty-five symbols for each spin instead of the traditional fifteen. The game awards a win when at least six symbols alike are arranged in a cluster, horizontally or vertically.
Is it difficult to obtain winning combinations in Lost Relics?
Yes, it is difficult to obtain winning combinations in Lost Relics, but it is possible to obtain high wins when they appear.
What should players keep in mind when playing Lost Relics?
Players should keep in mind that the slot is rich in special features and symbols that can make the gameplay extremely varied.
What other slots are similar to Lost Relics?
Other online slots that tackle a similar historical theme include Gonzo's Quest and other titles by different development houses.
What is the frame of Lost Relics?
The frame of the explorer protagonist of Lost Relics surrounds the game grid.
Are the illustrations in Lost Relics of good quality?
Yes, the illustrations chosen for the symbols in Lost Relics demonstrate great care and attention to detail.
What we like
Unique cluster payout system
Excellent visuals and design
Attention to detail in symbol design
Engaging gameplay mechanics and special features
What we don't like
Not available on all online casino platforms
May take some time to understand cluster payout system