Jumanji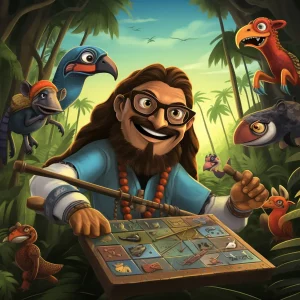 If you're a fan of the classic movie Jumanji, then you're in for a treat! NetEnt has brought the adventure to your screens with their excellent Jumanji slot game. The game is a perfect blend of nostalgia and excitement that's bound to keep you hooked.
The slot game's creators have gone above and beyond to ensure that it perfectly captures the essence of the movie. From the eerie drum beats to the jungle-themed symbols, everything about Jumanji screams adventure. The references and echoes are spot-on, and Jumanji fans will feel right at home.
So why not take a chance and step into the wild and unpredictable world of Jumanji? The spins are worth it, and who knows what surprises may come your way! (Don't worry, no stampedes of rhinos or hungry crocodiles to fear).
Five Reels of Fun in Jumanji Slot Game
Move over, standard slot games! Jumanji's game grid is more complex than my love life! Five reels with varying numbers of symbols placed on each of them – how cool is that? Only the second time in my life I didn't mind seeing a four, because the second and fourth reels show it! Plus, the central reel shows a glorious five symbols which adds up to way more excitement and a total of 19 symbols shown altogether.
Raise the Stakes with Respins, Scatters, and Wilds:
Jumanji is a fantastic adventure-themed slot game that offers plenty of exciting features to keep players entertained. The symbols in the game include a game box as the scatter symbol and 'Wild' as the Wild symbol, that can help players reach big payouts! However, watch out for the climbing plants that block specific symbols and assign Respins.
With 36 winning lines, you can expect an action-packed gameplay that is always varied and entertaining. It's the perfect game for those who enjoy a challenge and want to unleash their inner explorer!
Just make sure you don't get lost in the world of Jumanji – it's full of hidden treasures and wild surprises, so buckle up for an unforgettable adventure!
Jumanji Review: Lions, Crocs and Monkeys – Oh My!
Jumanji online slot game is a wild ride, packed with references to the iconic movie it was named after. But even if you haven't seen the film, you'll still enjoy the vibrant, jungle-themed graphics and soundtrack that transport you into the magical world of Jumanji.
The game grid is contained within the game path, as if you're playing a terrifying game of goosebumps. But don't worry, there are no real-life consequences for rolling the dice in this game! The symbols on the reels are all animals that appear in the movie – from pelicans to crocodiles, rhinos, and lions. And just like in the movie, it's all about survival of the fittest. So, buckle up!
Adding to the fun, there are some playful nods to the movie's most memorable moments – like the monkeys in the kitchen and the plants from the Parrish residence. And it's not just the imagery that pays homage to the movie; even the letters on the playing cards are designed with the same font as the movie's title! The attention to detail is simply amazing.
Get Ready for Some Fun and Exciting Gameplay with Jumanji!
If you're a fan of the movie, Jumanji, then you're going to love this slot game! Just like its movie counterpart, this game offers twists and turns at every turn, keeping players on their toes and never knowing what to expect. If you're tired of the same old boring slot games that offer no excitement, then Jumanji is the perfect choice for you.
The game's music is a more upbeat and lively version of traditional slot game music, bringing a new level of energy to the game. And with its stunning graphics and easy-to-use interface, even beginner players can jump right in and start playing like a pro. Jumanji truly offers an all-around entertaining experience.
So why settle for a mundane slot game when you can have fun and excitement with Jumanji? Give it a try and see for yourself why this game is quickly becoming a fan favorite.
FAQ
What is Jumanji?
Jumanji is an online slot game inspired by the beloved feature film.
What is the game grid like in Jumanji?
The game grid has five reels, but the number of symbols each of them shows varies, creating 19 symbols on the screen.
Can I win real money playing Jumanji?
Yes, you can win real money by playing Jumanji.
What are the special features of Jumanji?
Special features of Jumanji include scatter symbol, wild symbol, and climbing plants that assign respins.
What is the maximum number of winning lines in Jumanji?
The maximum number of winning lines in Jumanji is 36.
Are there any similar slots to Jumanji?
Yes, there are other slots inspired by popular movies, such as Dirty Dancing and Top Gun.
Is the game music in Jumanji like the movie music?
The music in Jumanji is a more rhythmic and musical version of the percussion used in the film.
Is Jumanji an entertaining game?
Yes, Jumanji is an entertaining game with a gameplay that is always varied and engaging.
What we like
Unique game grid with 5 reels
Special features: Respins, scatters, Wilds
Nods to the movie theme in the design
Fun and exciting gameplay
What we don't like