Jackpot 6000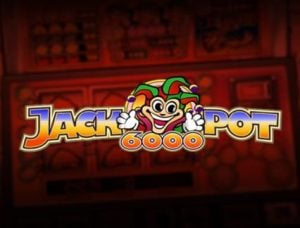 Get ready to spin the reels with Jackpot 6000 by NetEnt, a classic slot game that will take you back to the good ol' days of gambling. This game features 5 reels and 10 paylines, making it easy to understand and play. The intuitive controls make it simple for even the most novice of players.
Before spinning the reels, players must set their bet and then hope to match winning combinations of symbols to take home some seriously big prizes. The thrill of the game lies in the unpredictable wins and the potential to hit it big and make it rain money!
The Supermeter: It's like adding an extra scoop of ice cream on top of your jackpot sundae!
If you're looking to spice up your slot game experience, you'll love the Supermeter function in Jackpot 6000. Activating Supermeter means you're betting the maximum, which can lead to some seriously huge jackpots. Sure, the bets are higher, but as the saying goes, you gotta bet big to win big!
And the potential payouts? They're bananas. If you manage to get 2 jokers on a single payline, you could win anywhere from a respectable 10 coins to a jaw-dropping 6,000 coins.
So if you're feeling lucky and want to up the ante, give the Supermeter a try. It's the perfect way to turn a small win into a life-changing jackpot. Just make sure you're wearing your lucky socks!
Get Rich Quick: How to Win at Jackpot 6000
Jackpot 6000 is a classic slot game with a twist. It features simple symbols including cherries, lemons, and a wild symbol. Make sure you keep your eyes peeled for the wild because it's the key to big rewards! You can win by matching symbols on any of the 10 paylines, but the more symbols you match, the more cash you'll rack up!
Don't let the simplicity of the game fool you. With the right amount of strategy and luck, you could end up taking home the jackpot and be one cherry away from living like a king. So, take a spin on Jackpot 6000 and see where your fortune lies. Happy spinning!
Graphics and Symbols
Prepare yourself to be taken back to a simpler time with Jackpot 6000's minimalistic design. It's like the time you accidentally wore Crocs to a fancy dinner party. The symbols used in the game are about as simple as a kindergartner's drawing, but hey – at least you won't have to call your mom to help you figure out what each symbol means. The game creators didn't go overboard with flashy graphics, but the vintage vibe will make you feel like you're spinning the reels in an old-time-y casino and not just in your pajamas in front of your computer.
Who Needs Flashy Animations Anyway?
If the flashing lights and busy animations of modern slot games leave you feeling dizzy, then Jackpot 6000 might be just what the doctor ordered. This game executes the style of traditional slot machines with ease; offering simple controls and straightforward rules that make it a perfect choice for players of all experience levels.
But don't let its simplicity fool you; this game packs a punch! With impressive payouts and a super fun gamble feature, Jackpot 6000 keeps the excitement going. Its rustic charm and vintage vibes are a refreshing break from the over-energized slot games that flood the market today. So whether you're an experienced gambler looking for something new or a casual player wanting to try their luck, Jackpot 6000 is sure to satisfy your craving for some old-school slot action!
FAQ
What are the key features of Jackpot 6000?
Jackpot 6000 is a simple and dynamic slot game that offers exciting prizes to be won with combinations on 5 reels and 10 paylines. The game has a Supermeter function that is activated by betting the maximum, where you could potentially win a hefty jackpot. You can double your prize by winning regular gameplay.
What are the graphics like on Jackpot 6000?
The graphics for Jackpot 6000 are minimalistic, with a digital recreation of the classic slot machine used in bars and casinos. Simple symbols are used, ranking in order of importance.
Can I win a jackpot on Jackpot 6000?
Yes, you can win a jackpot on Jackpot 6000. If you land 2 jokers on a single line in the Supermeter mode, your jackpot could soar from 10 to 6,000 coins.
What is the Supermeter function on Jackpot 6000?
The Supermeter function on Jackpot 6000 is activated by betting the maximum amount of 20 coins across all 5 paylines. In this mode, you could potentially win a hefty jackpot.
What is the minimum bet on Jackpot 6000?
The minimum bet on Jackpot 6000 is either 0.10 or 0.20 cents depending on the game settings.
What is the doubling potential on Jackpot 6000?
You can double your prize on Jackpot 6000 by winning regular gameplay. Once you generate your first win, you'll have a 50% chance of doubling your prize.
Who is Jackpot 6000 ideal for?
Jackpot 6000 is ideal for those gamers who want to return to the classics of the industry and feel a sense of nostalgia. It's also suitable for those who are new to slot games, as it's simple and straightforward to play.
What is the overall gameplay experience like on Jackpot 6000?
The overall gameplay experience on Jackpot 6000 is fun and simple, with straightforward rules and easy-to-grasp gameplay. It's a refreshing breeze that takes you back in time and offers a sense of tranquility.
What we like
Simple and easy to understand gameplay
Supermeter function for bigger jackpots
Clear and recognizable symbols
Suitable for all players
What we don't like