Jack Hammer 2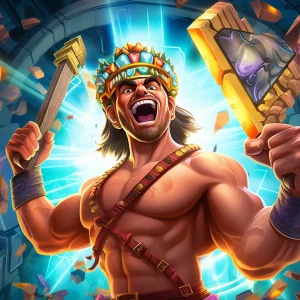 Oh boy, where do we begin with the gameplay of Jack Hammer 2? It's got everything you could want from a slot game – 5 reels, 99 betting lines, and even an innovative Sticky Win function. We're not sure what's stickier – the reels or the fingers of the players unable to stop playing!
But hold on, there's more! Jack Hammer 2 also boasts independent reels and symbols like Wild, Scatter, and free spins. It's like a buffet of slot game features – and we're not talking about the buffet at the casino's all-you-can-eat restaurant.
It's like that one friend who never lets go when they give you a hug – except in this case, it's actually a good thing. This function can lock the reels on a winning combination and leave other reels to spin autonomously, increasing your chances of striking it rich. So, go ahead and spin those reels, and let's hope that Sticky Win doesn't stick too long!
Graphic Design Brings Jack Hammer 2 to Life
Get ready for a visual feast as Jack Hammer 2 features stunning graphics and beautiful sound effects. The game operates flawlessly on both desktop and mobile, so you can enjoy a seamless gaming experience no matter where you are. From the cool microphone symbol to the adorable fish barrels, the game's attention to detail and design will leave you in awe.
As you play, the visuals combine with the music and sound effects to create a truly immersive experience. You'll feel like you're in the middle of a comic book, fighting alongside the one and only detective Jack Hammer himself. And with charming characters like the crab and Don Crabby's bodyguards, you'll find yourself rooting for them as much as you're rooting for yourself.
All in all, the graphic design is nothing short of incredible. You'll be hooked from the moment you start playing and will never want to stop. Trust us, even your boss will understand why you can't seem to put your phone down!
Put a Value on Your Luck
If you feel like putting a price on your luck, Jack Hammer 2 provides you with the chance to bet from $0.01 to $0.50 and choose your betting level from $0.25 up to a heart-stopping $250. It has enough of a range to give anyone the ability to live life on the edge. But don't worry, if you are not a high roller, you still have a decent chance of landing some smaller wins and having some fun!
Symbols and Functions
Let's talk about the explosive Wild symbol first – it serves as a joker to replace all other symbols on active reels, except the Scatter. Speaking of which, the Scatter symbol is an electric eel with the words Free Spins. Get up to 20 free spins with those little guys! During free spins, Random Wild icons come out of nowhere, replacing previous icons and increasing the payout. It's like playing a slot machine and a game of Whac-A-Mole at the same time.
RTP Value: Get More Bang for Your Buck
Are you a high roller who loves to gamble big and win big? Look no further than Jack Hammer 2! With an RTP value of 97.1%, you'll get more bang for your buck compared to other casino slot games. Translation: you'll see a higher return on your investment, with an average of $97.10 returned for every $100 wagered over time.
So why settle for a lesser payout when you can spin the reels of Jack Hammer 2 and increase your chances of winning big? Whether you're a seasoned pro or a new player, Jack Hammer 2 is a potentially lucrative game that will have you coming back for more.
FAQ
Who developed Jack Hammer 2?
The game was developed by NetEnt, a Swedish company that develops slots for online gaming enthusiasts.
What is the game's theme?
The game features a famous detective who tries to rescue the singer Pearl from the ruthless Don Crabby.
How many reels and betting lines does it have?
It features 5 reels and 99 betting lines, in addition to the Sticky Win function.
What is the Sticky Win function?
It allows players to lock reels on a winning combination and leaves other reels to spin autonomously to increase the chance of winning.
What is the RTP of Jack Hammer 2?
The game has an RTP of 97.1%, which is quite high compared to other online slots.
What is the Wild symbol?
The Wild symbol is represented by an explosion and can be used to replace all other symbols, except the Scatter, on active reels.
How many free spins can you get with the Scatter symbol?
You can get up to 20 free spins with 8 Scatter symbols. Five Scatters get you 10 spins, six get you 13, and seven get you 16.
Can you play Jack Hammer 2 on mobile devices?
Yes, the game is available for both computer and mobile versions, allowing you to play with any device.
What we like
Innovative Sticky Win function
Beautiful graphic design
Flexible betting options
High RTP value
What we don't like
Limited maximum bet value
Lack of bonus features