Guns N' Roses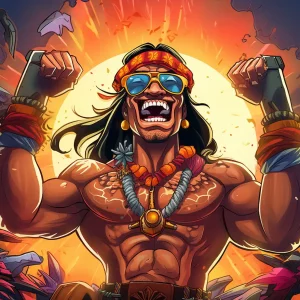 Are you ready to rock n' roll? Guns N' Roses is an electrifying online slot game that will make you want to throw up the devil horns (m/). Featuring a 5-reel, 3-row grid with 20 fixed paylines, this game is inspired by the iconic rock band Guns N' Roses, with every symbol recalling the group's imagery.
But Guns N' Roses is not just about the visuals. The game features classic slot elements like autoplay, variable betting, wild symbols, and bonus games.
If you love rock music, you won't be able to resist the rocking experience that Guns N' Roses has to offer. So put on your leather jacket, crank up the volume, and let's spin those reels!
Gameplay Features
If you thought slot games couldn't get any cooler, try Guns N' Roses. This game will have you headbanging while you spin those reels! With a low volatility and high RTP of 96.98%, players can rock out with frequent wins. Plus, with a wide range of betting levels, even broke rockstars can play. The Autoplay feature makes it easy to keep the party going with up to 1,000 automatic spins – just don't forget to take a bathroom break. Oh, and did we mention the Expanding Wild and Appetite for Destruction Wild features? They're like pyrotechnics for your bankroll. And if that's not enough to make you feel like a rockstar, the Legend Spin feature transforms band members into expanding wilds. Now that's what we call a backstage pass!
Symbol Value
Get ready to rock and roll with Guns N' Roses slot game! In this game, players can score big wins by landing high-value symbols like the legendary Axl Rose, the guitar god Slash, and the mighty Duff. Also up for grabs are the picks of the Use Your Illusion II and Lies albums.
But even the lower-value symbol of cards adorned with roses can bring some sweet cash! They may not be rock stars, but they still add up to some pretty good payouts. The real deal is the vinyl record symbol, which triggers the game's bonus features. You can get your hands on Encore Free Spins, Coin Wins, and the Crowd Pleaser Bonus Game. Now that's music to our ears!
The only downside is that you can't sing along to the tunes while you play. We tried, and it just doesn't work. But if you're looking for a chance to rock out and win big, you can't go wrong with Guns N' Roses slot game!
Bonus Features: Rock Your World and Win Big!
Want to unlock the ultimate Guns N' Roses casino experience? Look for the vinyl record symbol and watch your bonus features come to life! Landing three or more in one spin is your ticket to an epic bonus game. Brace yourself for Encore Free Spins – the band members become expanding wilds and you get ten free spins to rock out! Or choose Coin Wins and get some immediate monetary rewards. Feeling lucky? Take on the Crowd Pleaser Bonus Game, a three-level challenge with free spins and coins waiting at the end.
We're talking about Guns N' Roses, after all! Get a chance to win sky-high earnings with the Appetite for Destruction Wild – a random cross-shaped wildcard that's sure to put a rockstar smile on your face.
Ready to rock and roll? Spin the reels and trust Lady Luck to keep you safe in a mosh pit full of winnings, bonuses, and awesome rock tunes.
Soundtrack and Graphics
Guns N' Roses is not only a treat for your senses but also a rockstar experience. Let's start with the visuals first, the game is an absolute delight to look at. It features a stage fit for a rockstar right in the center, with the band's logo in the background. The symbols featured in the game have the iconic Guns N' Roses imagery, they are sure to give you nostalgia chills!
The game developers have not missed a beat with the sound, as the soundtrack includes five popular hits from the Guns N' Roses band. When you hit the bonus rounds and special wins, you get to watch video clips of their epic concerts, which is super exciting. If you are a rock music fan, this game is a must-play!
FAQ
How many paylines are there in Guns N' Roses?
There are 20 fixed paylines in Guns N' Roses.
What is the minimum bet for this slot game?
The minimum bet per spin is 0.20$.
Are there any special features in Guns N' Roses?
Yes, there are various special features, such as Wilds, bonus rounds, and instant coin wins.
What is the Appetite for Destruction Wild feature?
It is a cross-shaped wildcard that randomly appears and can reward players with high winnings.
What is Autoplay?
Autoplay is a feature that allows players to set between 10 and 1,000 automatic spins.
Is the game available for mobile devices?
Yes, Guns N' Roses is designed to run smoothly on any device.
What is the maximum bet in Guns N' Roses?
The maximum bet is determined by the betting level and can easily be set with the Max Bet button.
What is the theoretical RTP of Guns N' Roses?
The theoretical return to player (RTP) of Guns N' Roses is close to 97%, which is one of the highest percentages in slot games.
What we like
Engaging and immersive gameplay experience
Low volatility with frequent wins
Wide range of betting levels
Expanding Wild and Appetite for Destruction Wild features for big wins
What we don't like
Limited number of bonus features