Grand Spinn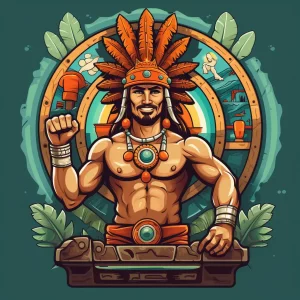 Grand Spinn, the online slot game, takes players back to a simpler time when life was easy, and the games were even easier. The gameplay mechanics are straightforward, with a 3×3 grid and a single payline. It's so simple that even grandma would get her head around it (she's probably already playing it now).
Despite its simplicity, it's got all the features you need to keep you coming back for more. It's like your grandma's homemade apple pie (just a lot less fattening). With only nine symbols displayed on each play, it's easy to keep track of what you need to win. The graphics are great, and you'll appreciate the attention to detail. You won't find this kind of quality in your other slots.
The game includes Wild symbols that act as Jokers, giving you more opportunities to hit a winning combination. Who doesn't love a good joker? And then there are the three Jackpot symbols that can multiply the value of the play when obtained. That's right, even your smaller wins can become something significant if you hit a jackpot symbol. They're like little golden tickets, but instead of a chocolate factory, you get money… or coins, whatever you want to call them.
So if you're looking for a game that's easy to play, has great graphics, and offers exciting chances to win, Grand Spinn is the game for you. It's like a nice walk in the park, but instead of smelling flowers, you're smelling the sweet aroma of online gaming.
Symbols and Design
Grand Spinn is a slot game that takes you back to the classic era of slot machines, complete with nostalgic symbols like oranges, cherries, medlars, and watermelons. It's like stepping into a time machine, only this one doesn't require 1.21 gigawatts of electricity.
Not only are the symbols reminiscent of the traditional slots experience, but the graphics and design of Grand Spinn beautifully combine vintage and modern elements. It's like seeing your childhood crush after 20 years and realizing they've aged gracefully.
These symbols have stood the test of time and are bound to bring a smile to any old-school slot fan's face. Playing the Grand Spinn, you'll feel like James Dean in a leather jacket, slicking back your hair, and smoking a cigarette while waiting for that elusive jackpot.
Get Rich Quicker with Jackpots and Bonuses
Grand Spinn is a slot game that rewards players with three different kinds of Jackpots: Mini, Midi, and Mega- imagine what you could do with a Mega jackpot! That dream vacation or overdue house renovation will finally be attainable! Just remember, it's all fun and games until you get addicted and lose all your winning in an all night gambling binge. We kid! Keep it fun, and gamble responsibly.
All these Jackpots mean that you can significantly multiply the value of the play and create an electrifying atmosphere. The game also includes Wild symbols that act as Jokers, substituting for any other symbol on the reels. It's like playing a game of cards with a friend who always lets you win, except this time, you're winning actual money and not just bragging rights.
If you're intimidated by the prospect of playing a slot game, don't worry! Grand Spinn offers an intuitive and straightforward gameplay, making it easy even for newbies. The inclusion of bonuses and Jackpots makes the game more exciting and engaging, so you won't feel bored even if the wins are few and far between. Heck, it's almost like getting a free ride in a Ferrari- luxurious, smooth, and thrilling!
Comparing Grand Spinn to Similar Games
For those who love traditional slot machines, Grand Spinn may just be the perfect game for you! If you enjoy playing this game, then you may want to check out some other similar titles that you may also enjoy.
First off, there's IGT's Triple Diamond, which is a classic 3-reel slot game just like Grand Spinn. The simple gameplay and nostalgic feel is sure to transport you back to the good ol' days of slot machines.
Another game that's worth mentioning is SG's The Wizard of Oz. Also using the 3×3 grid, this game provides a magical and colorful take on traditional slot machines. Just like Grand Spinn, you can expect excitement and plenty of winning opportunities!
If you're a fan of unique graphics, then RealTime Gaming's Scuba Fishing could be the perfect counterpart to Grand Spinn. This game takes players underwater and offers a different type of aesthetic than the other games mentioned.
Of course, what sets Grand Spinn apart from the competition is its inclusion of Wild symbols and Jackpots. These features make the game more exciting and provide players with more chances to win big!
All in all, if you love traditional slot machine gameplay with a modern twist, Grand Spinn is definitely worth your time. Just like its similar games, it's easy to pick up, but with more features to keep things fresh.
Audience Appeal
Are you a fan of old-school slot machines but also like a bit of bonus fun? Then hold on to your hat because Grand Spinn has got you covered. With its nostalgic graphics and design, this game harks back to the good old days but also manages to keep things fresh and exciting by adding in Wild symbols and Jackpots.
In fact, this game is so engaging and enjoyable that it appeals to a wide range of people. Whether you're a seasoned slots player or a newcomer to the world of online casinos, Grand Spinn offers something for everyone. And let's be real, who doesn't love the thrill of a Jackpot? If you're feeling lucky, give this game a spin and see what fortunes it can bestow upon you.
But don't worry, if you're not much of a gambler, you'll still find Grand Spinn to be an entertaining game that's easy to understand and simple to play. So why not take a trip down memory lane and give this classic-style slot machine a try? It might just become your new favorite game (unless you're more of a video slots kind of person, in which case, we won't judge).
FAQ
What is Grand Spinn?
Grand Spinn is an online video slot game created by NetEnt that combines classic slot machine mechanics with modern graphics.
What are the graphics like in Grand Spinn?
Grand Spinn has a nostalgic atmosphere with symbols like oranges, cherries, medlars, watermelons, and the number 7, among others. The illustrations are in a refreshing, modern style.
How many reels and lines does Grand Spinn have?
Grand Spinn uses a 3×3 grid with only 9 symbols in each play and a single payline.
What bonus functions does Grand Spinn have?
Grand Spinn has Wild symbols that act as Jokers and three different Jackpots (Mini, Midi, Mega) that multiply the value of the play if obtained.
What are some other similar slots to Grand Spinn?
Similar slots with a traditional touch include IGT's Triple Diamond and SG's The Wizard of Oz. For something different, try RealTime Gaming's Scuba Fishing.
Can I win real money playing Grand Spinn?
Yes, like most online slots, Grand Spinn allows players to win real money if they make a deposit and play with real money.
Is Grand Spinn available to play on mobile devices?
Yes, Grand Spinn is available to play on mobile devices including smartphones and tablets.
Is Grand Spinn a high-risk or low-risk slot?
Grand Spinn has a low to medium volatility, meaning it has a moderate risk level where players can expect to win smaller jackpots frequently.
What we like
Traditional gameplay experience
Beautifully illustrated symbols
Inclusion of Wild symbols and Jackpots
Nostalgic graphics and design
What we don't like