Fortune Rangers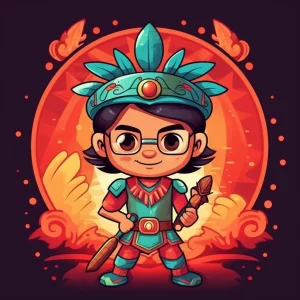 If you're up for a martial arts adventure with a twist of anime vibe, Fortune Rangers is the perfect slot game for you. Developed by NetEnt, this game boasts of 5 reels with a unique mix of 3-3-4-4-5 symbols, making it possible for players to hit a whopping 76 active betting lines.
One of the fascinating features of this game is its Asian-style design that showcases stunning Chinese symbols, anime-style characters, and martial arts as the main theme of the plot. The game's low volatility means frequent, albeit smaller payouts, and a jackpot prize of 800x your total bet if you strike it lucky.
From the innovative design, creative sound effects, and excellent graphics, Fortune Rangers guarantees a complete gaming experience for all players, whether you're an experienced slot gamer or just starting on your journey.
This game has numerous ways to win big, from the Mystery Symbols and Lucky Wilds to Free Spins, all designed to help you boost your chances of getting those elusive winning combinations. So, put on your karate belts and get ready to spin for your fortunes with Fortune Rangers.
Description of Features including Lucky Wild Reels, Scatter, Free Spins, and Linked Reels
Get your fortune sorted with Fortune Rangers and have your pockets overflowing with rewards in no time! The game comes with four fabulous features – Lucky Wild Reels, Scatter, Free Spins, and Linked Reels – that will keep you engaged and make the whole experience even more exciting.
If you aim to make it rain with gold and riches, Lucky Wild Reels are your go-to feature. These reels can add wilds to complete reels randomly and increase your chances of winning big. Let's just hope you get more than two wild reels this time – then, you will be luckier than a four-leaf clover!
The Scatter symbols, on the other hand, activate the Free Spins feature. If you are a lucky player who can land those elusive Scatters, then brace yourself for a fantastic payout! Three, four, or five Scatter symbols can fetch you 8, 12, or 16 free spins respectively. So start spinning those reels and let Fortune Rangers do their magic!
Lastly, the Linked Reels feature is active during the free spins and can synchronize reels 2 to 4 to land the same symbols. How awesome is that? Make sure you're holding your breath for the grand payouts that are on their way!
Analysis Of Game Design And Theme With Emphasis On Asian Market
Let's dive into the world of Fortune Rangers, where anime-style characters come to life, martial arts prevail, and Chinese symbols are abundant. The game has clearly targeted the Asian market with a keen eye for detail and cultural inspiration. As a casual player, I felt engaged by the game's lively graphics and immersive sound effects.
The characters in the game, the Fortune Rangers themselves, are a unique blend of anime and martial arts film characters. Their moves are borderline chaotic and agile, prompting me to laugh out loud during some of the fight sequences. My personal favorite was the kung fu master who just couldn't seem to stay upright. It's refreshing to see a game that doesn't take itself too seriously.
The Chinese symbols scattered throughout the game added to the authenticity and aesthetics of the theme. I wasn't quite sure what each symbol meant, but they looked cool nonetheless. It's always fascinating to explore new cultures and languages, even if it's through the beautiful imagery of a slot game.
Get Your Fortune on with Fortune Rangers
Fortune Rangers is the online casino slot game that is taking the world by storm and delivering on its promise of fortune and adventure. With its amazing graphics and captivating sound effects, Fortune Rangers will have you feeling like you are in the middle of a Kung Fu epic. But where this game really shines is in its jackpot and betting options.
Fortune Rangers boasts a low volatility and features a jackpot prize of 800x the total bet. That means you could stand a chance of winning big bucks even by betting small. The game features a whopping 76 active betting lines, so you have ample opportunities to score a winning combination and take home the spoils.
If you are on a budget, you don't have to worry because Fortune Rangers has got your back. The minimum bet is only $0.20 and goes up to a maximum of $200.00, so there is something for everyone. Whether you are a high roller or just want to dip your toe in the water, you can play at your own pace and enjoy all the fun of this incredible game.
So, gear up and get ready for the adventure of a lifetime. Fortune Rangers is the game that will have you coming back for more each time, thanks to its generous jackpot and countless opportunities to win. Whether you are a beginner or an experienced gambler, Fortune Rangers has everything you need to keep you entertained for hours on end.
Fortune Rangers' Linked Reels Feature: How it Can Boost Your Wins
If you've been playing the Fortune Rangers slot game and haven't taken advantage of the Linked Reels feature, then you're in for a treat! This unique feature synchronizes two to four reels, so that they all land on the same symbols. It's like having a squad of synchronized swimmers, only instead of dancing, they're spinning to help you win big.
The benefit of this feature is that it increases your chances of getting winning combinations, and therefore bigger wins. It's like having a cheat code in a video game, except it's completely legal! However, one drawback is that only the first four reels can be linked, so your chances are relatively limited. But hey, something is always better than nothing, right? And don't forget, more reels means more chances to hit a jackpot!
Overall, the Linked Reels feature is definitely worth checking out in Fortune Rangers. It may not guarantee a win every time, but who knows, maybe it will be your lucky feature and bring you that big payout you've been hoping for. So, let those reels link up and see what kind of fortune the Rangers have in store for you!
FAQ
What is Fortune Rangers?
Fortune Rangers is a free online slot game with an Asian-style design, which uses martial arts characters and Chinese symbols.
How many betting lines does the game have?
The game has 76 active betting lines.
What is the minimum bet you can make?
The minimum bet you can make is $0.20.
What is the maximum bet you can make?
The maximum bet you can make is $200.00.
What is the jackpot prize?
The jackpot prize is equal to 800x the total bet.
What is the Lucky Wild Reels function?
The Lucky Wild Reels function is a feature that adds wilds to a complete reel. The reels can become wild and act as substitutes for regular symbols.
What is the Linked Reels feature?
The Linked Reels feature is active during the free spins session. Each spin from 2 to 4 reels will be synchronised and therefore they will land the same symbols.
How do you activate the Free Spins feature?
To activate the Free Spins feature, you will need to get 3, 4 or 5 Scatter symbols. This will give you 8, 12 or 16 free spins respectively.
What we like
Interesting Asian-themed game design and plot
Low volatility and 800x jackpot prize
Four main features for a varied gameplay experience
76 active betting lines and a wide range of betting options
What we don't like
Linked Reels feature is limited to the first four reels only
Might not be as appealing to players who are not fans of Asian-style games