Football: Champions Cup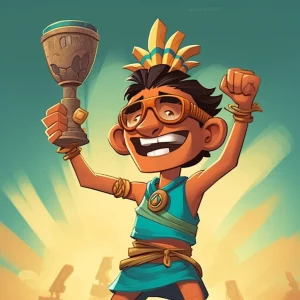 Football: Champions Cup is sure to keep players entertained for hours with its classic 5-reel, 3-line grid and 20 paylines. It's perfect for those who love football and slots, as the game manages to provide a perfect blend of both worlds!
The game is great for both new and experienced players, offering the ability to bet as low as $0.01 and as high as $100. This range can be adjusted through the 8 levels of the bet, allowing for plenty of flexibility. For those who like to sit back and watch the action unfold, the game offers the choice between 10 and 1,000 automatic spins.
But the best part of Football: Champions Cup might just be its Return to Player (RTP) rate of 96.82% and average volatility, ensuring lucky players will be rewarded with frequent payouts. Just be mindful of the blows to your ego when the unlucky streaks hit – trust us, we've been there!
Symbols and bonus features
If you're a soccer fan, you'll find yourself enjoying every minute of Football: Champions Cup. The symbols are more than just mere playing cards. They bring you realistic items such as a whistle, gloves, shoes, jerseys, and even an emblem with a player in action. The game also has a wild symbol represented by a soccer ball which replaces all other symbols except the scatter and bonus. If only real soccer were that easy, right? Payouts come home with Wilds.
And if the wilds aren't enough for you, there are also Overly Wilds that spice up things. These turn regular symbols into wilds which really packs a punch! The whistle, gloves, and all the other gears you get to see are helpful in the game. They all come with awards, upgrades, and even free spins.
The cup symbol is the scatter, and it comes with some tasty features. Players who land on three or more scatter symbols activate free spins, which come with a unique Champions Cup tournament-like style from the round of 16 going forward. You may not be playing soccer in real life, but you'll get the chance to play a soccer-themed online slot game, and that's so much fun!
And as if all that weren't enough, there are also Bonus symbols to keep the game interesting. Landing on three bonus symbols gives players the chance to enter the Penalty Kicks game. Two moments–taking a penalty kick and saving the ball–await players as they try to score big and walk away as champions. The bonus feature doesn't guarantee a win, but it's still enjoyable. Give it a try!
Betting Options and RTP: Kick-Start Your Winning Streak with Football: Champions Cup!
If you're a football fanatic who loves a good challenge, then you're in for a treat with Football: Champions Cup. This online slot game offers a plethora of betting options that cater to all kinds of budgets, whether you're a high roller or a low-stakes player. You can start betting from as low as $0.01 but if you're feeling lucky, and want to go all out, then you can crank up the stakes by betting up to $100. It's not quite like attending a real football match, but it can certainly be just as exciting!
But that's not all – did you know that Football: Champions Cup boasts an impressive RTP of 96.82%? That's right – you have a really good chance of winning big with this game. Of course, we're not saying that you're guaranteed to win, but hey – at least you know that your odds are better than that of your local team winning the league trophy every year!
With average volatility, you can enjoy a fun and engaging experience without having to worry about losing all your coins too fast. You can enjoy playing for hours on end without feeling like you're on the losing side. Football: Champions Cup is truly a game that rewards both skill and luck, giving you a more realistic experience than other slots. Go ahead and try your luck – who knows, you might just become the next 'Champion of the Cup'!
Take a Look at These Graphics and Sound!
Football: Champions Cup slot game brings all the excitement and thrill of a live match to your screen. With its spectacular graphics, you'll feel as though you've been transported to the stadium, with the roar of the crowd ringing in your ears.
But the graphics aren't just realistic, they're also stunningly beautiful. The colors are bright and vibrant, making it a feast for your eyes. And when the bonus rounds are triggered, the graphics get even more impressive, with the players springing into action on your screen.
It's like having your own private stadium, with the crowd chanting and cheering you on as you spin the reels. The music is perfectly suited for a match day, and you'll be humming along in no time.
In fact, the sound effects are so good, they're almost better than the real thing. Who needs to spend money on tickets, travel, and overpriced burgers when you can have the same experience from the comfort of your own home?
Overall, Football: Champions Cup is a must-try for anyone who loves soccer, or anyone who just wants to experience the excitement of a live match. If you're a fan of slots and sports, this game will leave you feeling like a champion. Don't miss out on the chance to score a big win while cheering for your favorite team!
Overall Impression
Get ready to kick off your winnings with Football: Champions Cup, an online slot game that strikes the perfect balance between classic gameplay and football frenzy. The game offers an immersive experience with its impressive graphics and catchy tunes that are sure to get you pumped up.
But what sets Football: Champions Cup apart from other slot games is its unique features. During Free Spins, the simulation of the tournament's knockout phase lets you feel like you're a part of the action, and when it comes to the Bonus feature, the thrill of penalties will have you at the edge of your seat. Just try not to get too competitive with your computer screen!
Overall, Football: Champions Cup is a great game for both football enthusiasts and casual players alike. Whether you're a fan of slot games or just here for the football-themed fun, Football: Champions Cup will not disappoint.
FAQ
What is Football: Champions Cup?
Football: Champions Cup is an online slot game that allows players to choose their favorite football team and compete in a simulated tournament with Free Spins and Penalty Kick bonuses.
What is the minimum bet?
The minimum bet is $0.01.
What is the maximum bet?
The maximum bet is $100.
What is the RTP?
The RTP is 96.82%.
What are the symbols in the game?
Symbols include playing cards from 10 to ace, whistle logo, glove, shoe, jersey, player emblem, Wild symbol (soccer ball), Scatter symbol (cup), and Bonus symbol.
What is the Wild symbol?
The Wild symbol pays substantial sums and replaces all symbols except the Scatter and Bonus. Occasionally, Overly Wilds can appear and turn regular symbols into Wilds.
What is the Scatter symbol?
The Scatter symbol (cup) activates Free Spins when appearing on reels 2, 3, and 4. Free Spins are set up like a tournament and the more goals scored, the higher the prize.
What is the Bonus symbol?
The Bonus symbol grants 5 Penalty Kicks, where players must score and save goals to progress. The game continues indefinitely in case of a tie.
What we like
Classic gameplay with a football theme
Simulation of tournament knockout phase during Free Spins
Thrilling Penalty Kicks game in the Bonus feature
Spectacular graphics and suitable stadium choir music
What we don't like
Limited betting options
Average volatility