Egyptian Heroes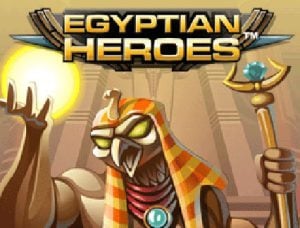 Are you ready to embark on an Egyptian adventure? If so, look no further than Egyptian Heroes by NetEnt. This online slot game transports you to ancient Egypt where you'll encounter your favorite Egyptian deities in a new form – as modern superheroes! It's like if Thor and Anubis had a baby.
The visual design of Egyptian Heroes is brilliant. The use of superhero comic-style depictions of the gods and goddesses is a unique twist, giving the game a fresh feel. However, we can't help but feel the playing card symbols are lacking in comparison. We mean, come on, you have a superhero Anubis and an 8 of clubs? We know which one we'd rather see.
The background imagery of ancient Egyptian temples adds to the mystical atmosphere of the game, and you can almost imagine the sun blasting down on you with each spin.
Game Mechanism And Layout
Prepare to travel back in time to ancient Egypt with the Egyptian Heroes slot game! This title follows the classic game mechanism, with a 5×3 grid pattern that presents 15 symbols for each spin. With 20 win lines, the game provides players with plenty of opportunities to strike it big.
And speaking of big wins, keep your eyes out for the Wild symbols, which can expand to cover the entire reel. This bonus feature can significantly increase your chances of hitting the jackpot! But even without the bonuses, the basic gameplay mechanics are straightforward, making it easy to get the hang of the game in no time.
All in all, Egyptian Heroes is definitely a safe bet for a fun and exciting experience. But don't take our word for it – give it a spin and see for yourself why this game is considered a true classic in the world of online slots!
Bonus Features and Wild Symbols
If you're looking for a slot game with exciting bonus features and enticing wilds, then look no further than Egyptian Heroes. This game is an adventurous journey through the sands of time, and with the wild symbols, you're guaranteed to have a blast. The Wild symbols in Egyptian Heroes have the ability to expand along the entire reel if the bonus feature is triggered, giving players a bigger chance of hitting those larger payouts. It's like getting a full-sized candy bar on Halloween instead of those sad, fun-sized ones.
And don't forget about the bonus features! These could lead to additional bonus rounds, free spins, and, best of all, multipliers. Imagine winning big on a free spin with a multiplier. It's like winning the lottery, but without having to leave your house (or share the winnings with half of your extended family).
Uncovering The Secrets of "Egyptian Heroes" Pharaoh Scatter Symbol and Special Mode
The Pharaoh symbol in Egyptian Heroes is a Scatter symbol that appears on the reels at random moments, a bit like a bonus that the gods grant one of their favorite subjects. And when it appears… Oh boy, it is not just because it looks cool! It can grant you access to the rewarding special mode. It's like finding an oasis in the middle of the desert!
What exactly is this special mode? Glad you asked! It's an extra round of bonuses and free spins that come with each of the three or more Scatter symbols you uncover. Now, if you think the base game is fun, wait until you get a taste of the special mode. You will hear the game whisper sweet nothings in your ear, and every spin will be more suspenseful than a mummy movie! Brace yourself for the ride, this is what being a hero in Egypt is all about!
If you make it through the special mode, you could be looking at a win bigger than the Pharaoh's ego! Keep your eyes peeled for those charming Scatter symbols and get ready for an epic adventure through the ancient land of the pyramids.
Just don't wake up the Sphinx – that guy gives terrible slots advice. May Lady Luck be with you as you unearth the secrets of this slot game!
Similar Slot Games to Egyptian Heroes
Playing Egyptian Heroes has got you hooked on the theme of ancient Egypt, but luckily there are plenty of other slots out there to continue your adventure!
A While on the Nile is another Egyptian-themed slot game but with a twist. Instead of the classic illustrations, this game takes a more modern approach with stunning graphics and animations. Who knew that Cleopatra could look so good?
Book of Gods is also a popular choice amongst players who are looking for something a little bit different. Not only does this slot offer a range of bonus features and extra rounds, but it also has a unique set up that enchants players from the very beginning.
Ancient Egypt Classic is a must-play for any enthusiast of the genre. With simplistic graphics and a classical soundtrack, this game takes players back to where it all began.
So there you have it, a few more games to keep you entertained while you continue to indulge in your Egyptian fantasies. Just be careful not to get lost in the pyramids or fight off too many mummies along the way!
FAQ
What is the theme of Egyptian Heroes?
The theme of Egyptian Heroes is ancient Egyptian deities presented in a modern superheroic way.
What is the design of the Egyptian deities in the game?
The design of the Egyptian deities is inspired by superhero comics rather than classical iconography.
What is the layout of the game?
The game grid has a 5*3 pattern with fifteen symbols shown, and there are twenty win lines.
What is the bonus feature of the Wild symbol?
The Wild symbol can expand along the entire reel, giving the possibility of obtaining much higher winnings.
What is the role of the Pharaoh symbol?
The Pharaoh symbol is a Scatter symbol that can activate the special mode.
Is the gameplay of Egyptian Heroes easy to understand?
Yes, the gameplay is quite classic and common in most online titles, making it easy to get used to and master quickly.
Are there other online slots similar to Egyptian Heroes?
Yes, popular alternatives include A While on the Nile, Book of Gods, and Ancient Egypt Classic.
Is the musical component a prominent feature of the game?
No, the musical component is almost completely absent, with pounding music coming in during certain combinations, and the sounds of the game itself being rather banal but in theme with the slot.
What we like
Original twist on Egyptian theme with superhero figures
Visually striking design inspired by superhero comics
Easy to understand gameplay mechanics
Bonus features and Wild symbols for increased winnings
What we don't like
Playing card symbols lack detail and decoration
Background imagery is simple and lacks intricacy