Eggomatic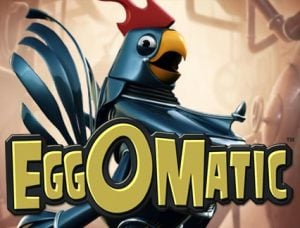 Eggomatic might have a standard 5×3 reel and 20 paylines, but don't let that fool you! It's the eggciting bonus features that make this game stand out from the coop. The EggOMatic machine on the right side of the screen cracks out eggs with varying values along a conveyor belt. And who doesn't love a good conveyor belt? It's like sushi, but for eggs!
If the stars align and a wild symbol links up with an egg, the player cracks open that baby to reveal a corresponding value. The only thing better than finding money in an egg is finding a chicken that lays golden eggs!
The eggs can also contain either free spins or special prizes to be discovered. It's like a surprise Kinder egg, but instead of a cheap plastic toy, you get to win real money.
Visuals
Eggomatic's visuals are simply amazing. It's like steampunk and A.I. had a baby and it grew up to be a stunning and unique online slot game. The design stands out from the crowd with its rusted pipes and futuristic machines filling up the backdrop. Not to mention, the robotic birds that populate the game board are beyond your imagination. It's like the game developers took their inspiration from a retro-futuristic sci-fi movie.
Indeed, the graphics are well-designed, eye-catching and showcase NetEnt's excellence in creating a one-of-a-kind gaming experience. The animations are wonderfully fluid, providing players with an immersive experience that you can't find in other online casinos. The sound design is also top-notch, adding a layer of excitement that makes you feel like you're on a set of a Sci-Fi movie.
Bonus Features
Eggomatic is the perfect mix of casino game and poultry farming. Seriously, where else can you make money while helping chickens lay eggs? The game may have a silly theme, but don't underestimate the power of bonus features. In Eggomatic, the machine releases eggs with various values, making you feel like a kid again on Easter morning. And just like on Easter morning, you never know what is inside each egg. Will it be a sweet surprise or a stinky mess that you'll regret opening?
If you're lucky enough to align a wild symbol with an egg, you will be awarded a corresponding value. It's like getting the golden egg, but with money. The rooster himself becomes a wild symbol, which means he's not just a loudmouth who wakes you up at dawn. With each spin, you'll cross your fingers hoping that the rooster comes to greet you.
The eggs can contain free spins or special prizes to be discovered. It's like playing the lottery, except you don't need to sell your car to have a chance at winning. These bonus features keep the game fresh and exciting, encouraging players to keep spinning for a chance to discover what each egg holds. Just don't get too close to the screen; we don't want any cases of salmonella!
Sound and Music
Eggomatic's music adds a pleasant touch of fantasy to the gameplay, but let's be real, you're not playing this game for the music. I mean, we are in it for the big win, right? The sound effects are fairly standard, which is a bit disappointing since it could have been a great opportunity to add some chicken clucks or something equally as ridiculous. Even still, while it may not be a symphony, the technical aspects such as the production and quality are top-notch. This makes for a seamless gaming experience that feels like you're sitting front row at the Chick-fil-A drive-thru.
Overall Experience
Eggomatic, what a cracking slot game! Sorry, I just had to make that yolk. But in all seriousness, this game is unique and innovative, bringing a fresh twist to classic slot themes. If you're stuck in a rut and looking for something different from other online slots, then Eggomatic is definitely worth a try.
The visuals are stunning and well-designed, showcasing NetEnt's attention to detail. Whoever designed this game really put all their eggs in one basket and it shows! The bonus features keep the gameplay exciting and unpredictable. It's just like trying to guess which egg will hatch next – you never know what you're going to get. Will it be a Free Spins egg? A wild egg? Or maybe even a surprise cash prize egg?
Although the music and sound effects may not be particularly memorable, Eggomatic's technical aspects are smooth and seamless, making it an overall enjoyable gaming experience. Go and give it a crack!
FAQ
What is Eggomatic?
Eggomatic is a slot game with a steampunk theme that features various robotic birds and a machine called EggOMatic that releases eggs with varying values along a conveyor belt.
How many paylines does Eggomatic have?
Eggomatic has 20 paylines, which is similar to other online slot titles.
What is the EggOMatic machine?
The EggOMatic machine is a machine on the right side of the screen that releases eggs with varying values along a conveyor belt.
What happens when a wild symbol aligns with an egg?
If a wild symbol aligns with an egg, the rooster cracks the egg and awards the player with a corresponding value before becoming a wild symbol itself.
Can eggs contain special prizes?
Yes, eggs can contain either free spins or special prizes to be discovered.
Does Eggomatic have classic symbols?
No, Eggomatic lacks classic symbols but does have a wild symbol.
What is the gameplay like in Eggomatic?
The gameplay in Eggomatic may become repetitive as the animations are standard during the different combinations, but the bonus features change up the gameplay.
Is Eggomatic worth trying?
Yes, Eggomatic is an excellent game for those who wish to add a little twist to classic slot themes and is worth trying out for its innovative features.
What we like
Unique bonus features with varying egg values and free spins
Stunning steampunk visuals
Smooth and seamless technical aspects
Innovative twist on classic slot themes
What we don't like
Standard sound effects
Music not particularly inspiring