Dead or Alive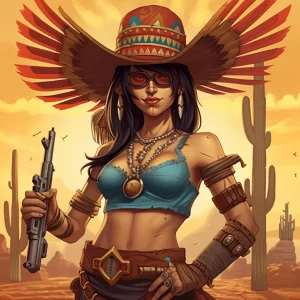 Yeehaw! Get ready to saddle up and ride the reels with Dead or Alive, the slot game that puts you right in the middle of a Wild West shootout. Developed by NetEnt, this game offers players an immersive gaming experience with stunning graphics, immersive animations, and realistic sound effects.
But, let's get to the gameplay features, shall we? The Sticky Win feature is the real star of this show. It allows players to hold onto those all-important winning symbols while spinning only the remaining wheels to increase the chances of generating a big payout. Imagine holding onto your lucky cowboy hat while spinning away for the big bucks!
And if that wasn't enough to lasso your attention, Dead or Alive also offers up to 12 free spins for players willing to take a chance. Who can resist the lure of a free spin or two while on the hunt for that coveted jackpot?
All in all, Dead or Alive is a must-try for any slot game fan or cowboy who's ever wanted to live out their Wild West dreams – without getting shot at! So, pull up a chair, spin the reels and enjoy the ride!
Graphics and Audio
The graphics and sound effects of Dead or Alive are so impressive, it's like Billy the Kid himself came back to design this game. The designers have done an amazing job in recreating the Wild West vibe, with a well-designed background featuring a landscape of the vast, open plains typical of the American West. And those animations? So smooth and engaging, they make spinning the reels feel like hitching up a wagon to cross a creek.
The sound effects deserve a special mention too – they really add another level of immersion to the game. You'll hear the wind blowing on the dusty roads, the creaking of the door of a saloon, the clinking of glasses as the cowboys Drink and Laugh (which is also the name of my new heavy metal band… but I digress). Just like those cowboys, my ears were filled with delight as I played the game.
Experience the Wild West in "Dead or Alive" Slot Game
Step into the world of cowboys and outlaws with "Dead or Alive", the ultimate online slot game for anyone looking for an exciting adventure. This game will take you to the Wild West, where danger lurks around every corner and shooting first and asking questions later is the norm.
The symbols in this game perfectly capture the theme, with cowboy boots, sheriff's badges, and smoking guns all appearing on the reels. The Wanted sign serves as the Wild symbol, which is always a welcome sight because it replaces all other symbols to create winning combinations and activate the Sticky Win feature. This means you have more chances of getting a winning line and also have the chance to get a free spin.
The Scatter symbol is represented by two crossed guns, and if you are lucky enough to get three or more of these symbols, you will trigger the free spin feature. It is a feeling of excitement when you hear the sound of the guns blazing and know that the free spins are on their way, increasing your chances of winning big!
Overall, the theme and symbols in "Dead or Alive" are so well-designed that you can almost smell the gunpowder and feel the hot desert wind on your face. Even if you are not a fan of Western movies or cowboy culture, this game is sure to keep you entertained with its high-quality graphics and exciting features.
Betting Options
Looking for a slot game that fits your budget? Look no further than Dead or Alive!
This game offers a wide range of betting options for every type of player. Whether you're a penny slot enthusiast or a high roller, you can adjust your coin value to your liking. The minimum coin value is $0.01, but if you're feeling lucky, you can increase your bet up to $0.50.
But that's not all. For those who want to go all in, Dead or Alive has a maximum bet button that sets the highest bet possible. And for players who want to keep their bets in check, there are nine levels available to choose from.
But let's be real, who wants to manually spin the reels? That's why Dead or Alive has an Autoplay function. You can sit back and relax as the reels spin automatically. Don't worry, you can always switch back to manual mode if you want to take control again.
So go ahead, adjust your betting options and see if you can hit the jackpot in Dead or Alive. Who knows, maybe you'll get lucky enough to buy that pony you always wanted. Or at least a stick horse.
Winning Potential
Dead or Alive is a slot game that promises thrilling gameplay coupled with the chance to win big. Even though the game doesn't have a progressive jackpot, players can still hit it big with a maximum jackpot of $54,000! That's a lot of coins you can use to play the game or buy yourself a fancy hat with a feather on top. The Sticky Win feature is the key to winning big here. This feature allows players to hold on to the symbols that determine winning combinations, leading to some exciting gameplay and potentially massive payouts. Just make sure your device's volume isn't up too high when you win big – you might wake up your neighbor's cat.
In addition to the Sticky Win feature, players can also trigger up to 12 free spins if they land three or more Scatter symbols on the reels. Not only do free spins give you the opportunity to win without risking any money, but they also come with a x2 multiplier, meaning double the payout! Don't get too excited though, the game is unpredictable, and you might end up with empty pockets. Just remember: when life gives you lemons, make lemonade, and when playing Dead or Alive, always make sure you have a good Wi-Fi connection.
FAQ
What is Dead or Alive?
Dead or Alive is an online slot game inspired by the Wild West and developed by NetEnt.
What are the main features of Dead or Alive?
Dead or Alive has an immersive and realistic gaming experience with well-curated graphics and engaging sound effects. It also features symbols consistent with the Wild West theme, a Wild symbol that can replace other symbols and activate a Sticky Win feature, and a Scatter symbol that can award free spins.
Can I play Dead or Alive for free?
Yes, you can play Dead or Alive in Play for Fun mode, completely for free.
What is the minimum and maximum coin value in Dead or Alive?
The minimum coin value is $0.01, while the maximum coin value is $0.50.
How do I activate the Autoplay function in Dead or Alive?
After setting the game, you can activate the Autoplay function with the appropriate button. The reels will spin automatically, but you can return to manual mode at any time by simply clicking on the 'stop' button.
What is the maximum win that can be achieved in Dead or Alive?
The maximum win that can be achieved in Dead or Alive, also by using the Sticky Win feature, is $54,000.
What is the Sticky Win feature in Dead or Alive?
The Sticky Win feature in Dead or Alive provides that after getting a winning alignment, you can hold the symbols that determined it and spin only the reels corresponding to the remaining symbols. In this way, the chances of winning increase, and the player gains in terms of fun!
What is the function of the Scatter symbol in Dead or Alive?
The function of the Scatter symbol in Dead or Alive is to award free spins if it appears on the reels, in any position, at least three times. You can get up to 12 free spins!
What we like
Immersive gameplay with Wild West theme
Sticky Win feature adds excitement
High-quality graphics and sound effects
Chance to win big with free spins and Sticky Win feature
What we don't like
Limited betting options
Autoplay feature may not appeal to all players