Dark King: Forbidden Riches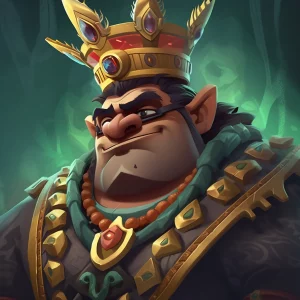 Step into the world of Dark King: Forbidden Riches by NetEnt, a 5-reel, 25-payline slot game that takes you on a journey through the dark realms of fantasy. With haunting graphics and a foreboding soundtrack, players will feel as though they are immersed in an epic tale of adventure and danger.
But don't let the dark theme scare you away. This game offers plenty of exciting features to keep you spinning for hours. With wild multipliers, free spins with sticky wilds, and the potential for attractive payouts of up to 2,000x the original bet, the Dark King is ready to bestow his riches upon those brave enough to play.
Just be careful not to let the Dark King's intimidating demeanor scare you off – after all, he's just a big softie at heart… or is he? Guess you'll have to play to find out!
Graphics and Soundtrack
When it comes to creating an immersive online slot game experience, graphics and sound are crucial. With Dark King: Forbidden Riches, the developers didn't skimp on either of these aspects, creating a truly atmospheric game that transports players into a world of dark fantasy.
The graphics in Dark King are nothing short of stunning; every detail, from the haunting background to the symbols on the reels themselves, has been carefully crafted to create a truly immersive experience. And with the dark, dramatic orchestral soundtrack that accompanies the gameplay, the overall effect is one of pure and simple drama. It's easy to lose yourself in the game for hours on end, thanks in no small part to the game's engaging graphics and sound.
Of course, if you happen to be playing in a brightly lit room on a sunny day, you might miss some of the game's eerie atmosphere. But that's what we have curtains for, right? Just don't forget to close them before you start playing, or the neighbors will be wondering why it suddenly got so dark and spooky in your place.
Symbols and Paylines:
Step into the dark and fantasy world with Dark King: Forbidden Riches. You'll be greeted with 5 high-paying skeleton warriors that are definitely ready for battle! With weapons in hand, they will help you try and defeat the powerful Dark King whose face remains shrouded in mystery. But the Dark King is not the only one guarding the riches! You'll also have to look out for the standard A to 10 symbols. They might not be as exciting as skeletons and kings, but they can still offer some decent payouts.
What we absolutely love about Dark King: Forbidden Riches are the intricate designs of the symbols and paylines. Every spin feels like you're entering a new realm with detailed artwork and animations that bring the game to life. And with 20 paylines, the chances of hitting a winning combination are higher than ever!
In fact, the chances of winning are so high, we might just send in our own skeleton army to try and take home some of the treasure, too! Just kidding…or are we? Either way, you won't want to miss out on the thrilling adventure that Dark King: Forbidden Riches has in store for you.
Unleash the Power of Wilds and Scatters!
Are you tired of boring slot games? Say no more! The Dark King: Forbidden Riches slot game is here to take you on an adventure filled with excitement and treasure hunt. And what's a better way to uncover treasures than with wild and scatter symbols?
The blue wild globes will be your best friends throughout the game. These symbols have the power to replace all other symbols except the scatter and the most rewarding symbol in the game, along with the Dark King himself. And that's not all, you can also count on them to bring out the best in your winnings with their multipliers, which can enhance your winnings by up to 5x.
Now, let's talk about the scatter symbol. These symbols are tricky, but they are worth the effort. They trigger the Free Spins feature of the game, and you need at least three to get the ball rolling. But if you're lucky enough to land five of them, you'll be rewarded with a massive payout that will shake your screen.
Unleash the Fun with Free Spins and Bonus Features
What's not to love about getting something for free? Dark King: Forbidden Riches offers players a chance to rack up free spins by landing three to five scatter symbols on the screen. And who wouldn't want more chances to win? Depending on the number of scatter symbols, gamblers can receive 10, 12, or 15 free spins. That's right, you can spin those reels without betting a single penny.
The game also features a Hotspot Zone on the screen, which covers the central positions on reels two and four, as well as the entire third reel. Trust us, this is the hottest ticket in town. When the wild lands in this area, it becomes all sticky and rewards the player with an extra free spin. Sticky wilds can enhance your chances of winning big money!
What's more, Dark King: Forbidden Riches still applies the multiplier boost by wilds during the free spins. That means you have even more chances to multiply your winnings. With both regular and sticky wilds, who knows how big your winnings could be?
We don't know about you, but we're excited about the free spins and bonus features offered by Dark King: Forbidden Riches. Who said playing casino games was just about getting lucky? With this game, it's a whole new level of fun.
RTP and Maximum Payout
If you're looking for a slot game that will make you rich in a single spin, then Dark King: Forbidden Riches may not be for you, but don't worry, there's always the lottery! However, with an RTP of 96.06%, you're sure to get some of your money back while having fun with this game.
The maximum payout of up to 2,000x the bet is a great incentive to keep playing, especially considering the medium to high volatility of the game. This means that while the payouts may not be frequent, they're often big enough to make up for the losses sustained during the game's few dry spells.
The maximum bet per spin is 400 Dollars, which may seem like a lot, but trust us, it's worth the risk. We recommend betting higher values for the chance to get the biggest rewards. Who knows? You might just hit the jackpot and finally be able to afford that island you've been eyeing on Google Maps.
Gameplay
If you're looking for a slot game that's easy to play but still delivers heart-pumping action, then Dark King: Forbidden Riches is the game for you. The gameplay structure is simple, so you don't need a PhD in mathematics to understand the rules. Just spin the reels, cross your fingers, and hope for that elusive big win. And with a medium-to-high volatility rating, you'll experience plenty of highs and lows on your quest for riches, which is a lot like life, really.
But don't worry, the game won't leave you penniless. With a potential payout of up to 2,000x your bet, you could walk away with a small fortune. That means you could finally afford that ceramic gnome collection you've had your eye on! That's a win, right?
But Dark King: Forbidden Riches isn't all about money. The game also has stunning graphics that will transport you to a world of fantasy and adventure. And the haunting, eerie soundtrack will have you feeling like you're in the middle of a horror movie. So if you're into spooky, supernatural stuff, this game is perfect for you.
All in all, Dark King: Forbidden Riches delivers a balanced gaming experience that will keep you on the edge of your seat. With simple gameplay, the potential for big wins, and stunning graphics and sound, this is a game that shouldn't be missed. Unless you don't like winning or fun, in which case… well, we don't know what to tell you.
Mobile Compatibility
The Dark King: Forbidden Riches slot game isn't just for desktop users! Players can take their gameplay on the go thanks to full mobile compatibility. It's perfect for those times you need to kill time and don't want to be stuck in front of a computer screen. Whether you have an Apple iPhone or Android device, this game runs smoothly on both.
Of course, you'll want to be sure to have a good internet connection to ensure the game runs smoothly. We don't want the king getting angry because of laggy gameplay. But assuming you've got a solid data or wifi connection, you're good to go.
The mobile version of Dark King: Forbidden Riches has the same spooky design as the desktop version. The eerie graphics look especially cool on a smaller screen, as they feel even more immersive. That said, you'll probably want to use headphones (or turn your sound up) to really get the full effect.
FAQ
What is the theme of Dark King: Forbidden Riches?
Dark King: Forbidden Riches has a dark and eerie fantasy-themed surrounding the castle of the Black King with stunning visuals and sounds.
What are the winning opportunities in Dark King: Forbidden Riches?
Dark King: Forbidden Riches offers multipliers of up to 5x and rewards up to 2000x the bet in a singl round.
What is the minimum and maximum bet size in Dark King: Forbidden Riches?
You can bet a minimum of 0.20 Dollars and up to 400 Dollars per spin in Dark King: Forbidden Riches.
What is the RTP of Dark King: Forbidden Riches?
The RTP (Return to Player) of Dark King: Forbidden Riches is 96.06%.
What are the special features of Dark King: Forbidden Riches slot?
Dark King: Forbidden Riches has multiple special features like wild multipliers up to 5x, free spins, and a sticky wild feature in the Hotspot Zone.
Is Dark King: Forbidden Riches mobile compatible?
Yes, Dark King: Forbidden Riches is fully optimized for Apple iOS and Android devices.
What are the similar slot machines like Dark King: Forbidden Riches?
Microgaming's Immortal Romance is another slot machine that has a dark theme with a maximum payout of 5000x, 5 random wild reels, and up to 25 free spins.
What is the volatility level of Dark King: Forbidden Riches?
The volatility level in Dark King: Forbidden Riches is medium to high.
What we like
Immersive dark fantasy theme
Stunning graphics and haunting soundtrack
Wild multipliers and free spins with sticky wilds
Attractive payouts of up to 2,000x the bet
What we don't like
Maximum payout may not appeal to high rollers
Average return to player (RTP) of 96.06%