Arabian Nights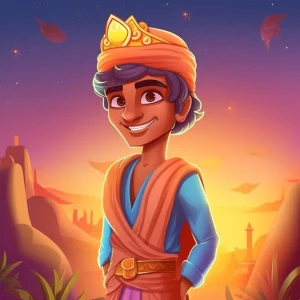 Do you have what it takes to embark on a mystical journey to the land of Arabian Nights? NetEnt presents an enchanting world of magic and wonder. Spin the five reels of this classic slot game and discover the wonders of the East amidst traditional Arabian folklore aspects.
Bet on any of the 15 paylines to increase your chances of winning. The game features themed symbols from the traditional tales of Ali Baba and the Forty Thieves, Scheherazade, and the endless oceans of the Arabian desert. You'll encounter different symbols, from the camel, the sultan, the scimitar, and even the elusive genie.
The idea behind the Arabian Nights slot game is to allow players to experience a world of magic and adventure. As you spin the reels and activate each payline, the game's theme music takes you deeper into the Arabian nights and elevates the gameplay. Keep your eyes peeled for the oil lamp scatter – land three or more of these, and you'll trigger the bonus game where you have the chance to win free spins and even more exciting prizes!
In conclusion, NetEnt has done it again, bringing the magic of Arabian Nights to life. The game caters to both casual and experienced players alike, with an RTP of 95.20%, plus enough opportunities to hit big wins. With its stunning graphics, charming animations, and well-designed gameplay, Arabian Nights is a highly entertaining and delightful slot game that you will surely enjoy!
Win Big With Arabian Nights' $3,000,000 Jackpot
If you're looking for a game that has the power to make all your dreams come true with just one spin, then look no further than Arabian Nights and its $3,000,000 jackpot! That's right, you read it correctly, $3,000,000! That's enough to buy a private island, a fleet of supercars, and still have enough money left over for a lifetime supply of avocado toast.
And the best part? All it takes is five Aladdin symbols to land on one of the paylines. That's easier said than done, but hey, if you're feeling lucky, then anything can happen.
Just remember to rub the magic lamp before you start spinning those reels. Who knows, maybe a genie will appear and grant you all your slot game wishes – more free spins, bonus rounds, and of course, that life-changing $3,000,000 jackpot!
Arabian Folklore-Themed Symbols
Get ready to be swept away to a magical world of ancient tales and treasures with the enchanting slot game, Arabian Nights! The symbols are inspired by traditional Arabian folklore and are simply mesmerizing! You'll find yourself face to face with Aladdin himself, a magic lamp with the power to grant you big wins, a majestic camel, an authentic Arab hat, a pair of green shoes that only a true adventurer can appreciate, and even a cozy desert tent to rest from your journey.
But that's not all! This game has more surprises than the genie in the magic lamp! The poker card symbols from 9 to Ace have been given a makeover and now display intricate designs that will transport you even further into the mystical atmosphere of the game.
Let's be honest, the real reason we play slots is to win big! Arabian Nights doesn't disappoint and has the potential to pay out some serious cash! With its 5 reels and 10 paylines, you'll have plenty of chances to strike it lucky! Plus, with an RTP of 96.2%, you'll have a better chance of walking away with more than what you started with.
If you're looking for adventure and excitement, Arabian Nights is the perfect game for you! You won't find a more immersive experience than this. So, don't wait any longer, hop on your camel and join us on this epic journey that promises to bring you riches beyond your wildest dreams!
Get Wild with Aladdin and Free Spins with Arabian Nights!
Looking for a slot game that will transport you to a Middle Eastern adventure filled with magic? Look no further than Arabian Nights! With vivid graphics and an enchanting soundtrack, you'll feel as though you're wandering through a magical marketplace.
The Wild symbol in Arabian Nights is none other than the charming Aladdin. This hero can replace all other symbols on the reels, except for the Scatter. So, keep an eye out for Aladdin as he could help form winning combinations that could lead you to the ultimate jackpot – his precious princess!
The Scatter symbol is a magical lamp that will likely trigger the greatest prize -free spins with a 3x multiplier. Counting three or more magic lamps activates the free spins and boosts the potential of winnings. And if that isn't enough, the Scatter offers a handsome payout of up to 500 times the bet.
With Aladdin and the magic lamp at your side, you'll be transported to a world undreamed of and have the chance to win big. Try Arabian Nights today and feel the magic!
Similar Slots
As we take a look at other slot games revolving around the same Arabian folklore theme, we cannot help but wonder if there's a genie out there granting unlimited wishes for such game ideas. If that's the case, then we hope someone will wish for more original themes soon!
Jokes aside, we tried out some of the similar slot games, and we must say that Arabian Nights stands out among them. While Arabian Oasis and Arabian Rose have their own charms, Aladdin's Treasure seems to be missing some of that magic touch that we're looking for in a game like this.
Finally – and we're not making this up – there's a slot game called Abra Kebab Ra, based on Arabian cuisine. Perhaps it's the perfect match for someone who craves the flavors of Arabian dishes while winning some cash. Just be sure you're not too hungry while playing, or you might end up with some wet keyboard keys from drooling all over the place.
FAQ
What is the minimum bet for Arabian Nights?
The minimum bet per line in Arabian Nights is $0.01.
How many paylines does Arabian Nights have?
Arabian Nights features 15 paylines.
What is the maximum bet for Arabian Nights?
The maximum bet for Arabian Nights is $50.
Does Arabian Nights have a jackpot?
Yes, Arabian Nights has a jackpot of $3,000,000.
What is the return to player (RTP) for Arabian Nights?
The RTP for Arabian Nights is 95.2%.
What is the Wild symbol in Arabian Nights?
The Wild symbol in Arabian Nights is Aladdin with a diamond in his hand.
What is the Scatter symbol in Arabian Nights?
The Scatter symbol in Arabian Nights is the magic lamp.
What happens if I get five Wild symbols in Arabian Nights?
If you get five Wild symbols in Arabian Nights, you win the jackpot of $3,000,000.
What we like
Huge $3,000,000 progressive jackpot
Themed symbols from traditional Arabian folklore
Aladdin Wild symbol that replaces other symbols
Scatter symbol triggering free spins with a 3x multiplier
What we don't like
Only 15 paylines
Lacks bonus features apart from free spins