Fruit Rainbow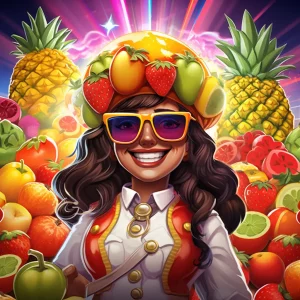 If you're a fruit lover, Fruit Rainbow is the online slot game for you! This exciting game is played on four rows and five reels with 40 paylines, so there's always a good chance for a winning spin. And with its high variance game mechanics and stacked wilds feature, the game can produce some seriously juicy payouts that can exceed 500x on a winning bet.
That being said, you might want to watch your bets in the beginning. While Fruit Rainbow takes a wide range of bets, starting with a low one that's steeper than usual might catch some players off guard. But hey, the fruit won't pick itself, right?
Overall, we found Fruit Rainbow to be a refreshing and fruity addition to the online slot game world. It's perfect for those who want to have a bit of fun and potentially win some cash while enjoying the bright, cheerful graphics and fun sound effects.
Understanding the Paylines and Symbols of Fruit Rainbow
Looking to win big on Fruit Rainbow slots? Well, your luck is determined by the types of symbols that appear on the 40 paylines. That's right, folks, forty paylines! This means more potential winning combinations and opportunities to pocket big bucks. And let's be honest – who doesn't love big bucks?
Now, when it comes to the symbols themselves, the strawberry reigns supreme. This juicy fruit pays out a whopping 50 times the winning bet – talk about a fruitful outcome! But don't underestimate the lime slice, either. It may appear small, but it pays out a respectable 7.5x bet.
And that's not all, my friends. Fruit Rainbow also boasts a wild symbol that will pop up on all the reels. This is stacked and will substitute any other symbol except the scatter. That's right, even fruit-based games have their rebels. And who doesn't love a rebel?
Finally, we have the scatter symbol, which pays out scattered amounts – because why not add a bit of chaos to the mix, am I right? Overall, Fruit Rainbow has all the elements we crave in a slot game – potential for big wins, stacked wilds, and even a bit of mayhem in the form of the scatter symbol. So, what are you waiting for? Start spinning those reels and let that fruit rain down on you!
Scatter Symbols
Who doesn't love a good old blue diamond? In Fruit Rainbow, this gem's got a special power – it's a scatter symbol! It can pay out scattered amounts, which means you don't even need to get them in consecutive reels. Just like your ex, it can show up anywhere and bring rewards. If you manage to get three blue diamonds, you get rewarded with 5x the total bet. Four blue diamonds would be better, though – you get 125x the winning bet! And if you're lucky enough to land five, well…give yourself a pat on the back because you've just won 500x the winning bet! That's worthy of a diamond ring, huh?
But before you start daydreaming about the perfect engagement ring you could buy with all those winnings, I have to give you a heads up – the scatter symbol in Fruit Rainbow does not trigger any bonus feature. It's still a great way to boost your bankroll, though, so keep an eye out for those shiny blue diamonds!
Wild Symbols
Are you ready to go wild with Fruit Rainbow? This online casino game has a stacked wild symbol that is sure to bring some excitement to your gameplay. Not only does the wild symbol increase your chances of hitting winning combinations, but it can also boost your winnings towards prizes that exceed 500x on a winning bet. That's enough to make anyone go crazy, even a fruit basket.
It's the hero of this game and substitutes for any other symbol in the game (except for the scatter symbol, of course). With its ability to replace other symbols, the wild symbol is like the chameleon of the online slot world.
So, what are you waiting for? It's time to go bananas and watch the wild symbol work its magic on the reels. Who knows, you may end up with a fruity payout that will have you saying 'orange you glad I played Fruit Rainbow?' Okay, okay, we'll stop with the fruit puns now.
Maximum Wins
Hold onto your seat, because Fruit Rainbow is a game that could potentially give you your biggest payout yet!
The ultimate goal in any casino game is to take home the top jackpot prize, and in Fruit Rainbow, players can win up to 500x their original bet! That's right – five of the coveted scatter diamond symbols will lead you straight to the bag of gold at the end of the rainbow. The game comes with a stacked wild symbol that can only land on reels 2, 3, 4, and 5. Not only does it work wonders in substituting for all other symbols, but it also increases your chances of winning prizes that exceed the 500x maximum. Now, that's a reason to celebrate with a little shimmy and a shake!
Don't give up if you're not a big winner right away. The game may look ordinary, but don't let its seemingly simple fruit symbols fool you. Fruit Rainbow is as juicy and potent as its name sounds, and with frequent free spins and crazy multipliers, it is bound to quench your thirst for riches. So, spin those reels and let the good times roll!
Graphics and Sound
Fruit Rainbow offers a complete visual experience on the reel-set with its sparkling, shiny, and glossy fruit-themed graphics. It's like taking a bite into a juicy fruit salad, except you're winning money while doing so! The attention to detail is especially impressive, with each symbol looking like it was handcrafted to perfection. The background is also a sight to behold with its colorful aesthetics reminding one of a summertime picnic.
The sound design is just as impressive, with a quality musical theme playing like a lively Hawaiian rap, putting a smile on your face every time you hit a winning combination. The only problem is that it's not a continuous track, so there's a stop and go with every spin. It feels like someone is playing a prank on you, but luckily the graphics are so good that you don't mind the abrupt sound interruptions.
All in all, the graphics and sound design of Fruit Rainbow are something to rave about. It's amusing, entertaining, and engaging to all of your senses. The soundtrack might make you want to book a trip to Hawaii, but who needs that when you can be sitting comfortably at home, spinning those reels, and potentially winning big?
Other Fruit-Themed Slots
Are you a fan of fruity slots? Well, you're in luck because allow me to introduce you to the one and only, Sunny Fruits: Hold and Win slot! This game is packed with citrusy goodness and the potential to hit some big wins. And let's be real, who doesn't love a good win?
The best part? This game has three different jackpot levels: Grand, Major, and Mini! So, not only can you win big, but you can win BIGGER. It's like having your very own fruit basket that keeps on giving. Just be sure to wash your fruits, wouldn't want to have any unwanted tummy troubles.
Trust me, this game is an absolute gem. It's got everything you could want in a fruit-themed slot- bright colors, fun graphics, and most importantly, the chance to win some sweet, sweet moolah.
FAQ
What is the maximum payout in Fruit Rainbow?
The maximum payout in Fruit Rainbow is 500x on a winning bet.
How many paylines are active on Fruit Rainbow?
There are 40 always active paylines on Fruit Rainbow.
Is there a bonus feature on Fruit Rainbow?
No, there is no bonus feature on Fruit Rainbow, but there is a scatter symbol that pays out an excellent prize.
What are the highest paying symbols on Fruit Rainbow?
The highest paying symbols on Fruit Rainbow are the scatter diamonds, paying up to 500x on a winning bet. The strawberry symbol pays out 50x.
What is the maximum bet in Fruit Rainbow?
The maximum bet in Fruit Rainbow is $200.00 per spin.
Can I choose the number of paylines in Fruit Rainbow?
No, the 40 paylines are always active in Fruit Rainbow.
Is there an Autoplay function on Fruit Rainbow?
Yes, there is an Autoplay function on Fruit Rainbow that allows you to select a certain number of automatic spins and add optional stops.
What similar slot machines can be suggested for players who enjoy Fruit Rainbow?
Sunny Fruits: Hold and Win is a suggested jackpot slot with a fruit theme and a maximum win of 1000x.
What we like
High variance and stacked wilds for big wins
Wide range of betting options
Complete visual experience with sparkling fruit-themed graphics
Lively sound design with a quality musical theme
What we don't like
Low starting bet is steeper than usual
Scatter symbol does not trigger a bonus feature