Berryburst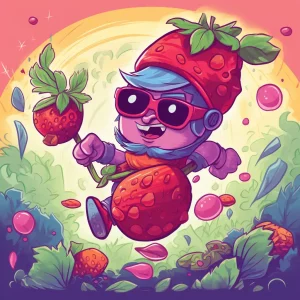 If you're tired of the same old slot game mechanics, then Berry Burst might just be the juicy pick-me-up you need. The game takes a unique approach to traditional combinations by transforming them into similar scatters. You read that right, folks – this game is so fruity, it even turns symbol combinations on their head!
To win, all you need are identical symbols adjacent to each other either vertically or horizontally. We know what you're thinking – there's nothing worse than missing out on a payout by just one symbol. But don't worry, Berry Burst has got you covered with its 5 reels and 3 symbols per reel, giving you 15 chances to win every time you play.
Speaking of coverage, Berry Burst also comes equipped with Free Spins and Wild symbols, giving you even more opportunities to take a bite out of the game's juicy rewards. So, let's raise a glass of freshly squeezed juice and give Berry Burst a spin – you won't be disappointed!
Visuals and Design of Berry Burst
Let's talk about the most mouth-watering aspect of Berry Burst – the visuals! It's like the game developers gave a basket of juicy fruits to a talented cartoonist, and out came the colorful game board before us. The colors are so bright and lively that it's hard to stop staring at them. Everything from the strawberries to the raspberries pops out from the screen and makes you feel like a kid at a candy store.
To enhance the game experience, the developers have removed the game interface from the playing screen. It's a smart move, as it allows players to fully appreciate the fruit grid without distractions. You can even feel the juicy goodness splashing around within the fruits!
The design of the fruits is honestly mouth-watering. The game blends cartoonish graphics with the delicate details of each fruit, making them as realistic as they are adorable.
We can confirm that Berry Burst is a feast for your eyes and ears. It's satisfying to see how much attention was given to the visuals and sounds of the game. It's hard not to feel like you're biting into a juicy, succulent fruit yourself, especially when your winning combo pops up on the screen. These tasty visuals and fruity sound effects almost make you forget about the money you're potentially raking in, almost. If you're a fan of slots, do yourself a flavor and give Berry Burst a spin!
Experience the Fun with Wilds and Free Spins in Berryburst Slot
Berryburst, the ultra-juicy video slot game, is packed with excitement thanks to the presence of Wild symbols and free spins. But what exactly does that mean for players? Let's find out.
First things first, let's talk about the Wild symbol. In Berryburst, the Wild symbol is represented by a cube. Don't let its simple shape fool you, though. This cube can expand to fill up an entire reel, which means it can substitute for any other symbol on that reel. In other words, the Wild can help you hit those winning combinations you need to boost your winnings and make your taste buds sing with delight.
Now, let's talk about free spins. Who doesn't love free stuff, right? In Berryburst, free spins come with a little something extra – expanding Wilds. During free spins, the Wild symbol can expand to fill up entire reels, potentially leading to big wins. It's like getting a free basket of berries, but instead of eating them, you're winning cash.
One thing to keep in mind is that the presence of Wild symbols and free spins doesn't guarantee a win every time. Gambling can be a bit like berry picking – sometimes you hit the motherlode, and other times you might come up empty-handed. That being said, we can't think of a better way to enjoy our love for berries than by playing a game that rewards us with the chance to win big.
Overall, Berryburst is a great choice for players who love slot games with fun and unique features. Its Wild symbols and free spins add a bit of excitement to every spin, and with a little bit of luck, players can hit the jackpot. Give it a try and see if you can't fill up your basket with some juicy winnings.
Similar Fruit-Themed Slots to Berry Burst
If you're looking for more juicy and refreshing games like Berry Burst, then we've got some scrumptious options for you to explore! Lost Relics, another fantastic NetEnt launch, shares similar gameplay mechanics as Berry Burst, using the cluster system that is so easy to get used to. And why not try some of these other pun-tastic fruit-themed favorites:
4 Reel King – a citrusy twist on the classic slot machine game, Clockwork Oranges – for players who love oranges with a side of steampunk, and Double Stacks – which is twice the fun and twice the payout (hopefully!). And if all else fails, you can always go back to the trusty old fruit salad.
Remember, always keep it fruity and fresh, and good luck on your slots venture!
NetEnt: The Mastermind Behind Berry Burst
Get ready to have your taste buds burst with flavor as we dive into the juicy world of Berry Burst. This delectable game has been created by none other than NetEnt, one of the leading developers of casino games. And boy, did they hit the jackpot with this one.
NetEnt is a trusted and respected brand in the industry, having delivered several successful and popular games over the years. They're known for their high-quality games and entertaining themes. We're talking about a developer that can take the simplest ideas, like fruit, and turn them into an amazing casino experience. So, you can trust that when NetEnt puts their name on the game, it's going to be worth your time.
We all know that the online casino industry can be filled with games that promise a lot, but don't deliver much. But with NetEnt in the driver's seat, you know that Berry Burst is going to be the real deal.
This game is one that wil make you feel like a kid in a candy store (or should we say, a fruit lover in a berry patch?) With its bright colors, vibrant graphics, and fun soundtrack, it's hard not to get hooked on this game. Whether you're playing for fun or playing for cash, Berry Burst has everything you need for an enjoyable gaming experience.
With such a reputable developer behind it, Berry Burst is definitely worth a try. The next time you're looking for a slot game with fruity fun and the promise of big rewards, give Berry Burst a spin!
FAQ
What is the theme of Berryburst?
The theme of Berryburst is fruit.
What is the gameplay mechanics of Berryburst?
Berryburst uses the 5×3 reel system and clusters instead of traditional winning lines.
What are clusters in Berryburst?
Clusters are similar scatters where adjacent identical symbols can make a player a winner vertically or horizontally.
What are Wild symbols in Berryburst?
The Wild symbol in Berryburst is a cube.
What is the music like in Berryburst?
The background music in Berryburst is interesting and varied over time.
What is the similar slot to Berryburst by NetEnt?
Lost Relics, another NetEnt slot, uses the same cluster mechanism as Berryburst.
What other fruit themed slot games are there?
Players can try out other fruit-themed titles such as 4 Reel King, Clockwork Oranges, and Double Stacks.
What should I take the time to master in Berryburst?
Players should take their time to master the cluster system in Berryburst to avoid any problems while playing.
What we like
Cluster system adds a unique twist to traditional slot gameplay.
Bright and detailed visuals make the game visually appealing.
Presence of Wild symbols and free spins adds to the excitement.
Developed by a trusted brand in the industry.
What we don't like
Lack of traditional paylines may be confusing for some players.
May not have enough features for experienced slot players.