Magic Journey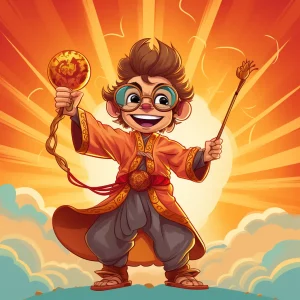 Magic Journey is a no-nonsense slot game that keeps things simple yet enjoyable. Its 3×3 reel structure and 8 paylines are perfect for those who don't want to be bogged down by complicated gameplay. Think of it like a fast food burger – it's not gourmet, but it fills the void and puts a smile on your face.
As for special features, there's only one – the Respins feature. But hey, who needs bells and whistles when you have the chance to win big? It's like going on a blind date and finding out your date is super rich – maybe not what you expected, but definitely a pleasant surprise!
Bet your Way to Magic Land
Hold on to your purse because this game has something for everyone! From penny pinchers to high rollers, Magic Journey offers a betting range of 20 cents to $100 per spin. It's like finding loose change in your laundry, but with a chance to hit it big!
Characters and Graphics that will make you go Abracadabra!
Hold your jaw or it might drop! Magic Journey is blessed with the graphics that will keep you hooked to the screen. Chinese folklore characters like Sun Wukong, Master Tang, and Princess Iron Fan have never looked more enchanting. Their bright, cartoon-like images will make you want to be on the journey with them! And you know what, the best is yet to come! The Wild symbol is represented by none other than Sun Wukong himself who also triggers Respins. So, it's not just the graphics but the magic powers too!
Hold onto Your Hats: Get Ready for Volatility and Maximum Win
Take a deep breath and get ready for the ride of your life with Magic Journey! This slot game is high in volatility, which means that the maximum win is 400 times the bet amount – that's a whopping $40,000! Although wins might not come as frequently as you'd like, the possibility of snagging an excellent payout makes it an attractive game to the more seasoned players out there.
If you're feeling brave, give Magic Journey a try. Just be warned that the volatility can be a rollercoaster ride of emotions – one minute you'll be on top of the world, and the next, you might be begging for mercy. But hey, isn't that what makes the game so exciting?
Similar Slots
Looking for more Oriental-themed fun? Look no further! Check out these titles:
King of Monkeys – the perfect slot game to make you go ape with excitement!
Chinese New Year – this game is so good, it's worth celebrating twice!
The Fortune Pig – this game is piggin' awesome!
Kung Fu Rooster – don't get your feathers ruffled, this game is a real winner!
Each of these games will have you feeling like a lucky dragon, so give them a spin and find your new favorite.
FAQ
What is Magic Journey?
Magic Journey is a slot game inspired by Chinese tradition and legends, with 3 reels and 8 paylines.
What are the special features of Magic Journey?
The only special feature is the Respins function which allows for additional wins.
What is the betting range for Magic Journey?
The betting range is from a minimum of 20 cents per spin up to 100$.
What is the maximum win in Magic Journey?
The maximum win is 400 times the bet amount (40,000$).
Is Magic Journey a high volatility game?
Yes, Magic Journey is a high volatility game, meaning wins may not come frequently, but will be of great interest to experienced players.
Can Magic Journey be played on mobile devices?
Yes, Magic Journey can be played both on desktop computers and all mobile devices, including Android and iOS.
What is the return-to-player (RTP) percentage for Magic Journey?
The theoretical player's return is set at a very good 96.54%.
What are some similar slots to Magic Journey?
Similar Oriental-themed slot machines include King of Monkeys, Chinese New Year, The Fortune Pig, and Kung Fu Rooster.
What we like
Wide betting range appeals to both low and high rollers
Attractive graphics and symbols inspired by Chinese folklore
High volatility with a maximum win of $40,000
Sun Wukong triggers Respins feature
What we don't like
Only one special function available (Respins)
May be infrequent wins due to high volatility