Jungle Gorilla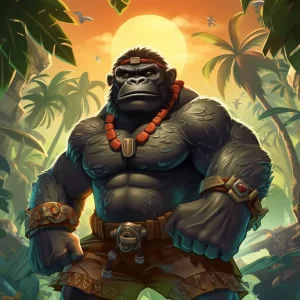 If you like your slot games as easy as ABC, then Jungle Gorilla is for you. It has 5 reels and 3 rows that are so simple even a monkey could play it. Speaking of monkeys, they are one of the symbols in the game along with tigers and parrots.
Unlike other slot games, Jungle Gorilla does not have free spins. But don't worry, there is still something to look forward to! The game has increasing multipliers – up to 5x on each reel – that can make you go bananas. These multipliers increase every time a scatter symbol appears, so keep an eye out for them!
Unlock the Jungle's Treasures: Special Symbols and Features
Get ready to swing through the jungle of online gaming with Jungle Gorilla. With many animal symbols that are as appealing as the game is exiting, the Jungle Gorilla slot game is sure to keep you entertained. Not only will you encounter a chameleon, a parrot, an elephant, and a tiger, but you will also face the gorilla that gives the game its name. Don't worry; you won't have to outrun this gorilla! You will want it on your side as it is the wild symbol and your key to winning big.
But that's not all! Keep an eye out for the scatter symbol, which is a golden medal with a gorilla engraved on it. This symbol gives you access to the game's increasing multiplier feature. No traditional free spins, but with this feature, you'll hardly miss them.
Maximize Your Winnings with Multipliers in Jungle Gorilla!
Are you bored of the same old slot games with no exciting features? Look no further than Jungle Gorilla, where multipliers are the name of the game! These little gems can skyrocket any win up to 5x its original value, and all you have to do is hit a scatter symbol.
Now, what happens when you get a wild in the mix? The multiplier gets snatched up faster than a banana in a monkey enclosure! It attaches itself to the winning reel and can boost your payouts to the stratosphere. But don't get too comfortable, as the multiplier only lasts one round and then it's back to its default 1x value.
With such high multiplier values at stake, your odds of striking it rich in Jungle Gorilla are better than finding a hairless gorilla. So what are you waiting for? Give it a spin!.
Jungle Gorilla: No Free Spins but a High RTP?
Looks like Jungle Gorilla skipped leg day because it's lacking in free spin features. Don't worry though, the game makes up for it with an impressive 96% RTP. You won't be swinging from vines but the multiplier feature can multiply your winnings. Unfortunately, the graphics aren't as impressive as a Silverback Gorilla, but that's okay because sometimes it's what's on the inside that counts. The simple gameplay and high RTP will keep you entertained longer than a troop of monkeys.
Into the Jungle with Jungle Gorilla
Hold on tight because you're about to venture into the dense rainforest with Jungle Gorilla. This online slot game boasts a jungle theme and will have you dodging vines and swinging from trees in no time. The interface of the game is simple yet captivating, with a 5×3 grid that takes up most of the screen space. But don't let the simplicity fool you, the game packs a wild punch.
Surrounding the grid is an ancient structure covered in vines and moss, adding to the immersive experience. The game symbols are all inspired by the jungle, including classic playing card symbols like A, K, Q, and J, plus some fun jungle characters like a chameleon, parrot, elephant, tiger, and of course, the king of the jungle, the gorilla. The design of these symbols is visually stunning, and the overall background and vibe of the game perfectly suit its jungle-inspired theme.
If you're looking for a game with gorgeous graphics and a fun theme, Jungle Gorilla is the slot machine for you. Now, if you excuse us, we're off to put on our Tarzan loincloth and swing around our office. Jungle Gorilla has us feeling wild!
FAQ
What is Jungle Gorilla?
Jungle Gorilla is an online slot game developed by Pragmatic Play that takes place in the jungle and features multipliers instead of free spins.
What is the RTP of Jungle Gorilla?
The RTP (Return To Player) rate of Jungle Gorilla is 96%.
What are the symbols in Jungle Gorilla?
The symbols in Jungle Gorilla include classic playing card symbols, a chameleon, a parrot, an elephant, a tiger, and the titular gorilla.
What are the special symbols in Jungle Gorilla?
The special symbols in Jungle Gorilla are the Wild symbol, which is simply the word 'Wild', and the scatter, which is a golden medal with an engraved gorilla on it.
Does Jungle Gorilla offer free spins?
No, Jungle Gorilla does not offer free spins. Instead, the game features multipliers that increase when a scatter symbol appears.
What sets Jungle Gorilla apart from other slot games?
Jungle Gorilla is a fairly simple slot game, but it is unique in its use of multipliers instead of free spins.
What are some similar slot games to Jungle Gorilla?
Some similar slot games to Jungle Gorilla include Great Rhino Deluxe, Aztec Gems Deluxe, and other Pragmatic Play slot games that feature animals and nature themes.
Is Jungle Gorilla suitable for beginners?
Yes, Jungle Gorilla is simple enough for beginners to understand and enjoy.
What we like
Increasing multipliers for bigger wins
High RTP of 96%
Attractive animal symbols and design
Simple gameplay and mechanics
What we don't like
Lack of free spins feature
Graphics may not match other Pragmatic Play slot machines