Going Underground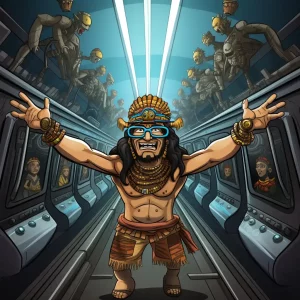 Get ready to dive into the underground world with Going Underground, an online slot game that will take you on a journey through time! With its classic 5×3 structure and 20 fixed paylines, this game offers players the chance to earn impressive payouts if they manage to find matching symbols from left to right.
To make things even more exciting, Going Underground comes equipped with a range of bonus features and modifiers that can be triggered throughout the game. These are designed to keep players engaged and entertained at every bet, adding an extra layer of excitement to the already dynamic gameplay.
If you're a fan of online slots and you're looking for a new game to sink your teeth into, then Going Underground is definitely worth checking out. Whether you're an experienced slot player or a newbie, you're sure to find something to enjoy in this game!
Just try not to get lost in the tunnels! (Unless you're trying to evade the police…just kidding, we don't condone that kind of behavior here.)
Graphics
Hold on to your hats, folks. Going Underground is the online slot game that has it all – including impeccable graphics! All of the symbols are expertly designed with a cartoon-style that will make you feel like you're on a wild ride through history. With characters like Isaac Newton, Winston Churchill, and William Shakespeare to guide you, you'll feel like you're in the middle of a historical saga – and loving every minute of it!
And let's talk about those graphics! They are exceptional, never failing to enhance the gameplay experience. The constantly changing background keeps you engaged and on your toes, no matter what type of round you're playing. Plus, the visuals have an interactive quality that really brings the whole experience to life. Get ready to be thoroughly immersed!
Let's be real – we've all played some slot games with less-than-stellar graphics. But Going Underground is here to change the game. With state-of-the-art design and engaging graphics, this online slot game is definitely one to watch. So why not give it a try? After all, with exceptional graphics like these, you're bound to have a great time.
Bonus Features
Are you ready to experience some of the most thrilling bonus features in a casino slot game? Then, Going Underground is the perfect match for you! This exciting game has everything a player could wish for and more.
With five random modifiers, the fun never stops! Have you tried 'Tunnel Vision' yet? Get ready for the mystery symbols to appear on your reels and surprise you with blockbusters! Plus, 'Big Smoke' is another favorite, where players hunt down the 3×3 pay symbol and feel like secret agents in a London spy movie.
The game also has five possible bonus rounds that can be triggered by finding at least three scatters. Enter the Pentonville bonus round, and lucky combinations and respins will be locked on the grid until winning payouts are generated. In the Kings Cross bonus round, players get five additional spins with a wild-central reel, which could make anyone feel like the king of London.
But hold your horses, as the true treasure still lies ahead! Enter the Canary Wharf bonus round, and brace yourself for eight spins filled with highly remunerative symbols that can result in winnings up to 50 times the original bet. With Going Underground, you will never get bored! The game is packed with different bonus rounds and features, designed to continuously entertain and captivate players, so start your journey now!
Exploring London's Subterranean World in Going Underground Slot Game
Get ready to dive into London's underground history with the Going Underground slot game. This enthralling game takes you on a journey to discover the hidden marvels beneath London's bustling streets, all while rubbing elbows with some of history's most iconic figures.
The game's theme is undoubtedly unique and memorable. From antique maps to iconic images of the city's iconic subway system, Going Underground leaves no stone unturned in presenting a fully immersive gaming experience that is second to none. It's an absolute must-play for those who love exploring and discovering new things.
The graphics of the game are also top-notch, making it an absolute pleasure to sit down and immerse oneself in the hidden world of London's tunnels and subways. The game's art style is perfect, with each element carefully crafted to evoke the gritty and mysterious vibe of London's underworld.
While the game may take you on a journey to the past, don't worry because the gameplay is modern and exciting. It's a casino slot game that's easy to understand but difficult to master, so you'll want to keep spinning to get the hang of it. Of course, even if you don't win a ton of money, you'll still have a blast playing this game!
Overall, Going Underground is an excellent slot game that takes a theme that's unique and full of history and does it justice. It's a rare gem that's perfect for those who love to learn more about London's fascinating history while having fun and winning some cash. You're sure to love everything this game has to offer!
Accessibility
Are you tired of playing online slot games that are not available in your country? Well, say goodbye to those lousy games because Going Underground is here, and it caters to players from all over the world. You can play this game from the comfort of your home, whether you are in Canada, Finland, or even Timbuktu, because Going Underground is produced by Pragmatic Play, a well-known provider that operates in more than 70 countries worldwide.
If you're a player that loves to play slot games on the go, then you're in luck because Going Underground is compatible with mobile devices. So, whether you have an iPhone or an Android, you can take the excitement with you wherever you go. No more waiting in line at the grocery store, feeling bored and unentertained, because you can whip out your phone and play Going Underground, and have fun while waiting for your turn to check out your grocery items. Who knew grocery shopping could be so thrilling?
What truly sets Going Underground apart from other slot games is its RTP of 95.58%. That's right; you heard it here first, folks, this game has an RTP that's higher than your daily dose of caffeine. What's more, the game features different bonus features and modifiers, which ensures that the game remains engaging, fresh, and endlessly enjoyable. Players will never get tired of playing this game because it's like a box of chocolates – you never know what you're going to get.
So, what are you waiting for? Grab your device, load up Going Underground, and get ready to have some fun. Who knows, you might just win big while you're at it. And if you do, don't forget to tip your hat and do a little dance to celebrate your winnings. After all, life is short, and we need to celebrate the little things, like winning at a slot game.
FAQ
Who created the Going Underground slot?
Going Underground was created by Pragmatic Play, a well-known provider of online slot games.
How many paylines does the game have?
Going Underground has 20 fixed paylines.
What is the RTP of Going Underground?
The RTP of Going Underground is 95.58%.
Does Going Underground have bonus features?
Yes, Going Underground has numerous bonus features, including special symbols and random modifiers that can activate randomly during gameplay.
What are the bonus round options in Going Underground?
When you get three Scatter symbols, you can access one of five unique bonus rounds. These are Pentonville, Kings Cross, Buckingham Palace, Canary Wharf, and End of the Line.
Is Going Underground available on mobile?
Yes, Going Underground is optimized for mobile and can be played on any device.
What types of symbols can you find in Going Underground?
The symbols in Going Underground include historical figures such as Isaac Newton, Winston Churchill, and William Shakespeare.
Are the special features in Going Underground worth trying?
Definitely! The numerous special features in Going Underground make for a dynamic and exciting gameplay experience, with multiple chances to increase your winnings and see thrilling animations.
What we like
Dynamic and exciting gameplay
Impeccably designed graphics
Numerous bonus features and rounds
Distinct and immersive theme
What we don't like