Gods of Giza (Pragmatic Play)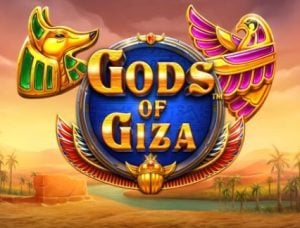 Are you ready to enter a world of Ancient Egyptian mythology and mystical treasures? Look no further than Gods of Giza, the exciting slot game by Pragmatic Play. This game is packed with a range of different features guaranteed to keep you on the edge of your seat!
One of the most thrilling features of Gods of Giza is the cascade system, which opens up new winning opportunities after every winning combo. The game grid is square-shaped with 5 reels and 5 rows, and it houses 10 fixed paylines, allowing you to chase big wins with every spin.
But that's not all – Gods of Giza also features Wild multipliers that can increase your winnings even further. And keep your eyes peeled for the special Scatter symbol, which could lead you to the most lucrative payouts in the game.
Gods of Giza offers different betting levels, so players of all levels can join in the fun. Whether you're a high-roller or a penny spinner, the spin cost ranges from $0.20 to $100. That means you can spin to win, no matter what your budget is. Plus, the theoretical return to player (RTP) is a solid 96.01%, so you have a good chance of winning it big in this game. And with high volatility, the payouts can be sky-high.
If you're in a hurry to uncover your fortunes, don't worry – Gods of Giza offers automatic spins and fast spin capabilities, so you can speed up gameplay. And if you really want to supersize the action, try using the Turbo feature to accelerate the gameplay – though fair warning, you might be holding on tight for this wild ride!
Graphics and Sound Effects
Prepare to be transported to Ancient Egypt with the visually stunning Gods of Giza slot game from Pragmatic Play. The graphics in this game are some of the best in the industry, with crystal-clear symbols that are expertly crafted to enhance your playing experience. And, let's be honest, who doesn't love a good three-dimensional effect? You'll get that and so much more.
When you trigger the Free Spins game, get ready to be dazzled by a background full of gold and jewels that will have you feeling like a pharaoh. But it's not just the visuals that are impressive. The music in Gods of Giza is also top-notch. A captivating oriental melody accompanies the spinning reels and adds an extra layer of immersion that truly sets this game apart from the rest.
All in all, the graphics and sound effects in Gods of Giza are truly something to behold. They'll have you feeling like a true explorer uncovering the secrets of ancient civilization, all while you try your luck at hitting the jackpot. Who says slots can't be an adventure?
Paylines and Reels
Oh, there's nothing like spinning those reels, itching with excitement to see which symbols will light up and bring a big payday. And Gods of Giza (Pragmatic Play) is no exception! It's got a square grid with 5 reels and 5 rows, which is perfect for those who like their slots feeling a little different. Trust me, it makes all the difference and makes you feel like you're spinning in a palace in Egypt.
And hey, let's not forget about those 10 fixed paylines that are housed in those reels. You'll be shaking your head with disbelief when you trigger the bonus feature and multiply your winnings. The payouts are sweet like a honeycomb! So buckle up, and let's spin those reels baby!
Bonus Features
You know what they say, the more bonuses the merrier! And Gods of Giza definitely agrees with this. The game features a wide range of lucrative bonus features that will keep the players on their toes throughout the gameplay.
The Wild multipliers alone are enough to make you feel like a god as they can multiply your winnings up to x10. The Wild will remain glued to the reels for three Respins, which gives players a better chance of winning big!
The Scatter symbol is the ultimate key to unlocking the Free Spins bonus game. A minimum of three Scatters will take you to the holy land of bonuses where one Wild is guaranteed on every spin. And that's not the best part; if the Wild disappears after three winning combinations in the base game, it remains for five spins in the bonus game. Oh, how generous of the gods!
And if you're feeling extra lucky or just too impatient to wait for the Scatters to appear, Gods of Giza has got you covered with the Buy Free Spins option. You can buy your way to the bonus game by clicking on the Buy Free Spins box at the cost of 100 times the bet. Who needs divine intervention when you have quick access to bonuses, right?
Volatility and Payout
Are you ready to take on the Gods of Giza? This game has a volatility that is sure to give you a run for your money. Don't expect to win with every spin, but when you hit it big, you'll be thanking the gods! With a high payout of 5,000 times your bet, you could be walking away with a small fortune.
But be warned, the gods are not easily pleased. You will need to earn their favor to reap the rewards of this game. It's not for the faint of heart, but for those who are up for the challenge, the payout can be heavenly.
Think you have what it takes to outsmart the gods? Give Gods of Giza a spin and see if you can come out on top. Just don't anger the gods, or you may end up with a thunderbolt between your reels!
FAQ
What is the minimum spin cost for Gods of Giza?
The minimum spin cost is $0.20.
What is the maximum spin cost for Gods of Giza?
The maximum spin cost is $100.
What is the highest payout for Gods of Giza?
The highest payout is 5,000 times the bet.
Are there automatic spins available in Gods of Giza?
Yes, there are automatic spins available.
What is the theoretical return to player (RTP) for Gods of Giza?
The RTP for Gods of Giza is 96.01%.
What are the basic symbols in Gods of Giza?
There are six basic symbols: blue, green, and pink gemstones, Eye of Ra, jackal, and eagle.
How does the Wild symbol work in Gods of Giza?
The Wild symbol is added every time a winning combo is obtained and replaces all symbols except the Scatter. It can also have a random multiplier between x2 and x10.
Is Gods of Giza available on mobile devices?
Yes, Gods of Giza is built in HTML5 and can be played on every mobile device.
What we like
Quality graphics with a unique Ancient Egypt theme
Cascade system with Respins and random Wild multipliers
Guaranteed Wilds and multipliers during Free Spins
Possibility to buy the Free Spins feature
What we don't like
High volatility may not appeal to all players
Limited number of paylines compared to other slot games