Fishin Reels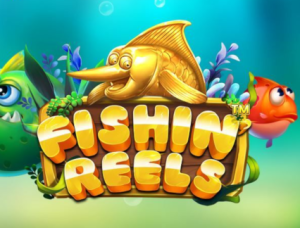 Are you ready to cast your line and spin the reels of Fishin' Reels? This online slot game has it all, from the beautiful underwater world to the fun animations and cheery music. Fishin' Reels has 5 reels and 10 fixed paylines, so you never have to worry about missing a winning combination.
One of the best features of Fishin' Reels is the Autospin function, which allows you to sit back and relax while the reels spin for you. You can set the number of Autospins to anywhere between 10 and 100, and also set win and loss limits which is a great way to manage your balance. It's like having your own personal fisherman, but without the smell of bait!
When you spin the reels in Fishin' Reels, you are transported to a vibrant underwater world with many bubbles and reflections creating abstract shapes on the sand. The cute animations add a playful touch to the game, and keep you entertained while you wait for the next big catch. The upbeat music also adds to the fun of the game, but if you prefer a more serene atmosphere, you can always turn it off.
It's not every day that you can fish for big wins from the comfort of your own home. Fishin' Reels makes it possible to enjoy the excitement of fishing without leaving the house. So, what are you waiting for? Get ready to catch some big payouts and have a reel-y good time with Fishin' Reels!
Symbols and Features
Get ready to reel in some big winnings with Fishin' Reels! This slot game features 10 regular symbols, including low-paying symbols like the diamonds and clubs. But don't let their lack of value fool you, these symbols can still pay out a maximum of 1 $ with a bet of just 0.01 $ per line. If you're lucky enough to land hearts or spades, however, you'll be looking at a potential payout of 1.50 $.
But the real money is in the sea-themed symbols, which pay out much more than the low-paying symbols. Fins and masks can net you up to 2 $, while the starfish can give you a generous 3 $ payout. Feeling shellfish? Then set your sights on the lobster symbol, which can reel in up to 4 $. And if you're really looking to make a splash, the frog symbol can hop into your wallet with a payout of 5 $. But the real prize is the fish symbol, which can help you catch a whopper of a payout with a whopping 10 $!
Fishin' Reels also has two special symbols to help you reel in even more winnings. The first is the Wild symbol, which is surrounded by seaweed and can replace any other symbol on the reels (except for the Scatter) to help you make winning combinations. And speaking of the Scatter symbol, keep an eye out for the golden swordfish. If you land at least three of these symbols, you'll trigger a round of Free Spins. So cast your line and see what you can catch with Fishin' Reels!
Betting Range
Let's talk about money! Fishin' Reels is the perfect online slot game for all players who want to have some fun and try their luck without breaking the bank. If you're a beginner, don't worry, the game offers a minimum bet of only 0.10 $ per spin, so you won't feel like you're risking too much. Plus, you can still catch plenty of fish and maybe even get a big win!
Now, for the more adventurous players, there's also a lot of action in store. If you're feeling confident and want to increase the stakes, Fishin' Reels allows you to bet up to 100 $ per spin. That's right, you could potentially catch a massive jackpot worth thousands while playing with the biggest fishes in the sea!
Whether you're a penny-pincher or a high-roller, Fishin' Reels offers a range of betting options that's sure to suit your needs. So, let's get fishing and see what the sea has in store for us!
RTP and Volatility
If you're a seasoned slot player, you know that elements such as RTP and Volatility are crucial in determining a game's quality. Fortunately for us, Fishin' Reels excels in these departments. In terms of RTP, the game pays out 96.5%, meaning you have a high likelihood of securing a tidy profit.
Now, let's talk volatility. Fishin' Reels has high volatility, which can be likened to the experience of trying to hook a giant swordfish. You might miss a few times, but when you finally snag it, the feeling of euphoria will be immense.
It's important to note that high volatility slots aren't for everyone. If you're averse to risk or prefer frequent small wins, you might want to try something with lower variance. But if you're the type of person who jumps out of airplanes or wrestles alligators, Fishin' Reels is definitely a must-try.
Reeling in the Free Spins
Are you ready to cast your line and catch some fish? Well, in Fishin' Reels, you can do just that and earn some sweet rewards while you're at it. One way to do this is through the Free Spins round, which is triggered by landing at least three Scatter symbols on the reels.
Now, here's where things get interesting. You'll be given the choice of two game functions: Reel it in or the Big Catch. If you choose Reel it in, you'll be presented with nine fish, a bait basket, a boot, and a can with a worm, each representing multipliers ranging from 0.5x to a whopping 250x, as well as extra spins. Talk about a catch of the day!
But that's not all. Every time the fisherman appears, he'll tally up your winnings, add any extra spins, and throw in two more free spins for good measure. It's like having your own personal fishing guide!
And if you're feeling extra lucky, you can choose the Big Catch. This feature includes a golden fish, aptly named the Big Fish symbol, that overlaps with other game symbols. If you land three of these bad boys, an extra mini-game with eight fish is triggered. Each fish comes with its own multiplier, ranging from 0.2x to 250x, and each spin will select a fish and multiply its value by the total bet.
So, whether you choose to Reel it in or go for the Big Catch, the Free Spins round in Fishin' Reels is sure to have you hooked and reeling in those rewards in no time. Good luck out there, anglers!
FAQ
What is the minimum and maximum bet in Fishin' Reels?
The minimum bet is 0.10$ per spin and the maximum bet is 100$ per spin.
How many paylines are there in Fishin' Reels?
There are 10 fixed paylines in Fishin' Reels.
What is the RTP (Return to Player) of Fishin' Reels?
The RTP of Fishin' Reels is 96.5%.
Is Fishin' Reels a high or low volatility slot game?
Fishin' Reels is a high volatility slot game.
What are the special features in Fishin' Reels?
The special features in Fishin' Reels are Wild symbol, Scatter symbol, and 2 Free Spins functions called Reel it in and The Big Catch.
What is the maximum payout in Fishin' Reels?
The maximum payout in Fishin' Reels is 2,500x the total bet.
Can I play Fishin' Reels for free?
Yes, you can play Fishin' Reels for free in demo mode at many online casinos.
What device do I need to play Fishin' Reels?
You can play Fishin' Reels on desktop and mobile devices such as smartphones and tablets.
What we like
Autoplay functionality with customizable win/loss limits
Underwater world theme with cute animations and cheerful music
Suitable for all levels of players with a minimum bet of only 0.10 $
Excellent return-to-player rate of 96.5%
What we don't like
High volatility may not be suitable for players who prefer more frequent wins
Small number of paylines may limit the potential for big wins