Fire Archer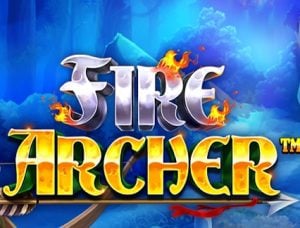 Fire Archer is the perfect game for slot enthusiasts who love to explore different settings and themes. Developed by Pragmatic Play, the game offers a refreshing and thrilling experience that takes you to Sherwood Forest. As soon as you start playing, the stunning graphics and seamless animation will make you feel like you've entered a completely new world!
Fire Archer has a traditional layout with five reels and five rows. However, the addition of 25 paylines enhances the gameplay and creates more opportunities for players to win big. But that's not all. The Super Wild system offered by the game takes the excitement to the next level and enhances your chances of landing big wins.
Speaking of winning big, the game has a maximum potential payout of 4,000 times the stake amount. So, even if you're not a fan of Sherwood Forest or archery, it's worth giving Fire Archer a try!
When it comes to betting, Fire Archer is quite flexible. You can bet with a minimum of 0.25 credits and a maximum of 125 credits, making it approachable for both casual and experienced players. And, you'll be thrilled to know that you can play for free in demo mode before putting in any real money.
The theoretical Return to Player (RTP) of Fire Archer is an impressive 96.07%. This means that you can expect a return of $96.07 for every $100 you bet in the long run. Not too shabby, right? So, what are you waiting for? Get into the sizzling world of Fire Archer and start spinning those reels today!
Symbols and Payouts in Fire Archer
Get ready to get struck by Fire Archer's animation, graphics, and design! The symbols on the reels are enough to make the player interested and addicted to the gameplay. While some symbols in Fire Archer are not part of its theme, others are highly themed, and they bring the game to life with a unique ambiance.
However, if you're counting on big payouts, we suggest you keep an eye out for the adventurous symbols. These include a hat, a mug filled with beer, Robin Hood himself, and a sack of coins. Hits with one or more of these symbols can easily raise the heat and make your bankroll sizzle! The highest payout possible is an incredible 4,000 times the amount of your original bet.
Plus, keep an eye out for Fire Archer's Scatter the quiver and Wild Target symbols. Not only does the Wild act as a wildcard, but it also triggers a unique feature that transforms it into a Super Wild! Who wouldn't want a superhero on their team? And if that's not enough to keep you on the edge of your seat, its Scatter is also packed with tons of winning opportunities.
Overall, Fire Archer is a great slot game that's worth checking out if you're an adventurous spirit looking to take your winnings to new, fiery heights! So sit back, grab a beer, play it cool and hope that Robin Hood brings you lots of luck.
Bonuses And Features In Fire Archer
Looking for an energetic slot game that offers excellent bonuses? Look no further than Fire Archer! This game has everything you need to make your slot gaming experience more enjoyable and lucrative.
Fire Archer features two special symbols: a Scatter, the quiver, and a Wild, the target. But don't let the simplicity fool you, these symbols come with fantastic features that can keep the excitement going.
The Scatter is the quiver symbol, and it offers the possibility of obtaining five free spins. But that's not all! If you manage to hit more quivers during the free spins, you can increase your number of free spins, making the game even more thrilling!
Meanwhile, the Wild comes in as a wildcard, substituting for any other symbol on the reels. But Fire Archer takes it up a notch. When the Wild appears on the screen, it triggers a special feature that turns it into a Super Wild, giving you even higher chances to land a winning combination and heat up your winnings to a whole new level.
Fire Archer boasts a Super Wild system which enhances your chances of winning, taking the thrill of the game to another level.
So, if you're looking for a slot game that brings together all the perks of a high-energy slot machine, Fire Archer is the perfect pick. Play it today for an action-packed gaming experience that will leave you wanting more again and again.
Exploring the Volatility and Payout Potential of Fire Archer
Fire Archer is a flaming hot slot game, perfect for those who love high volatility and the potential for big payouts. This slot machine means business, and it's not for the faint-hearted. You want to win big? Be prepared to take on the challenge!
Just like a fiery archer shooting arrows, this game is all about aiming high. With the maximum potential payout being 4,000 times the amount of your stake, it's hard not to get excited. It's like hitting a bullseye on a dartboard or throwing a full-court swish shot in basketball. The payout is there, but the question is, are you skilled enough to hit the mark?
Now, we have to tell you that Fire Archer is a highly volatile game, which is simultaneously exciting and scary. It means that you may go through dry spells without any wins, but when you finally hit the jackpot, it could very well be a game-changer. It's like going on a rollercoaster ride; the anticipation is exhilarating, and the drops and curves could leave you breathless.
But never fear, even if you don't get a big payout, you can still have a good time with Fire Archer. The graphics and sounds are brilliant, with the flames and the arrows adding a nice touch. You'll feel like you're in the middle of an epic battle with all the sounds surrounding you.
The bottom line is, if you're looking for a fun but challenging game with the potential for a massive payout, then Fire Archer is the perfect choice. Just remember to keep your cool and never stop aiming high!
Experience the Fire Power of Fire Archer Slot Game
Get ready to unleash your inner archer and experience the thrill of Fire Archer, an online casino slot game that takes you on a fiery adventure. With its sleek design and innovative gameplay, Fire Archer is a breath of fresh air in the world of slot machines.
The stunning graphics of Fire Archer lure you in and keep you hooked throughout the game. The visual effects, including the flaming backdrop and the smoking barrels, add to the excitement and make you feel like you are in the middle of a wild battle. The fast-paced music complements the gameplay and keeps your adrenaline pumping.
Fire Archer is a highly volatile game, but the payout potential makes it worth the risk for those looking for big wins. And if you're not quite ready to risk your cash, you can always play for free in demo mode. The theoretical RTP of 96.07% further adds to the appeal of trying your hand at Fire Archer.
Overall, Fire Archer is a fantastic slot game that delivers on all fronts. It's got the looks, it's got the gameplay, and it's got the potential for massive payouts. So, what are you waiting for? Get ready to light up the reels and unleash the fire power of the Fire Archer!
FAQ
What is the maximum potential payout for Fire Archer?
The maximum potential payout is 4,000 times the stake amount.
What is the minimum and maximum bet for Fire Archer?
The minimum bet is 0.25 credits and the maximum bet is 125 credits.
Are there any free play options for Fire Archer?
Yes, you can play for free in demo mode before betting real money.
What are the non-themed symbols in Fire Archer?
The non-themed symbols are playing cards from ten to Ace, also known as 'royals', which have the lowest value.
What is the Super Wild system in Fire Archer?
The Super Wild system significantly enhances the chances of winning when triggered by the target Wild symbol.
What is the setting of Fire Archer?
The setting is the mythical Sherwood Forest, with stunning graphics that look more like animation than a slot machine.
Who is the archer in Fire Archer?
The archer is Robin Hood, the legendary gentleman thief who stole from the rich to give to the poor.
Is Fire Archer suitable for novice players?
Yes, Fire Archer is enjoyable and engaging for both novice and experienced players.
What we like
Stunning graphics and animation-like visuals
Super Wild system enhances chances of winning
Possibility to play for free in demo mode
Good theoretical Return to Player (RTP) of 96.07%
What we don't like
High volatility may lead to infrequent wins
Max potential payout of 4,000 times the stake can be challenging to obtain