Fat Panda Slot Review
In this Fat Panda review, you will discover all there is to know about the slot game by Pragmatic Play. We'll delve into its unique features, gameplay, symbols, and more. Whether you're a seasoned slot player or a newcomer, this review will provide valuable insights into what makes Fat Panda a game worth trying.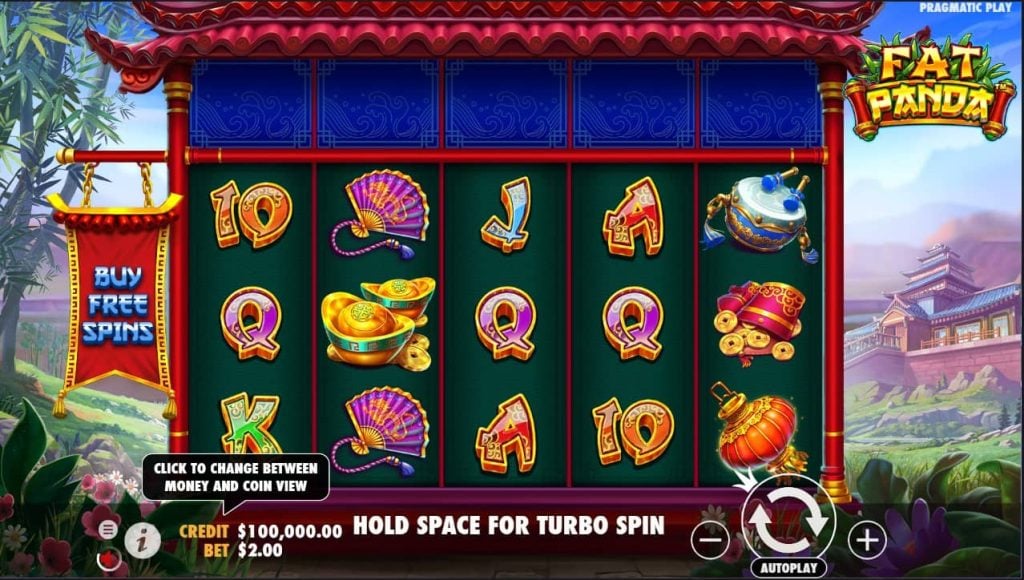 Introduction to Fat Panda
Fat Panda is a captivating slot game developed by Pragmatic Play, set in the heart of Asia. The game's theme immerses players in a beautifully designed Asian landscape with a pagoda-like structure serving as the main gaming area. This 5×3 slot boasts vibrant colours and intricate details that transport players to an enchanting world.
With an RTP of 96.07%, Fat Panda is a highly volatile slot with 20 fixed paylines. Players can bet as low as 20 pence or as high as £/€100 per spin, making it suitable for both casual and high-stakes gamblers.
Limits and Layout
Fat Panda features a 5×3 grid layout, common in many slot games, with five reels and three rows. The background is a picturesque representation of Asia, with lush landscapes and traditional architecture. The colour palette is rich and vibrant, adding to the visual appeal of the game.
As part of this Fat Panda review we discovered that this slot is highly volatile, meaning that while wins may be less frequent, they can be substantial when they occur. The RTP (Return to Player) is set at 96.07%, providing a reasonable chance of winning over the long term. The maximum win in Fat Panda can reach up to 20,000 times the bet, offering substantial potential for lucky players.
As for wagering, players can choose from a minimum bet of 20 pence up to a maximum of £100 per spin, accommodating a wide range of betting preferences.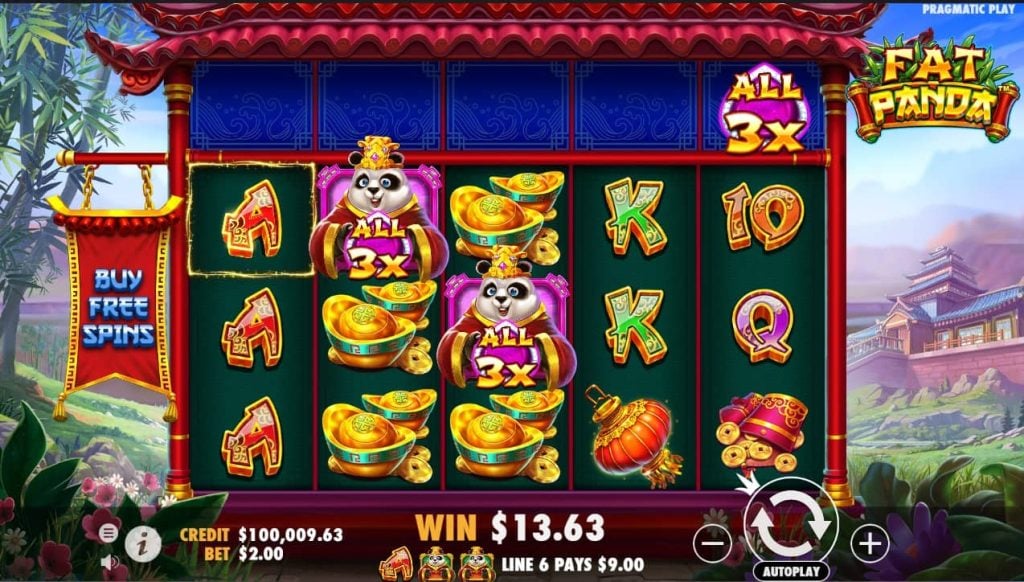 Gameplay and Features
Our Fat Panda review reveals that this title offers an array of exciting features, making gameplay engaging and potentially rewarding. The top reel introduces modifiers that can add wild symbols, expand wilds, apply multipliers, and more. These modifiers add a layer of unpredictability to the game, keeping players on their toes.
To trigger the free spins feature, players need to land scatter symbols on the reels. Three, four, or five scatters will grant 10, 12, or 15 free spins, respectively. During free spins, wild symbols remain locked in place for the duration of the round, enhancing the chances of big wins. Additionally, landing an additional scatter symbol during free spins can award extra free spins.
The game also offers a bonus buy feature, allowing players to purchase free spins at various costs, increasing the excitement of the gameplay.
Regular Symbols
Regular symbols include the familiar 10-A card ranks and higher-paying symbols such as coins, a fan, a drum, a lantern, and sycees. While 5-symbol low pay wins award 0.5 to 1 times the bet, 5-symbol premium wins can pay out 1 to 5 times the bet. The wild symbol, represented by pandas, can substitute for any regular pay symbol, increasing the chances of creating winning combinations.
Scatter Symbols
Scatter symbols are the key to unlocking the free spins feature in Fat Panda. Landing three or more scatter symbols on the reels triggers the bonus round, offering players a chance at more significant wins.
Wild Symbols
Wild symbols are represented by pandas and can substitute for any regular pay symbol, increasing the chances of creating winning combinations. The game provides exciting opportunities for wins when wild symbols appear in significant numbers.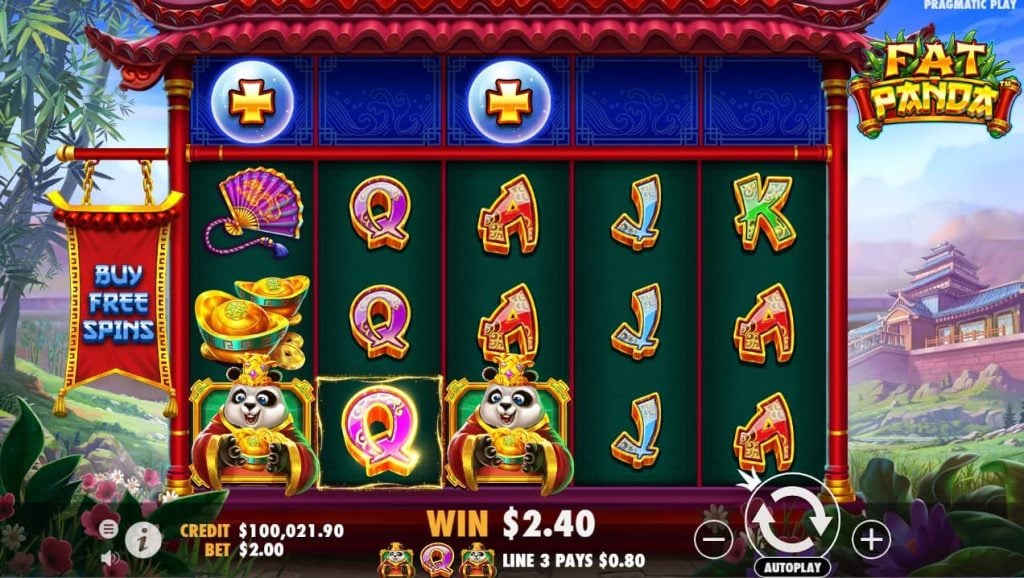 Expert Opinion on Fat Panda
In our experience from this Fat Panda review, we found it to be an aesthetically pleasing slot with engaging gameplay. Pragmatic Play's attention to detail in capturing the Asian theme is commendable. The game's high volatility adds excitement and the potential for significant wins keeps players invested. However, it's essential to note that while the game can be rewarding, it may also have moments of slower gameplay. If you enjoy Asian-inspired slots with unique features and a touch of Kung Fu Panda charm, Fat Panda is worth a spin.
Play the Fat Panda Slot Free Demo
By now you probably want to see exactly how this game works. If that sounds like you, give our Fat Panda free demo a try. With no risk at all, you can see how great this slot really is before playing for real money to some of the best online casinos.
Slots Similar to Fat Panda
If you're seeking slot games that capture the essence of Fat Panda, here are three titles to explore:
Mystic Orient: Step into the mystical world of the Orient with Mystic Orient. This slot game shares the Asian-inspired theme with Fat Panda, featuring rich visuals and captivating gameplay. Players will encounter traditional symbols, vibrant landscapes, and exciting bonus features that evoke the charm of Asian culture.
Panda's Fortune: Panda's Fortune invites players into a realm of pandas and fortunes, much like the world of Fat Panda. This slot offers a delightful panda-themed adventure with a focus on wild symbols and bonus rounds. If you enjoy the cute and charming pandas in Fat Panda, you'll find a similar appeal here.
Golden Lotus: Golden Lotus transports players to a serene Asian garden filled with lotus flowers and golden treasures. The slot's elegant design and soothing soundtrack create a serene atmosphere reminiscent of the Asian-inspired backdrop in Fat Panda. Experience the allure of the Orient while pursuing rewarding bonus features.
Each of these slot games shares thematic elements and gameplay features that resonate with the charm of Fat Panda, making them excellent choices for players who enjoy Asian-inspired slots.
Fat Panda - FAQ
Does Fat Panda have free spins?
Yes, Fat Panda free spins are a feature that can be triggered by landing scatter symbols on the reels.
Can I play Fat Panda on mobile?
Yes, Fat Panda is compatible with mobile devices, allowing you to enjoy the game on your smartphone or tablet. You can opt to use a casino app or simply enjoy Fat Panda with no download required directly through your browser. 
Where can I play Fat Panda?
When looking to play Fat Panda online you'll find it's featured at many top casinos that also feature a range of other Pragmatic Play games. 
What is the Fat Panda RTP?
The RTP (Return to Player) for Fat Panda is 96.07%.