Dragon Kingdom – Eyes of Fire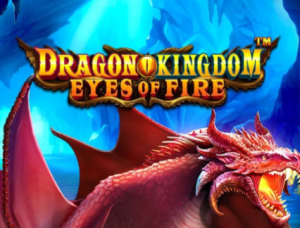 Are you ready to face a storm of fire-breathing dragons? Then gear up for the adventure of a lifetime with Dragon Kingdom – Eyes of Fire! This sizzling-hot slot game features 3 reels and 3 rows, with 5 fixed paylines eager to reward players with epic payouts.
And while the volatility may not be the highest, don't let that fool you into thinking there's no treasure to be found. On the contrary, players can expect frequent payouts that may be on the lower side, but are sure to keep the fun going and the winning spirit alive.
But what's really great about Dragon Kingdom – Eyes of Fire is its customizable gameplay and mechanics. Whether you're feeling the need for speed or prefer a more leisurely spin, you have the power to set automatic spins to your desired pacing. Even better, with turbo speed options, you'll never miss a beat! So sit back, relax, and let the dragons take you on the ride of a lifetime. Hoards of treasures await!
Fixed Paylines and Minimum Bet Amount
Are you a beginner in the world of gambling and want to start slow with a few cents on the line? Then Dragon Kingdom – Eyes of Fire is your lucky slot. The minimum bet is just $0.5 per spin. And hey, you never know, that small bet might just turn into a massive win!
It's worth noting that there are only 5 fixed paylines in this slot game. But don't worry, this is more than enough to get your heart racing and your palms sweating. And hey, it's always quality over quantity, right? After all, you don't want to spread yourself too thin and miss out on those winning opportunities.
Winnings are paid from left to right and only the highest winning per line is paid out. So if you're lucky enough to land multiple wins on the same line, it will only be the highest one that counts. Just like in real life, when you're at the top, you're at the top!
Dragon Kingdom – Eyes of Fire: With Volatility and RTP
When it comes to playing slot games, most players enjoy a good mixture of frequent wins and decent payouts. With Dragon Kingdom – Eyes of Fire, you get exactly that. The game has been designed to be a low volatility game that gives players frequent wins without having to wait for too long.
Whether you're a new player or a seasoned slot machine aficionado, you will enjoy the game's Return to Player (RTP) percentage. At 96.49%, you'll be able to recoup a bit of your bankroll when you spin those fire-breathing dragons into winning combinations. Plus, with such an impressive RTP, it's worth noting that while low volatility games don't offer the biggest payouts, they provide more consistent and sustainable wins.
Now, we know what you're thinking, who cares about RTP if it looks like it's raining bonuses? Well, let's be real, everyone wants to win those big jackpots. But, we can't deny that winning something every so often is better than not winning anything at all. Dragon Kingdom – Eyes of Fire offers the best of both worlds by giving players the chance to win often and win big, thanks to its low volatility and decent RTP.
All in all, Dragon Kingdom – Eyes of Fire is an excellent choice for those looking for a fun and engaging slot game. The low volatility setting means that players can win small but often, without having to risk too much of their bankroll in the process. Add to that the high RTP, and you have a game that's more than worth the investment. So what are you waiting for? Join the dragons today!
Experience the Fun of Progressive Game Levels and Win Multipliers
Dragon Kingdom – Eyes of Fire is more than just a slot game. It is an adventure that takes you to a mystical land with fire-breathing dragons. What's even better is the unique feature of progressive game levels with win multipliers.
If you're tired of playing boring slot games, Dragon Kingdom – Eyes of Fire is the perfect antidote. It offers four non-winning spins, after which another reel with three eggs and multipliers rotates. And if you are still unlucky, the game gradually moves you from one level to another, with higher multipliers at each level. It's like moving from an apprentice to a master.
The progressive game level feature in Dragon Kingdom – Eyes of Fire makes the gameplay more intense and gives players a chance to increase their earnings. And who doesn't love the idea of winning big and becoming a millionaire?
Yes, those little orbs of joy that contain multipliers. They can show up at any level, and when they do, they dish out some fantastic winning multipliers. Plus, they're just so darn cute!
The maximum multiplier available is 50x, but only at level 6. That might seem daunting, but it's not impossible. And the satisfaction of achieving that level is worth the thrill and hard work.
So, if you're a fan of online slot games and looking for excitement, Dragon Kingdom – Eyes of Fire is the game for you. It's more than just a game; it's an adventure. And who knows, maybe you'll be the one to win the 50x multiplier and rule the dragon kingdom.
Graphics and Sound Design
Prepare to be amazed by the stunning graphics in Dragon Kingdom – Eyes of Fire. It's like being transported to a magical world of dragons, treasure, and adventure. The design team nailed every detail, from the intricately patterned marble frame to the colorful dragons guarding the reels.
And let's talk about the sound design for a moment. The mechanical whirring of the reels and the satisfying thud as they stop create an immersive gaming experience. And the epic soundtrack? It's like something out of Game of Thrones. You'll be humming it for days.
Speaking of dragons, the Wild symbol is represented by the dragon's eye. It's always a good sign when the Wild symbol is visually impressive, and this one certainly doesn't disappoint. It replaces all other symbols, helping you score those big wins!
All in all, Dragon Kingdom – Eyes of Fire is a feast for the senses. You'll want to play with the sound on and soak up all the stunning visuals.
FAQ
What is Dragon Kingdom – Eyes of Fire?
Dragon Kingdom – Eyes of Fire is a slot game that features beautiful graphics and is easy to play. The game has 3 reels, 3 rows, and 5 fixed paylines. The game has a total minimum bet of just $0.5 per spin.
What are the symbols in the game?
The game features symbols such as playing card suits, the fiery number seven, a red dragon, a blue dragon, and the Wild symbol represented by the dragon's eye.
What is the Wild symbol?
The Wild symbol is represented by the dragon's eye and replaces all symbols.
What is the minimum bet per spin?
The total minimum bet per spin is just $0.5, which makes it suitable even for beginners.
What is the game level?
Dragon Kingdom – Eyes of Fire has a progressive game level that starts at level 1. With 4 non-winning spins, another special reel with 3 eggs appears, and as you continue to lose, you move up to higher levels.
What are the multipliers in the game level?
As you move up to higher levels, the game offers higher multipliers. Level 1 has no multipliers, level 2 offers 2x, 3x, and 5x multipliers, level 3 offers 3x, 5x, and 8x multipliers, and level 6 offers a maximum multiplier of 50x.
Can I set automatic spins in the game?
Yes, you can set automatic spins in the game from 10 to 1,000, and there are two speed options: fast and turbo.
What is the volatility and RTP value of the game?
The game has low volatility, which results in frequent but low winnings, and an RTP value of 96.49%.
What we like
Low minimum bet, suitable for beginners
Frequent but low winnings
Unique progressive game levels with win multipliers
Stunning graphics and sound design
What we don't like