Chilli Heat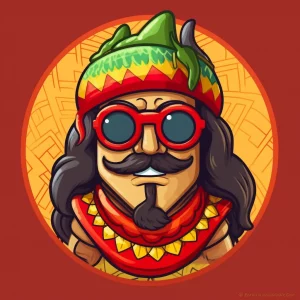 Ready to spice up your online gambling experience with some hot and spicy slots action? Look no further than Chilli Heat, the sizzling 5-reel, 25-payline online slot machine developed by Pragmatic Play. This slot combines two of our favorite things: Mexican cuisine and the chance to win big!
The game's fiery red background perfectly sets the tone for the hot gameplay that awaits you. The graphics are fun and cartoonish, featuring all the classic Mexican symbols you'd expect, like cacti, mariachi bands, and of course, lots of chilli peppers.
But don't be fooled by the playful graphics and straightforward gameplay. Chilli Heat manages to pack a punch with not one but two bonus games! The first bonus game requires you to spin a money wheel, which can result in some impressive payouts. The second bonus game is a classic round of free spins, with the possibility of re-triggering them for even more chances to win.
If you're feeling brave enough to handle the heat, give Chilli Heat a try. Just don't forget the guacamole!
Betting Options
If you're a penny pincher like me, you'll be pleased to know that Chilli Heat offers a range of bets starting as low as $ 0.25 per spin. But if you're feeling extra spicy and want to turn up the heat, you can go all-in with the maximum bet of $125 per spin.
And for the lazy players out there (no judgment), Chilli Heat also features an Autoplay button. Just press it, sit back, and watch the game spin up to 100 times for you. It's like having your own personal slot machine butler.
Get Your Taste Buds Tingling with Themed Symbols and Graphics
Get ready to spice up your gaming experience with Chilli Heat, the online slot game that takes you straight to the heart of Mexico. The game features themed symbols related to Mexican cuisine that will make your mouth water, including tequila glasses, a mariachi with a sombrero, mustaches and guitar, and a chihuahua with salsa tabasco. Just looking at the symbols will get your taste buds tingling.
But it's not just the symbols that make Chilli Heat a fun game to play. The graphics are cartoonish and move on a fiery red background that fits perfectly with the Mexican theme. Although there are no special effects or 3D animations, the simplicity of the game adds to its charm, making it aesthetically pleasing and engaging.
So prepare yourself for a fiesta of flavors and colors with Chilli Heat – the perfect game for those who love a bit of spice in their gaming experience. We can't guarantee you won't start craving tacos while playing, but we can guarantee you'll have a good time.
Bonus Games: Money Respins and Free Spins
Attention all slot lovers – get ready for some spicy action with Chilli Heat, the latest addition to the online casino world. But what makes it so hot? Apart from its vibrant graphics, there are two bonus games that will surely make you sweat: the Money Respins and Free Spins.
Let's begin with Money Respins, a game that is activated when you land six or more sacks of coins on the screen. Oh, how I love a good sack! These sacks will then remain locked for the next three spins – giving you a chance to land even more sacks. And trust me, you'll want to land as many as possible because once all 15 positions on the screen are filled with coins, you activate the grand prize of 1000x the bet. Now that's what I call spicy!
The second bonus game is the Free Spins feature. Land three scatter symbols on reels 2, 3, and 4 to trigger this game, and you'll get eight free spins. But hold on to your sombreros, folks – these aren't just any ordinary spins. During the Free Spins feature, the reels become richer as they only contain high-paying symbols and wilds. I almost burnt my fingers on the screen while playing this!
If you're a fan of high-energy games that bring the heat, then Chilli Heat is the one for you. These bonus games will keep you on the edge of your seat and make you feel like you've just won a salsa dancing competition (or maybe that's just me?). Test your luck and see if you can handle the heat!
Spice Up Your Wins with Chilli Heat
Chilli Heat is a hot and spicy casino slot game that will get your taste buds tingling and your wallet filled. With a maximum payout of 1250x the bet during the base game, players can spice things up by earning a combination of five Mariachi symbols. This is no small feat, but it's definitely worth chasing, especially if you're feeling lucky.
The game also features a Money Respins feature, which can yield the grand prize of 1000x the bet. With the potential of scoring multiple respins, you have even more chances to pocket big wins. And if you're looking for even more winning opportunities, the Free Spins feature offers richer reels with higher payouts. This is where the game really heats up, and the spice meter goes through the roof!
But don't let the heat scare you away, the game's RTP is reassuringly high at 96.5%, indicating that the game offers a decent amount of winning opportunities. Give it a spin and see if you can handle the heat and take home some cash. Whether you're a seasoned player or just starting out, Chilli Heat offers a fun and engaging gaming experience with plenty of chances to win big.
Just be careful not to get too greedy, or you might end up with a case of heartburn instead of a wallet full of cash! Don't say we didn't warn you. So spice up your day and give Chilli Heat a go. Who knows, you might just be the next big winner!
FAQ
What is Chilli Heat?
Chilli Heat is a slot machine game developed by Pragmatic Play with a Mexican cuisine theme that offers 5 reels and 25 paylines with a range of bets from $ 0.25 up to $125.
What are the highest paying symbols in Chilli Heat?
The highest paying symbols in Chilli Heat are the mariachi with the sombrero and the chihuahua with the bandana, which offer $10 and $7.50 respectively when they appear five times on the reels.
What are the lowest paying symbols in Chilli Heat?
The lowest paying symbols in Chilli Heat are the traditional playing cards from J to Ace, which pay only $2.50 for alignments of five.
What is the Wild symbol in Chilli Heat?
The Wild symbol in Chilli Heat is represented by the slot's logo and can replace all other symbols to determine winning combinations.
What is the Scatter symbol in Chilli Heat?
The Scatter symbol in Chilli Heat is a big sun and activates the Free Spins feature when it appears on reels 2, 3, and 4.
What is the Money Respins bonus game?
The Money Respins bonus game in Chilli Heat is activated when six or more sacks of coins appear on the screen. Every time a sack appears, three free spins will be awarded, and the symbol will remain locked even in the next turn until the free spins run out or until the sacks cover the whole screen, and the player wins the corresponding maximum prize of 1000 times the bet.
How many bonus games does Chilli Heat offer?
Chilli Heat offers two bonus games: the Money Respins game and the Free Spins game.
How many free spins are awarded in Chilli Heat's Free Spins game?
The Free Spins game in Chilli Heat awards the player with 8 free spins when the Scatter symbol appears on reels 2, 3, and 4.
What we like
Engaging Mexican cuisine theme
Two bonus games for extra winning potential
Wide range of betting options
Decent RTP of 96.5%
What we don't like
No special effects or 3D animations
Limited number of free spins