Book of Vikings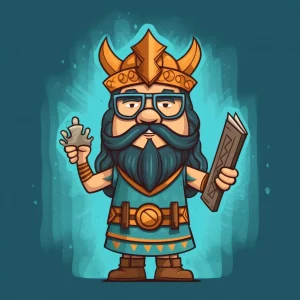 Book of Vikings, the latest online slot game, surely packs a punch with its riveting gameplay, top-notch graphics, and exciting features that truly set it apart from the rest. One of the main highlights of the game is its exceptional gameplay mechanics. The game features a classic 5×3 grid with ten fixed paylines, as well as a betting range of $0.10 to $100, making it perfect for both high rollers and newcomers.
Additionally, the game's high RTP value of 96.5%, combined with its high volatility, ensures that players have a good chance of winning big prizes. For those who prefer to sit back and watch the reels, the Autoplay function is available, which allows players to set between 10 and 100 automatic spins with win or loss limits.
The game's book symbol is undoubtedly everyone's favorite as it serves as both the Wild and Scatter, thus replacing all symbols and potentially resulting in some fantastic payouts. In fact, the symbol pays up to 200x the total bet, making it the perfect tool for anyone looking to make a quick buck.
The fun doesn't end there, though! Three or more book symbols will trigger the much-awaited Bonus Round, offering ten free spins and a special symbol randomly chosen before the Bonus game starts. What's even more exciting is that this symbol expands to cover all three locations on the reel, and there's no limit to the number of reactivations players can get, making playing Book of Vikings both thrilling and extremely rewarding.
Overall, Book of Vikings is a fantastic slot game that offers something for everyone. It's perfect for those who love innovative mechanics, exciting features, and of course, generous payouts. So get ready to put on your Viking hat and give Book of Vikings a spin!
Game Design and Thematics
If you're a fan of the epic tales of Norse mythology and the Poetic Edda, then Book of Vikings is the slot game for you! The team behind this game have perfectly captured the essence of this iconic setting with a visually stunning design, complete with an icy background and an epic soundtrack that will leave you ready for battle.
One thing we absolutely love about this game is how easy and intuitive it is to play. The console buttons are kept to a minimum, which is great news for those who like to dive right in without any fuss. And with high-quality graphics and attention to detail throughout the game, you'll feel completely immersed in the gameplay and experience.
Overall, the design and thematics of Book of Vikings make it a truly standout game in the crowded world of online slot games. So what are you waiting for? Don your horned helmet, grab your axe, and get ready for an adventure like no other!
Win Big with the Payout Structure
Get ready to raid with Book of Vikings – a high volatility slot game that's worth the wait. While wins may not come as frequently, every win is massive and worth the anticipation, just like discovering treasure after storms of the sea.
The game's symbols reflect the theme perfectly, with warriors and the mighty Book of Vikings itself offering the highest payouts. The lowest value symbols also pay out well, so don't overlook them! A combination of five symbols will get you $1, while a combo with the male warrior symbol gets you a bounty of up to $50.
The Book of Vikings symbol is the key to unlocking the biggest treasures in this slot. Not only is it visually striking, but it also pays out up to 200 times the total bet, which is exceptional! With a fair RTP of 96.5%, players are having a great time and enjoying the decent payout percentage. So, don't hesitate to join in and enjoy the betting range offered, from $0.10 to $100.
With Book of Vikings, the higher you bet, the higher the profit! If you bet big on that single spin and land the right combination, you could join the legends of the Vikings and their massive wealth. So, come and brave the sea with Book of Vikings – but don't forget your helmet and shield, as you'll need them to defeat other players and grab your share of the loot.
Is Book of Vikings Accessible and Suitable for Players of All Levels?
Book of Vikings is a game designed for players of all levels, making it easy for beginners and experienced players alike to get in on the action.
The game's simple and intuitive design makes it a great choice for new players who don't want to be overwhelmed with complicated features and confusing rules. The Autoplay button is a great feature that allows players to set limits on the number of spins and win or loss limits, giving them control over their gameplay and helping them stay within their budget.
Experienced players will love the high volatility and the potentially high rewards that come with it. The betting range is also quite broad, allowing players to adjust the bet size to their liking and stay in control of their gaming experience.
All in all, Book of Vikings is a game that caters to players of all skill levels, making it an instant classic in the world of online slots.
And if you're ever feeling down on your luck, don't worry – just remember that the Vikings were known for their perseverance and fighting spirit. So hang in there, and who knows? Maybe you'll strike it big and be able to retire to your own private Viking island.
Book Of Vikings: An Hilariously Exciting World Of Online Slots
If you're a lover of online slot games, you know how important it is to find a game that can keep you engaged and entertained for hours on end. Enter Book of Vikings: an uproarious addition to the world of online slots that's sure to leave you feeling satisfied and itching for more.
From the moment you start playing, you'll be greeted with a beautifully crafted world of intricate symbols and bright colours that will transport you to a legendary world of VIKINGS. The theme and design of the game are top-notch and will keep you glued to your screen for hours.
Not only that, but the game mechanics and payout structure are also designed to provide a fair and rewarding gaming experience. Whether you're a high-roller or a newbie to the world of online slots, you'll find the gameplay easy to understand and full of fun features.
And let's talk about the Autoplay function, shall we? How about no more boring moments while you're sitting in front of your screen pressing the same button over and over again? The Autoplay function is perfect for those who want to set their own pace and limits on playtime and payouts, giving you more freedom and control over your gaming experience.
The game is highly volatile, so be sure to hold on tightly to your seat and prepare to ride the storm. But don't worry, Book of Vikings offers a fair RTP value that can potentially lead to great rewards. In fact, the game is a great choice for players who are looking for a thrilling and memorable online gaming experience.
In conclusion, Book of Vikings is an outstanding online slot game that combines thrilling gameplay, top-notch graphics, and a potentially rewarding payout structure. Overall, it's a perfect gaming choice for those who enjoy high action and high potential rewards. Are you ready to set sail and join the vikings?
FAQ
What is Book of Vikings?
Book of Vikings is an online slot game that follows the Norse mythology theme, offering a classic grid with 5 reels and 3 rows and 10 fixed paylines.
What is the bet range for this game?
The bet range is between $0.10 and $100.
What is the RTP value of Book of Vikings?
The RTP value of Book of Vikings is 96.5%.
What is the volatility of this game?
Book of Vikings has high volatility, which means that it pays out less frequently but the wins are always substantial.
What are the paying combinations of this game?
The paying combinations are from left to right, and in case of multiple combinations on the same line, only the highest value one will be paid. Instead, if the winning combinations occur on different lines, then the wins will be added up.
What is the Wild and Scatter symbol of this game?
The book symbol is both the Wild and Scatter symbol of Book of Vikings. As a Wild, it replaces all symbols and pays out up to 200x the total bet, while as a Scatter, it activates the Bonus game when 3 or more books appear on the reels.
What happens during the Bonus game?
During the Bonus game, a special symbol is randomly selected, which extends to cover all 3 positions on the reel, and 10 free spins are awarded. Additional 3 Scatter symbols entitle you to 10 new Free Spins, with no limit to the number of reactivations.
Can I set limits during the Autoplay feature?
Yes, during the Autoplay feature, it is possible to set win or loss limits.
What we like
Classic 5×3 grid with 10 fixed paylines
Autoplay function with win/loss limits
Bonus Round with 10 free spins and expanding special symbol
Visually engaging design inspired by Norse mythology
What we don't like
High volatility may not appeal to players who prefer frequent wins
No progressive jackpot feature