Black Bull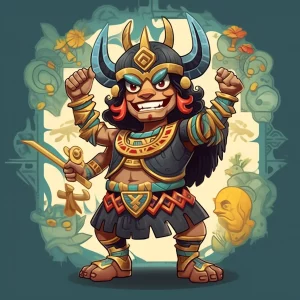 Are you ready to take the bull by the horns? Then Black Bull is the game for you! This slot game, offered by Pragmatic Play, might not be the most complex game on the market, but sometimes simple is best.
With 5 reels, 4 rows, and 20 paylines, this game offers players a straightforward gaming experience that is perfect for both seasoned veterans and slot newbies. The game comes with a wild symbol that can help players hit that elusive big win, as well as free spins that can give players even more opportunities to win.
Speaking of winning, the bulls in this game might be angry, but players will be anything but when they start racking up the wins. And let's be honest, who wouldn't want to take on an angry bull in the hopes of winning big?
So why not give Black Bull a try? It's a stampede of fun that might just lead you to some serious cash. Just make sure to keep your head down and watch out for those bull horns!
Gameplay Features And Symbols
Prepare to be taken on a wild ride in the heart of a bullring with the casino slot game, Black Bull. This visually stunning game boasts a selection of impressive symbols including wolves, eagles, geckos, and traditional playing cards set against a striking backdrop that will make you feel like you're right in the middle of the action.
The thrill of taking on the infamous Black Bull is further heightened by the addition of exciting gameplay features. The elusive wild symbol offers the opportunity to replace other symbols, increasing your chances of landing that coveted winning combination. Meanwhile, it's the money icons that will really get your heart racing. With values ranging from 0.5x to 50x, you won't be able to resist the chance to win big.
But that's not all, land the right combination of coins on the grid and prepare to be whisked away on a set of free spins. The number of spins ranges from 6 to 10 and is entirely dependent on the number of coins you uncover. Even in the base game, players have a chance to win big with just 5 identical symbols earning them anywhere from 4 to 25 times their bet.
Overall, Black Bull is a game that is sure to keep you on the edge of your seat with its exciting features and fantastic graphics. Just don't get too close to that bull, you might end up seeing stars (and not the kind that win you coins).
Winning Potential and RTP
If you're looking for a slot game with great winning potential, Black Bull could be just the game for you. With an RTP of 96.51%, Black Bull offers a return rate that falls within the market average, which means that you stand a good chance of getting a steady return on your investment, even if it's not the highest payout. However, the game's high volatility means that rewards may not come as frequently as you might hope, but when they come, boy do they come!
If you're a bit of a risk-taker, then Black Bull might just be the game for you, as it offers a maximum payout potential of up to 4,500 times the player's bet. This is an amazing opportunity to take home a huge win – it's like hitting a jackpot without having to hit a jackpot!
So what are you waiting for? Give Black Bull a spin and discover for yourself just what kind of winning potential this game has to offer. Just be careful not to get too caught up in the game and forget about the real world – it's easy to get lost in Black Bull's world of spinning reels, fun symbols and potential rewards!
Volatility and Frequency of Rewards
Let's talk about the good stuff first, shall we? Black Bull truly lives up to its name with its high volatility, offering players the chance to win big jackpots. Sure, you might not see frequent rewards like some other online slot games, but when you do hit a payout, it's worth the wait.
But don't worry, the game offers more than just waiting for the reels to align. The money icons can trigger the free spin feature, which gives you a chance to rack up even more rewards. And if you're feeling really lucky, you can even purchase a bonus round to increase your chances of hitting a big payout. You know what they say, fortune favors the bold, and in Black Bull, that couldn't be more true!
Overall, for those who enjoy a high-risk, high-reward experience, Black Bull is definitely worth a try. Just be prepared to wait for those big payouts, and keep a steady hand on your wallet if you're tempted to purchase a bonus round.
Get Ready to Play Black Bull: Free Version and Bonus Rounds!
Black Bull is a casino slot game that's sure to have you on the edge of your seat! But before betting with real money, take advantage of the For Fun version and practice to your heart's content. After all, you don't want to lose money simply because you didn't know what you were doing.
Now, onto the meat of the game: its free spins and bonus rounds! Who doesn't love a good chance to spin and win? Black Bull offers both, and dare I say, you won't be disappointed. You can even purchase these in-game to up your chances of hitting the jackpot or receiving a higher RTP rate.
If you're feeling extra daring, head over to the bonus round for a chance to challenge fate and potentially come out with a big win. The excitement doesn't stop with Black Bull, and the potential payouts are worth the risk (just don't blame me if you get addicted!).
FAQ
Can I play Black Bull for free?
Yes, you can find the slot in For Fun version, so you can practice before betting real money.
Does Black Bull slot offer special features?
Yes, they are the most fascinating part of the game: you can receive up to 10 free spins and unlock a bonus round that can also be purchased in-game.
What is the winning potential of Black Bull?
Its winning potential is up to a maximum of 4,500 times the bet placed.
How many paylines does Black Bull have?
Black Bull has 20 paylines.
What is the RTP of Black Bull?
The RTP of Black Bull is 96.51%.
What is the volatility of Black Bull?
Black Bull is a high volatility slot.
What symbols can I find in Black Bull?
In Black Bull, you can find symbols such as wolves, eagles, geckos, and symbols representing classic playing cards.
What is the function of the wild symbol in Black Bull?
The wild symbol in Black Bull can replace all symbols to form winning combinations.
What we like
Classic and simple gameplay
Wild symbol and free spins increase winning opportunities
High volatility for high-value rewards
Free version and bonus round options
What we don't like
Rewards may not be frequent due to high volatility
Purchasing the bonus round may require additional investment