Ancient Egypt Classics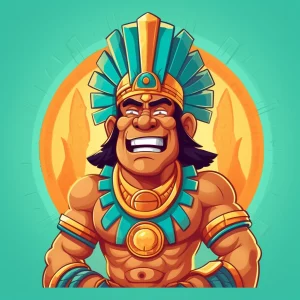 If you're looking for a game with the possibility of hitting it big, Ancient Egypt Classics has got your back. With a whopping RTP of 96.47% and high volatility, this game can deliver some serious payouts. That being said, don't expect to win frequently. You'll have to rely on Lady Luck to smile on you, but hey, that's the thrill of the chase, right?
The game features five reels and ten paylines, giving players ample opportunities to hit a winning combination. The interface is sleek and polished, transporting you back in time to the land of pharaohs, pyramids, and, of course, golden treasures. The symbols and imagery on the reels are richly detailed and immersive, making you feel as though you're exploring the crypts of the Valley of the Kings yourself.
One thing to keep in mind is that this is a high variance game, meaning your bankroll can quickly dwindle if you're not careful. However, the flip side is that the payouts can be enormous, so it's a bit of a risk-reward scenario. Personally, I found the game to be tremendously exciting, even if my wallet took a hit. All in all, Ancient Egypt Classics is an enthralling game that's well worth a spin.
Graphics and Design
In Ancient Egypt Classic, the graphics will transport you to a mystical world of ancient Gods and unearthing treasures. Despite the game being set in a far-off land and time, the overall design is simple and easy on the eye. It's like hopping on a magic carpet – but without the risk of altitude sickness.
The background is an impressive temple with pillars, majestic statues, and hieroglyphics adorning the walls. It almost makes you want to put on a Pharaoh's headdress and start building your own monument. The symbols on the reels are no less impressive, featuring representations of popular Egyptian Gods, including the mighty Ra and cunning Anubis. The animations are smooth and the sound effects appropriately mystical – perfect for unleashing your inner Indiana Jones.
Symbols and Theme
Ancient Egypt Classics is a game that has a mix of thematic and non-thematic symbols. If you're an Egyptologist, you'll appreciate seeing the hieroglyphs, the cross of life, the Eye of Horus, Anubis, and Queen Cleopatra. On the other hand, if you're like me, you'll enjoy seeing the playing cards from 10 to Ace. Who doesn't like a bit of familiar ground, right?
But let's talk about the Golden Scarab. This little insect is the Wild symbol and an essential part of Egyptian culture. I'm not sure if the ancient Egyptians ever used scarabs to win money, but in this game, landing on one can bring you wins up to x200. That's enough to make anyone start to believe in the power of these beetles.
If you're looking for a game that mixes the familiar with the unfamiliar, Ancient Egypt Classics is a perfect choice. You'll get the classic feel of a slot game mixed with the mystique of an ancient culture. A winning combination, if you ask me.
Special Feature: Golden Scarab and Free Spins
If you're looking for a slot game with great free spin options and stunning visuals, Ancient Egypt Classics is a sure bet. The game's design takes you on a journey to the land of the pharaohs and lets you immerse yourself in the mysteries of Ancient Egypt. But let's get down to business.
One of the best features of Ancient Egypt Classics is the Golden Scarab. Not only is this symbol beautiful to look at, but it also serves as the game's Wild symbol. This means that it can substitute for all other symbols on the reels to help you complete winning paylines. And if that wasn't enough, the Golden Scarab also has the potential to multiply your winnings by up to x200!
But that's not all – the Golden Scarab can also grant you access to the game's free spins feature. All you need to do is land at least three Scarab symbols anywhere on the reels, and you'll be awarded ten free spins. During this feature, one symbol will be chosen at random to serve as an expanding symbol, which means that it will cover entire reels and increase your chances of winning.
Of course, we wish that Ancient Egypt Classics offered more in terms of special features. But let's be honest – when you have a game as visually stunning and exciting as this one, who needs a thousand different bells and whistles? Whether you're a seasoned player or just getting started, Ancient Egypt Classics is definitely worth checking out, if only to experience the thrill of exploring one of the world's most fascinating and mysterious civilizations.
How Does Ancient Egypt Classics Compare to Other Egypt-Themed Slots?
As an avid slot player, I must say that the Ancient Egypt theme is quite common in the online casino world. You might think that this slot is just another one of those cliché Egyptian themed-games, but it has some features that make it stand out from the crowd.
There are many slots with an Ancient Egypt theme in online casinos. Some notable examples include Ramses Treasures, Sphinx, Ramses Riches, Golden Ark, Queen of Riches, A While on the Nile, Hidden, Horus Gold, Blaze of Ra, Rise of Ra, and Platinum Pyramid. And even though these games are all inspired by the ancient civilization, they all differ in their own unique ways.
Ancient Egypt Classics lack many of the flashy special features that are present in other Egypt-themed slots, but it still manages to make up for it with its rewarding and immersive experience. The game may not have fancy animation or stunning graphics, but the game's simplicity is what makes it appealing to players.
With the basic structure of the game, not everyone who enjoys Ancient Egypt Classic is looking to compete with the flashy graphics of other Egypt-themed slots. And who would blame them? Sometimes you just want a straight-forward and simple game that can provide you with a bit of thrill and excitement, without confusing you with over-the-top features
So, while it may not stand out visually among other Ancient Egypt-themed slot games, Ancient Egypt Classics offers a unique and straightforward gaming experience that many players will find enjoyable.
FAQ
What is Ancient Egypt Classic?
Ancient Egypt Classic is a slot machine by Pragmatic Play dedicated to the Pharaohs and is characterized by a very simple but well-structured game.
How many reels and paylines does Ancient Egypt Classic have?
Ancient Egypt Classic has 5 reels and 10 paylines.
What is the RTP of Ancient Egypt Classic?
The RTP of Ancient Egypt Classic is 96.47%, which is within the average of Pragmatic games.
Is Ancient Egypt Classic a high or low volatility game?
Ancient Egypt Classic is a high volatility game, which means that potentially you can get quite consistent wins, but they are not very frequent.
What are the non-thematic symbols in Ancient Egypt Classic?
The non-thematic symbols in Ancient Egypt Classic are playing card symbols, from 10 to Ace.
What are the thematic symbols in Ancient Egypt Classic?
The thematic symbols in Ancient Egypt Classic are hieroglyphs, the cross of life, the Eye of Horus, Anubis, and Cleopatra.
What is the Wild symbol in Ancient Egypt Classic?
The Wild symbol in Ancient Egypt Classic is the Golden Scarab.
Are there any free spin features in Ancient Egypt Classic?
Yes, the Golden Scarab symbol in Ancient Egypt Classic allows access to free spins.
What we like
High RTP of 96.47%
Simple and immersive graphics
Thematic symbols and references
Potential for large payouts
What we don't like
Few special features
Wins are not frequently obtained