African Elephant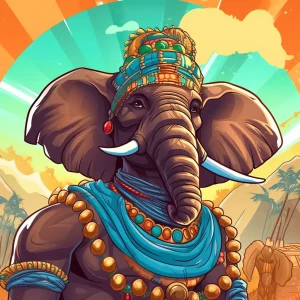 Are you tired of the mundane city life? Want to catch a break and explore the wild? Look no further than African Elephant by Pragmatic Play! With its stunning wildlife photography safari theme, this slot game will transport you straight to the heart of Africa.
Featuring a 5×4 grid with 20 fixed paylines, the minimum bet for this game is just $0.20. The real thrill, however, lies in the high potential payout of up to 15,000x the bet. Just imagine, you could be rich enough to fund your own safari trip!
This game comes loaded with amazing features to make the gameplay even more exciting. From Quick Spin to Turbo Spin, you can speed up the game as much as you want. And if you're too lazy to spin the reels yourself, the automatic spins feature has got you covered.
Don't forget, the winning combinations are formed by matching identical symbols from left to right starting from the first reel. So, keep a close eye on those adorable African animal symbols as they have the power to make you richer than Donald Trump!
What are you waiting for? Grab your binoculars and let's embark on a wild ride with African Elephant slot game!
How to Crush It at African Elephant Slots
If you love elephants, you'll love the African Elephant casino slot game. The game is packed with exciting features that make it a blast to play. The game's rules are pretty easy, too. Just match identical symbols from left to right on the reels, starting from the first reel, and you're in for some exciting payouts.
But, let's be honest, we're all in it for the elephant, right? This king of the savanna is the highest-paying symbol in the game and can also act as a wild to complete winning combinations. And if you're lucky, you might get to experience the Wild Shape feature. If you do, get ready for a wild surprise! The feature randomly selects positions on the reels, frames them, and transforms any symbol landing inside into a wild. That's right. Wild everywhere.
If you're looking for even more excitement, aim for the Elephant Charge scatter symbol. Landing three, four, or five of these symbols triggers 10, 15, or 25 free spins, respectively. And that means more chances to win big. Plus, during these free spins, the Wild Shape feature is guaranteed on every spin!
Still not enough for you? We've got one more thing up our sleeve. You can even buy the Bonus feature for 100 times the bet. That way, you won't have to wait for the Elephant Charge to show up to experience all the action.
So, go ahead and give African Elephant a spin. Who knows? Maybe Lady Luck will be on your side and you'll get to experience the Wild Shape feature, land some Elephant Charge symbols, or both! Whatever happens, we can guarantee that you'll have a wild time.
Gameplay and Betting Options
Ah, African Elephant, the slot game with the simple yet captivating gameplay and magnificent symbols. Let's talk about betting, shall we? For players who don't want to break the bank, the minimum bet of $0.20 is perfect for 20 fixed paylines. But for the high rollers, who have a love for dangerous risk, they can bet high up to a potential payout of 15,000x the bet. Cha-ching!
But don't let the simple gameplay fool you. This game has high volatility, so get your seat belts on, folks, because it's going to be a wild ride. And with an RTP of 96.04% during the base game and 96.07% during free spins, it's no wonder the African Elephant is attracting many players.
If you're the kind of person who likes to take things fast, you can make use of Quick Spin, Turbo Spin, or automatic spins. But remember, don't get too crazy. Check out the paytable in the game menu for details on payouts. Trust me, it's worth it.
All in all, African Elephant is a game that is easy to understand, has moderate betting options, and has the potential to pay out a small fortune – just like a real African Safari. So embrace your inner explorer and let's get spinning!
Theme and Graphics
Ah, African Elephant – the perfect game for when you're in need of a virtual safari. The game's wildlife photography theme is set right in the middle of the depths of Africa. The game's graphics are simple yet effective, with each of the typical animals of the region featured on the reels, including zebras, cheetahs, and rhinoceroses. The game's audio complements the graphics, with relaxing music playing in the background between spins, punctuated by the sounds of the savannah and the trumpeting of elephants after each winning combination. One can't help but feel a sense of calm while playing this game, as if you're basking in the African sun.
And let's be real – who doesn't like seeing a cute little baby elephant alongside their winnings on the reels? It's the little things that make this game stand out.
Overall, African Elephant's theme and graphics are definitely on point. Whether you know your way around the Serengeti or not, you'll certainly feel like you're there while giving this game a spin.
Who should play African Elephant?
If you're up for a wild ride and want to test your luck at the big game, African Elephant is the perfect slot for you. This game is perfect for online casino players looking for a bit of adventure. However, if you're someone who prefers to stick to the familiar, this game may not be the game for you.
With a 15,000x payout potential, this game is not for the faint of heart. You really need to be willing to take a risk to enjoy these big rewards. On the other hand, if you like a little danger in your life, then this game is the right choice for you.
The theme of the game is an African wildlife photography safari, so you'll be able to enjoy some stunning visuals while you play. And if that's not enough, the relaxing music is sure to put you in a zen state while you play, allowing you to fully immerse yourself in the experience.
In summary, African Elephant is perfect for the adventurous gambler who is looking for high risk with huge reward potential. If you want to take a break from the fast-paced and complex online slots and enjoy a simpler luxury, this game will give you a unique and relaxing experience.
FAQ
What is the minimum bet per line for African Elephant?
The minimum bet per line for African Elephant is $0.01.
What is the game's maximum payout potential?
The maximum payout potential for African Elephant is 15,000x the bet.
What are the options available to speed up gameplay?
Players can set Quick Spin or Turbo Spin in the game's menu, or activate automatic spins ranging from five to 100.
What is the Wild Shape feature?
The Wild Shape feature is where randomly selected positions on the reels will be framed, and any symbol landing inside will be transformed into a wild.
What is the Bonus feature, and how can it be obtained?
The Bonus feature can be purchased for 100 times the bet. It's an additional feature where players can get extra free spins.
What is the RTP during the base game and free spins in African Elephant?
The RTP during the base game is 96.04%, and during free spins, it's 96.07%.
What is the highest-paying symbol in African Elephant?
The elephant is the highest-paying symbol in African Elephant, and it also replaces all symbols except for the scatter symbol.
What is the African Elephant game theme?
The African Elephant game is set in Africa, with players participating in a wildlife photography safari, encountering animals of the region along the way, including cheetahs, monkeys, and the African elephant.
What we like
High potential payout up to 15,000x the bet
Wild Shape feature can create more winning combinations
Guaranteed Wild Shape feature during free spins
Relaxing music and nature-themed graphics enhance gameplay
What we don't like
High volatility may not appeal to all players
Bonus feature can be expensive to purchase