5 Lions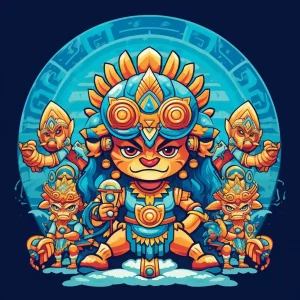 5 Lions is one of those slot games that'll remind you of a luxurious Asian spa you cannot afford. It comes with five reels and 243 paylines, which means that there are plenty of combinations to keep you entertained. The game has medium-high volatility, and while winning might not come easy, the feeling of hitting a jackpot is so good you'll forget about all the times you've lost your shirt (hopefully!).
Let's talk about the symbols – because 5 Lions has some real winners. From the fierce-looking dragons to the majestic white lions, you'll find it hard to not be mesmerized by the graphics. But don't be too dazzled, because the real prize is the gold lion – if you land on this symbol, you'll get to experience a level of richness your life has never seen. Catch five of these symbols, and you'll be a millionaire in no time (well, not really, but we can dream).
Symbols and Payouts
Are you ready for the animal kingdom to rule your luck on the slot reels? 5 Lions has some lucky animals on the reels, and they are more than just a pretty face. The non-thematic symbols of 5 Lions are the usual playing card numbers and letters, but don't ignore them. They can pay up to $1,000. Who says you can't win big with a 9?
Now, let's talk about the sculptures of some lucky animals in Chinese culture on the reels, such as the toad, phoenix, fish, turtle, and dragon. They are thematically rich and worth more. For instance, dare to cross the dragon's path, and it can bring you up to $5,000.
The Wild symbol is the king of the animal kingdom, the lion. It can only appear on reels 2, 3, and 4, but when it does, it's your lucky day. Not only does it substitute for all other symbols in the game except the Scatter, but it also provides a multiplier effect that ranges from 2x to a roaring 40x, increasing your chances of winning big instantaneously.
The Scatter symbol itself is Yin Yang, which offer up to 25 free spins. And, during these free spins, you can experiment with seven special features, which can be your good fortune pot overflowing with some serious payouts. So if you don't want to miss out on some Asian culture and gambling entertainment, give 5 Lions a try!
Return to Player: Is 5 Lions Worth Your Time and Money?
Are you wondering if 5 Lions by Pragmatic Play is a slot game worthy of your time and money? One of the most important factors to consider before playing any online slot game is the return to player percentage (RTP).
But don't worry, 5 Lions has an RTP of around 96%. This percentage is pretty consistent with other Pragmatic Play games. While the RTP of 5 Lions may not be anything revolutionary, you can still expect a decent payout compared to other online slots on the market. So if you're in it for the money, you're in the right place.
But hey, winning big isn't the only thing that makes a slot game fun, right?
Luckily, 5 Lions offers a unique and engaging playing experience that players are sure to enjoy. With its stunning graphics and vibrant colors, you'll feel like you've stepped into an Eastern world of myth and legend. And with features such as stacked wilds, free spins, and a bonus game, you're guaranteed to be on the edge of your seat throughout your gameplay. Just be sure to set a budget for yourself before diving in.
So, is 5 Lions worth your time and money? We say yes! With its decent RTP and immersive gameplay, there's no reason not to give it a spin. Just remember to gamble responsibly and have fun!
Thematic and Visual Design
Get ready to experience the Orient in all its glory with 5 Lions, a slot game that captures the essence of Chinese culture. You'll find yourself surrounded by Chinese symbols and amulets that represent the country's rich history and traditions. Just be careful not to get lost in all the detail – there's so much to take in!
The designers have done an excellent job of capturing the color scheme of Chinese culture, with predominant shades of red, blue, and gold blending together perfectly. The gold frame that surrounds the reels is a nice touch, and it brings out the theme's opulence and grandeur. For those not familiar with Chinese culture, fear not – the game's background music is Asian-inspired and sets the tone for a mystical and adventurous gaming experience. It's like taking a trip to the Orient without leaving your seat!
Speaking of mystical experiences, have you ever felt like you were being watched from the corners of your screen? That may just be the lions peering at you from the corners of the reels, ready to jump out of nowhere and give you a scare. But don't worry, they're just a small part of the beautiful design that makes 5 Lions a truly immersive and unforgettable experience.
Get Roaring Wins with these Special Features
If you're craving excitement and big wins, the 5 Lions slot game has got you covered. The game offers a range of special features that will make your roar heard across the casino floor!
Let's start with the Wild symbol, which is no other than the king of the animal kingdom, the Lion. This symbol not only substitutes for all the other symbols on the reels, but it also offers a random multiplier of up to x40 when it appears in a winning combination. Lions might be kings of the jungle, but in this game, they're the kings of the slots!
Next up is the Scatter symbol, which is depicted by the famous Yin Yang symbol. Get three or more of these on the reels, and you'll activate the free spins feature. During this round, players can experiment with seven different special features, each one increasing the chances of winning. The Yin Yang symbol itself also pays out, offering up to 25 free spins and getting you closer to your next big win.
The special features in 5 Lions add a lot of flavor to the game, making it more engaging and exciting to play. With the help of those lions and Yin Yangs, you'll feel like a winner in no time. So what are you waiting for? Grab your lucky charm and give those slots a spin!
FAQ
What is the theme of the game 5 Lions?
The game 5 Lions has a Chinese culture theme.
How many paylines are there in 5 Lions?
There are 243 paylines in 5 Lions.
What is the volatility level of 5 Lions?
5 Lions has medium-high volatility (4/5).
What is the Return to Player of 5 Lions?
The Return to Player of 5 Lions is around 96%.
What are the most valuable thematic symbols in 5 Lions?
The most valuable thematic symbols in 5 Lions are the dragon, which can bring winnings of up to $5,000.
What is the Wild symbol in 5 Lions?
The Wild symbol in 5 Lions is the lion protagonist of the slot game.
Where does the Wild symbol appear in 5 Lions?
The Wild symbol in 5 Lions can only appear on reels 2, 3, and 4.
What is the Scatter symbol in 5 Lions?
The Scatter symbol in 5 Lions is the Yin Yang.
What we like
Engaging gameplay with 243 paylines
Unique and thematic visual design
Special features increase winning possibilities
Medium-high volatility for potentially big wins
What we don't like
Limited appearances of Wild symbol
Free spins can be difficult to trigger