3 Dancing Monkeys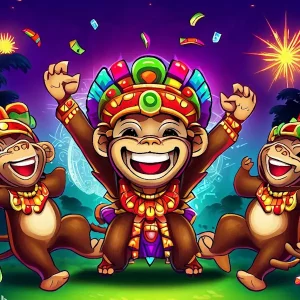 Are you ready to get wild and have some fun with 3 Dancing Monkeys? This game promises to be a barrel of laughs with its zany animal characters and exciting gameplay. With 5 reels, 3 rows, and 243 paylines, there are plenty of ways to score big.
But how much should you bet? Well, you can start as low as 0.3$, which is less than the price of a decent banana. Or, if you're feeling lucky, you can go all the way up to 150$ per spin. Just be careful not to go bananas with your budget.
One of the highlights of this game is the Autoplay feature. You can select up to 1,000 spins to play automatically while you sit back, relax and enjoy the show. We recommend grabbing a drink and some monkey snacks to get the full experience.
Now, we can't forget to mention the RTP rate of 96%. That's pretty impressive and gives you a solid chance of winning some big bucks. Just watch out for those pesky monkeys who might try to monkey around with your winning streak.
Finally, the game developers thought of everything with the gameplay on 3 Dancing Monkeys. Whether you're playing on mobile devices or your trusty desktop computer, the game runs smoothly on all operating systems. It's also easily accessible directly through your web browser, making it convenient to jump in and start playing.
Paylines & Wagering
Looking for a slot game that will make you go bananas? Well, 3 Dancing Monkeys might just be the one for you! With 243 paylines and a minimum bet of just 0.3$, this game is perfect for penny pinchers who still want to go bananas. But hey, don't let that fool you! If you're feeling particularly mischievous, the maximum bet of 150$ might just make you go ape.
With the chance to win up to 12,077 times your bet, you'll be swinging from the trees with excitement. With this kind of payout, you could buy a whole barrel of bananas or even your own monkey sanctuary.
So, why not take a risk and give those reels a spin? You never know what kind of monkey business you might get up to. Just remember, with great risk comes great reward – and the opportunity to show off your own funky monkey dance moves.
Bonus Features
Are you ready to monkey around with the bonus features in 3 Dancing Monkeys? This game isn't just bananas – it's got some serious modifiers that can help you rake in the winnings. With three different modifiers available, players have the chance to increase their payouts and have even more fun.
The Wild symbol in this game can replace any other symbol on the reels, increasing your chances of hitting a winning combination. And who doesn't love a little mystery? The mysterious symbol that appears during free spins can keep things interesting, as it can either lead to additional free spins or an instant cash reward. It's like a box of chocolates – you never know what you're going to get!
If you're really feeling lucky, you might want to try out the Bonus Buy function. This lets you skip the base game entirely and jump straight into the bonus game. It's like skipping the appetizer and going straight for the main course. Who needs salad when you can have free spins?
As if that wasn't enough, 3 Dancing Monkeys also offers gems on all the reels. Each gem is connected to a different modifier for the Free Spin round – red for added paylines, green for sticky Wilds, and blue for increasing multipliers. It's like a game within a game! With all these different bonus features, 3 Dancing Monkeys is sure to keep you entertained and hopefully make you go a little bananas with the payouts.
The Impressive RTP Rate of 3 Dancing Monkeys
Get ready to dance your way to some impressive wins! 3 Dancing Monkeys has an RTP rate of 96%, which is quite high compared to other online slot games in the market. This means that for every 100$ bet, you can expect to win back 96$ in the long run. If that isn't music to your ears, we don't know what is!
With such a high RTP rate, you can feel at ease knowing that the house edge is only 4%. This not only benefits you in the long run, but provides an opportunity for some monkey business that could lead to some big payouts, including the coveted jackpot. So keep spinning the reels, and let's see if these dancing monkeys can help you strike it lucky!
And if you're not convinced yet, just think of all the bananas you could buy with your potential winnings. Don't monkey around and give this game a try today!
Compatibility
Are you a desktop person or a mobile person? No matter which side you're on, 3 Dancing Monkeys has got you covered! It's compatible with both desktops and mobile devices, so you can play this game wherever and whenever you want.
And let me tell you, this game runs smoother than an ice-skater's moves! It doesn't matter if you're using Windows or Mac OS, or if you're team iOS or Android – 3 Dancing Monkeys runs like a dream on all operating systems.
This game is so compatible, it's like the Switzerland of online slot games! So go ahead and spin those reels on your laptop, tablet, or phone – 3 Dancing Monkeys is ready to dance with you no matter where you are.
Get Your Groove On with Free Spins
If you love getting free things and enjoy shaking your tail feather, then the Free Spin round on 3 Dancing Monkeys is perfect for you. Not only do you get more play time, but you also get a chance to earn extra rewards! Are you ready for the chance to win big? Of course, you are!
How about a little something extra? If a gem stops on the reels during the Free Spin round, you could activate one of three modifiers to keep the party going.
First up is the red gem, activating the Ways modifier, converting the grid into a 5×5 dimension. That means even more chances to score some sweet rewards. Next, we have the green gem, activating the Wild modifier by throwing more wilds onto reels 2, 3, and 4, turning up the heat and increasing your chances to win big time.
Finally, the blue gem is no shrinking violet either. It activates the Wins modifier, allowing all Wilds to display a 2x, 3x, or even a 5x multiplier. Sweet and simple, yet effective. Just how we like it!
So come on, put on those dancing shoes and spin to win with this party-tastic game. Your wallet (and your feet) will thank you for it!
FAQ
Can I play the demo version of 3 Dancing Monkeys for free?
Yes, you can try out the demo version of the game for free with lots of free credits to help you get used to the game and test different betting strategies.
What is the maximum payout I can win on 3 Dancing Monkeys?
The highest payout possible on the 3 Dancing Monkeys slot is 12,077 times your bet, offering a great potential for big wins.
Does 3 Dancing Monkeys have the Bonus Buy feature?
Yes, the game features a 'Bonus Buy' function that gives you the option to purchase the free spins for 100 times the initial bet.
What is the RTP rate of 3 Dancing Monkeys?
The game has an RTP rate of 96%, which should be considered when playing the game with real money.
What are the various features available on 3 Dancing Monkeys?
Apart from 3 modifiers, the game includes a Wild symbol, a mysterious symbol, free spins, and the Bonus Buy function to help you win big.
Which devices are compatible with 3 Dancing Monkeys?
You can play the game on both mobile devices and desktop computers, as it is compatible with all operating systems and can be accessed directly from your web browser.
What kind of symbols can you find on 3 Dancing Monkeys?
The game features traditional playing cards from 9 to Ace, gold coins, ceramics, paper lanterns, fans, Chinese characters, and even a few gemstones.
How can I get free spins and bonuses on 3 Dancing Monkeys?
You can activate the Free Spins feature by landing red, green, and blue gems that are present on all reels. Additionally, you can use the Bonus Buy feature to activate free spins by purchasing the feature for 100 times the initial bet.
What we like
High maximum payout potential
Optimal gameplay on mobile devices and desktop
Different bonus features available
Gameplay available without registration
What we don't like