Gold Digger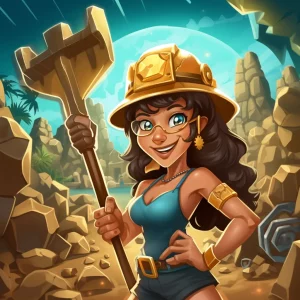 Have you ever dreamt of becoming a miner? Well, now you can strike gold with Gold Digger's Gold Link Respins feature! This bonus round takes the player to a separate room in the mine where the excitement begins.
Picture yourself walking through a rich vein of gold, feeling like Scrooge McDuck with every nugget you collect. Yes, my friends, you can now swim in a sea of gold, all thanks to this fantastic feature.
Not only do you get to collect cold-hard cash, but you also get to collect gems. If you're lucky enough to land one of these colored gems – blue, green, red, or purple – they can boost your payouts and give you even more respins. It sure makes us feel like royalty with all of these precious gems adorning our crowns.
All in all, the Gold Link Respins feature is a miner's dream come true. It's time to don your hard hat, pick up your pickaxe, and start digging for that precious gold. Trust us; this feature is worth the effort!
Exploring the Unique Reel Modifiers of Gold Digger
Gold Digger is an online slot game that offers a refreshing twist to the traditional slot games available out there. One of the game's unique features is its reel modifiers, which take the gameplay experience to the next level.
During the base game, the modifiers occur randomly, causing the man on the left side of the reels to react with surprise. It's already fun to watch his reactions, but the modifiers also have a direct impact on the game. They include adding extra wild symbols to the reels and upgrading low-value symbols.
These modifiers add an element of surprise to the gameplay and can increase the chances of winning for that round. Let's be real; we all love a good surprise, and Gold Digger certainly delivers on that front!
It's a unique twist that sets it apart from other slot games. And let's face it, after playing so many slot games with similar features, it's always refreshing when a game decides to experiment with something new and fun.
All in all, the reel modifiers in Gold Digger are a welcome addition to the game, and they make playing it truly enjoyable. Who knows? Maybe one of these modifiers will help you strike gold next time you spin those reels!
RTP: Digging up Some Numbers
If you're a seasoned slot player looking for a game with a decent return-to-player rate, then Gold Digger might just be the pickaxe you've been after. With an RTP of 96%, this online slot game is designed to give players a fair chance of striking it rich.
But we all know that online slots can be a bit of a gold rush – too many players and not enough pay lines can make for some pretty dry gameplay. Fortunately, Gold Digger's RTP doesn't come at the expense of its fun factor. The game still boasts a range of exciting features, including free spins and stacked wilds, that keep the gameplay fresh and entertaining.
Of course, even with a decent RTP, you're still likely to come out of the game with a shinier wallet if you exercise good bankroll management. But let's be real – who wants to be responsible when there's gold to be won?
So, keep those reels spinning and your eyes peeled for those glittering symbols. Gold Digger is a game that's all about taking risks, and with a 96% RTP, the odds might just be in your favor. Come on, let's go mining for some serious cash!
Base Game Features
Gold Digger is a slot game that promises to take you on a wild ride through the gold mines. But what's the point of entering a mine if you can't strike gold? That's where the base game features come in!
In addition to the unique reel modifiers, Gold Digger has three random base game features that can potentially increase your wins. These features include adding extra wilds, transforming symbols into gold nuggets, and upgrading lower value symbols to create better winning combinations. Who knew mining for gold could be this fun and profitable?
It's not every day you come across a game that offers such a good chance to boost your winnings during regular gameplay. With the base game features in Gold Digger, you never know what surprises might be in store on your journey through the mines.
So go ahead and dig your way through this slot game, and let the base game features work their magic. Who knows, you might just strike it rich!
Gameplay Mechanics
Gold Digger may be a newer game, but it follows the traditional format of 5 reels and 20 paylines. But don't let that fool you – this game is anything but old-fashioned! With a minimum bet of just 20 cents per spin, players can experience all the random base game features that can turn a losing streak into a golden opportunity.
One of the most exciting features of Gold Digger is the Gold Link Respins. It's like having a personal miner digging through the reels to uncover hidden treasures and high payouts! This feature has the potential to fill up the entire screen with the same symbol, leading to multiple winning combinations. What's not to love about that?
The graphics and theme of Gold Digger are mining-related, but don't worry – you won't have to dig too deep to enjoy the game. The bright colors and fun animations keep things exciting, and the banjo playing in the background adds a down-home vibe. This game can be played on desktop, mobile, and tablet devices that use iOS, Android, or Windows technology.
All in all, Gold Digger is a fun and engaging game with unique gameplay mechanics that keep players coming back for more. It's a goldmine of rewards and excitement just waiting to be uncovered!
Graphics and Theme
Get ready to dig deep into the earth with Gold Digger's mining-related aesthetic. Featuring colorful and engaging graphics, players will love the game's symbols which include traditional playing card symbols, mining axes, lanterns, mining carts, and the gold prospector himself – Gus. As you start the game, you'll come across a Wild symbol and the Scatter symbol – a gold nugget. These exciting features only add to the fun and excitement of the game!
One of the best things about Gold Digger is that it uses sound and video effects to create an immersive experience that players will enjoy. The soundtrack of the game is a catchy banjo song that strikes just the right balance between fun and authentic, perfectly complementing the mining theme of the game. It's hard not to get excited when hitting a winning combination and hearing the satisfying sound effects.
If you're a fan of mining-related themes and fun graphics, then Gold Digger is a great slot game to try out. With its unique features and immersive experience, it is bound to have you digging for more!
Maximum Win Potential
Are you ready to strike gold? Because in Gold Digger, the maximum win potential is as lucrative as a gold mine! You heard it right, folks! You can win up to 8,230 times your bet. And how can you achieve this? Well, fortune favors the bold, and it might favor you too if you trigger the Gold Link Respins bonus round.
During this feature, you get to collect high-value gold nuggets that can give you multipliers, extra respins, and more. In other words, you'll have the chance to experience the thrill of being a real-life gold digger. And who knows? You might strike it rich and become the next millionaire!
With such an attractive payout, Gold Digger is a game that's perfect for players looking for high-profit opportunities. We can't think of anything better than finding such a treasure trove of wealth buried away. Whether you're a seasoned pro or a fresh-faced beginner, Gold Digger could be the slot game that turns each spin into something special.
FAQ
What is Gold Digger?
Gold Digger is an online slot game with a mining theme. It has 5 reels and 20 paylines and offers 3 base game features with extra wilds, gold nugget transformations, and symbol upgrades, as well as a Gold Link Respins feature with even more gold nuggets and multipliers.
What kind of devices can I play Gold Digger on?
You can play Gold Digger on desktop, mobile, and tablet devices as long as they use iOS, Android, or Windows technology.
What are the symbols in Gold Digger?
The symbols in Gold Digger include classic playing card symbols, mining axes, lanterns, mining carts, and the gold prospector Gus. The wild symbol is the explosion symbol, which replaces all symbols except gold nuggets and gems to create winning combinations.
What are the high-yield symbols in Gold Digger?
The high-yield symbols in Gold Digger are the prospector, pickaxe, lantern, and gold cart. Winning results come with three, four, and five matching symbols, and these must occur on the leftmost reel.
What is the Gold Link Respins feature?
The Gold Link Respins feature is a cash collecting bonus feature triggered by landing five gold nuggets anywhere on the reels. You will then be transported to another room in the mine where you collect cash amounts and modifiers with blue, green, red, and purple gems.
What are the modifiers in the Gold Link Respins feature?
The blue gem expands the reels upwards, the green gem increases the cash amounts on the nuggets, the red gem adds extra respins, and the purple gem increases the x10 multiplier level.
Can I mute the background music in Gold Digger?
Yes, you can mute the background music in Gold Digger if you don't like folk music.
What are some other mining-themed slots similar to Gold Digger?
Some other mining-themed slots similar to Gold Digger include Bonanza Megaways from Big Time Gaming and Dwarf Mine from Yggdrasil Gaming.
What we like
Exciting Gold Link Respins feature
Random base game features boost winnings
Unique reel modifiers add an element of surprise
Colorful graphics and theme
What we don't like