Sphinx Wild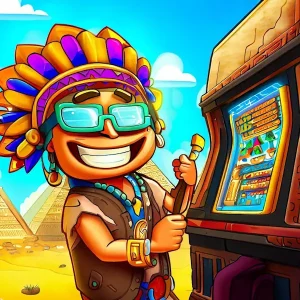 Are you itching to explore ancient civilizations? Well, pack your bags and grab your safari hat because Sphinx Wild will take you on a wild adventure to the land of the pharaohs.
Produced by the famous IGT, Sphinx Wild is a fun and exciting version of the popular Sphinx slot. With 40 paylines laid out in a special 4×5 format, this game is all set to be your next big-time favorite.
With stunning graphics and a wide array of bonus features, Sphinx Wild is an online slot game that is hard to resist. So unleash your inner explorer and take a spin on the reels of Sphinx Wild today!
Exploring the Best Features of Sphinx Wild Slot Game
Step into the world of ancient Egypt and spin the reels with Sphinx Wild – the casino slot game featuring wild and scatter symbols, expanding symbols, and free bonus spins that will leave you mesmerized. And let's face it, who doesn't want to be mesmerized?
Let's start by discussing the pharaoh's sarcophagus, the wild symbol of the game. This symbol substitutes for all other symbols on the reels except for the pyramids, leading to bigger and better wins. Plus, the intricate details of the sarcophagus make it easy to admire its beauty while you are spinning those reels.
Now, let's talk about the pyramids, the scatter symbol that can lead to great payouts. Get three or more pyramids on the reels and you will trigger the bonus feature of the game – free spins. While you're enjoying the spins, the game's expanding symbols feature will be at play. A randomly selected symbol will expand to cover the entire reel giving you even more chances to hit those winning combos.
And did we mention the graphics? They are simply amazing! The game designers have gone all out to create a slot game that immerses you in the world of ancient Egypt. From the Sphinx statue to the intricate design on the game tiles, it is easy to lose yourself in the game and forget about the real world.
In conclusion, Sphinx Wild is a game that combines great features, stunning design, and opportunities for big wins. Or in other words, an ideal game for those looking for a great time and some light-hearted entertainment. So don't wait, give Sphinx Wild a spin today, and who knows, maybe you'll find your fortune hidden amongst the treasures of ancient Egypt.
Paylines And Display Format
Hold on to your seats, folks! Sphinx Wild has got a whopping 40 paylines for you to hit those winning combinations. That's more than enough chances for you to become the pharaoh of the reels, and trust me, you'll want to wear a crown once you hit that big win!
The game's display format is a 4×5 layout, giving players an immersive and visually appealing gaming experience. And let's be honest, with all those paylines on offer, you're going to need a nice big screen to check every single way those symbols line up. If you're playing on a smartphone, make sure to turn your device sideways for the ultimate gaming experience.
As for the game design, Sphinx Wild keeps it clean and simple. You won't be distracted by any unnecessary animations or flashy graphics – the game takes place entirely on the initial screen, on the reels. It's a minimalistic approach that works beautifully, allowing players to focus on the gameplay and maximize their chances of winning big.
Symbols in the Game
Get ready to explore the treasures of Egypt with Sphinx Wild slot game. The symbols in Sphinx Wild are as interesting as the game itself. From pharaoh's sarcophagus (wild) to pyramids (scatter), the game has everything that you can expect from an Egyptian themed slot machine.
But that's not it. There are fans, sacred objects including amulets, jewelry, and let's not forget the mightiest symbol of them all, the eye of Ra which can make you win big. So keep an eye out for these symbols!
Looking at the symbols in Sphinx Wild, it seems like the game developer was on a mission to make us feel like Indiana Jones, but with less running and more spinning.
And if you love ancient history or just love the thrill of the chase, then Sphinx Wild should be the game for you. So, put on your explorer's hat and spin the reels of Sphinx Wild now!
Bonus Features
So, you're telling me this Sphinx Wild slot game has bonus features? Count me in! The expanding wild is the real game-changer here. It's like the wild symbol on steroids. If it lands on two squares and expands to all the surrounding reels, you're in for a good time. Just make sure you're in a public place when it happens because you're gonna want to scream and shout!
Three or more pyramid symbols can trigger the free spin bonus game. Who doesn't love free stuff? With Sphinx Wild, you can win up to 60 free spins. That's like getting a year subscription to Netflix for free. Or, if you're lucky, you can get 14 free spins with a x5 multiplier. It's like winning the lottery, except it's not a million dollars. Still worth it though!
RTP Percentage
Are you ready to embark on a quest for the treasures of the pharaohs? Sphinx Wild is the perfect game for you! Not only will you experience the thrill of exploring hidden tombs and discovering ancient artifacts, but you'll also have the chance to win big. And let's be real, who doesn't love big wins?
But before you start spinning those reels, let's talk about the RTP percentage. For those who don't know, the RTP percentage is the amount of money a slot game pays back to players over time. A game with a high RTP percentage means more chances of winning, and that's exactly what Sphinx Wild offers.
With an RTP percentage of around 96%, Sphinx Wild is a great option for players looking to score some serious payouts. And who doesn't love a good payout? It's like finding a golden scarab in the sand, except even better because you can turn your winnings into cold, hard cash.
If you're not convinced yet, just think about all the things you could do with your winnings. You could buy a ticket to Egypt and explore the pyramids in person! Or you could treat yourself to a fancy dinner at a five-star restaurant. The possibilities are endless.
So what are you waiting for? Give Sphinx Wild a spin and see if the ancient gods of Egypt will smile upon you. Who knows, maybe you'll be the one to uncover the pharaohs' lost treasures.
Comparison to Similar Slot Games
If you're tired of the same old slot games and want to try something new that still has an ancient Egyptian theme, Sphinx Wild might be just what you're looking for. With its stunning graphics and immersive gameplay, this slot game is sure to transport you back in time to the land of the pharaohs.
But what if you've already played Sphinx Wild and are looking for something similar? Fear not, fellow adventurer! There are plenty of other slots out there that will scratch your Egyptian itch.
One such game is the famous Book of Ra from Novomatic. Available in a deluxe version, this classic slot is a favorite among players for its exciting bonuses and big payouts. And if you just want to test the waters before diving in, you can play Book of Ra for free on SlotJava without even having to register.
So whether you choose Sphinx Wild or one of its Egyptian siblings, get ready for an epic adventure filled with treasure, mystery, and maybe even a few mummies. Just don't forget your Indiana Jones hat!
FAQ
Where can I play the Sphinx Wild slot for free?
You can play the Sphinx Wild slot for free on SlotJava, without registering or downloading any software.
How do you win on the Sphinx Wild slot?
You win by obtaining combinations of identical symbols on the same payline. Taking advantage of no deposit bonuses can increase your chances of winning.
How much can you win on the Sphinx Wild slot?
The amount you can win depends on the amount of the bet and the winning combinations obtained.
What casino bonus can I use to play the Sphinx Wild slot?
Under the free version of the slot on our site, you can find the online casinos where you can play with real money and the available bonuses, including those exclusive to our readers.
How do you play the Sphinx Wild slot?
Set the bet amount and click on the 'Spin' button. The goal is to obtain combinations of identical symbols on the same payline. Free bonus spins give you extra spins and allow you to win without spending anything.
What are some slots similar to Sphinx Wild?
Book of Ra (Novomatic) is a similar slot dedicated to ancient Egypt and the search for its treasures. You can play Book of Ra for free on our site.
What are the special symbols in Sphinx Wild?
The special symbols in Sphinx Wild are the wild symbol (Pharaoh's sarcophagus) and the scatter symbol (pyramids). The wild symbol can expand to all surrounding reels if the expansion results in a win. The scatter symbols pay in any position they appear and can pay up to 25x the total bet.
What we like
Expanding wild feature
Free spin bonus game with up to 60 free spins or 14 free spins with x5 multiplier
Minimal design with clear layout
RTP percentage of around 96%
What we don't like