Macau High Roller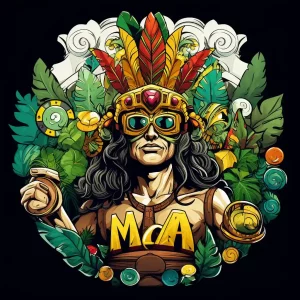 Get ready to roll the dice with Macau High Roller, a slot game that blends traditional structure with high-flying thrills. The game features three rows, five reels, and an extra reel that's packed with special functionalities, making it the perfect choice for players who like to bet big and win bigger. Thanks to the High Roller Bet feature, you can bet up to 200 coins and walk away with a fortune. But don't worry, the game's not too overwhelming- it strikes just the right balance of excitement and satisfaction.
Unpredictable Money Making
Pulling the lever for the Macau High Roller can be compared to playing the stock market. It's unpredictable and wild rollercoaster of emotions. Not for the faint of heart, this game's payouts can go from low to high in a matter of seconds. Although, you'll need to embrace patience since scoring those grand rewards may take some serious time.
Let's say the payout percentage is nothing to brag about, it's still better than nothing. The hypothetical return to the player is approximately 95.88%. Hey, it's not a masterpiece, but it's better than some alternative slots.
Symbol Design and Rewards
Get ready to be dazzled by the symbol design of Macau High Roller! Whether you're a poker pro or a slot newbie, you'll appreciate the attention to detail that went into creating both thematic and non-thematic symbols for this casino-themed game.
Of course, we can't forget about the rewards. The colorful playing cards from J to Ace offer payouts up to 100 times the value of your token – that's enough to buy you a round of drinks at the high rollers' table! And if you're lucky enough to land on the thematic symbols – the roulette, the racing car, the poker table, or the stunningly gorgeous woman – you could win up to 2,000 times the value of your token. That's not too shabby!
Rolling in the Dough with High Roller Bet Function
Are you feeling lucky, punk? If you're ready to bet big and win even bigger, then Macau High Roller's High Roller Bet function is just what you need! With the option to bet up to a whopping 200 coins, this feature is a game changer. Keep your eyes peeled for the sixth reel, the only place where High Roller Bet is available, and watch those big bucks roll in.
Unleash Your Inner High Roller with Free Spins
Get ready to pack your bags and make it rain because the Scatter symbol in Macau High Roller is a suitcase bursting with cash. And what could be better than scoring some free spins with this symbol? You can earn up to 15 of those bad boys, so keep your eyes peeled.
During these free spins, the Cash Chips symbols are the ones to keep an eye on. They stick around and add up on the right reel, giving you a shot at some serious winnings. This feature is like a VIP pass to the high stakes tables, so get ready to roll like a true Macau high roller.
FAQ
What is Macau High Roller?
Macau High Roller is a slot machine produced by iSoftBet, with a theme based on the world of casinos featuring luxury machines, green tables, and beautiful women.
What are the betting options for Macau High Roller?
The betting options start at just 10 cents per spin, but the High Roller Bet function can be activated, allowing you to bet up to 200 coins.
What is the theoretical return to player of Macau High Roller?
The theoretical return to the player for this slot machine is 95.88%, slightly below average.
What is the volatility of Macau High Roller?
Macau High Roller is a medium variance slot machine. It means that prizes are fairly constant, but winnings of a certain level are not very frequent.
What are the symbols of Macau High Roller?
The symbols that alternate on the reels of Macau High Roller are both thematic and not, but all are faithfully represented with respect to the theme. The playing cards, roulette, racing car, poker table, and a beautiful woman are some of the symbols.
What is the value of the playing cards symbols in Macau High Roller?
The playing cards from J to Ace are colorful and shiny and pay up to 100 times the value of the token.
What is the Scatter symbol in Macau High Roller?
The scatter symbol is a suitcase with the dollar symbol engraved on it and allows you to get up to 15 Free Spins, in which only special symbols (Cash Chip) are active and then accumulate in the right-hand reel.
Can you play with the High Roller Bet in Macau High Roller?
Yes, Macau High Roller allows you to play with the High Roller Bet, in which both the regular symbols and the Cash Chips are active.
What we like
Extra reel adds variety and excitement
High Roller Bet feature for big bettors
Free Spins with special symbols for increased winning potential
Themed symbols add to immersive casino experience
What we don't like
Theoretical return to player is below average
Medium variance, so significant rewards may take time