King of Macedonia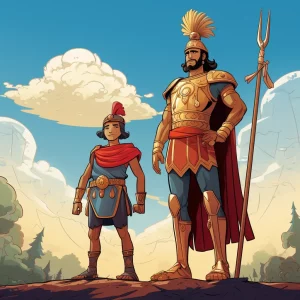 Are you ready to step into the shoes of an ancient hero? King of Macedonia offers players a 5-reel, 40 payline slot game with a twist. With five rows instead of the usual three, you have more chances of winning big, and who doesn't love winning big?!
The symbols in this game are totally unique and fascinating. From scrolls and amphorae to helmets with red plumes and black horses in a race, you'll feel like you're a part of the universe Alexander himself built! And guess what? No boring royals in this game!
If you're feeling lucky and want to earn even more, Wild King Alexander is here to help you. This charismatic character can take the place of any other symbol when a winning combination needs to be completed. And if you land Bonus symbol, be ready to multiply your bet by 10! Don't worry, it's not that difficult to get bonus symbol; it can only appear on the first reel; still, you better keep your fingers crossed.
You know what's even better than winning big? You guessed it right – Winning big while not even spending a penny! Yes, you heard it right. When the Wild and Bonus symbols appear simultaneously, eight free spins will be up for grabs. So don't sit back. Get up and start your battle with 'King of Macedonia' today!
Theme and Graphics: Rule like a king, play like a gambler!
King of Macedonia is the new sheriff in town. With a slot game that features the famous ruler, Alexander the Great, this game promises you all the riches you could ever want. The graphics are so vivid and realistic that you'll feel like you're in another world. The character's impressive figure will have you thinking – 'Why can't I look like that?'
The background is a colorful feast for your eyes, with gold shades highlighting the temples and jewels, set against a magical sky. It's a visually stunning slot game that will leave you breathless. Just make sure to catch your breath before you start playing! The graphics suit the magnificence of the character who is the protagonist. It's no wonder that IGT software house is one of the leaders in the slot machine market. They really know how to make a game pop!
Long live thematic symbols!
Prepare to dive into a world of epic proportions with King of Macedonia! Unlike some boring slots with predictable 'royal' symbols, this game is entirely thematic. You'll encounter scrolls, lyres, amphorae, and more on your quest to strike it big.
With 5 reels, 40 paylines, and five rows instead of the standard three, there's plenty of opportunity to score some major loot. Just remember – winning combinations require identical symbols on adjacent reels from left to right, so keep your eyes peeled!
Bonus Features – Get Rich Quicker Than King of Macedonia
Who doesn't love a good bonus? King of Macedonia has got you covered with more than just a Wild symbol. Behold the mighty Bonus symbol. It's like finding extra fries at the bottom of your bag. This symbol can only show up on the first reel but if it does, you could land a whopping 10 times the value of the bet. That's enough to make even King of Macedonia blush.
If the Wild and Bonus symbols show up at the same time, consider it your lucky day. You won't just get a pat on the back, but you'll win eight free spins! That's right, no need to spend a dime. So relax and let the King treat you to some riches.
Time to Meet the King of Macedonia!
The King of Macedonia slot game is perfect for players who want to relive history with a fun twist. With 5 reels and 40 paylines, it is a classic game that both newbies and pros can easily enjoy. It provides exciting Bonus features making it a game worth trying. Not to mention, the visuals are stunning enough to make players feel like they are transported through time to a bygone era.
If you're a fan of games that give you free spins and multipliers, then King of Macedonia is the game you've been searching for! It promises high-quality graphics, engaging gameplay, and high payouts, making it a game that should be part of your regular slot rotation. Somewhere Alexander the Great is waiting to give you a thumbs up for choosing this game.
FAQ
What is the King of Macedonia slot machine?
King of Macedonia is a slot machine with five reels and 40 paylines, with five rows instead of the usual three. It is based on Alexander the Great and has thematic symbols that could result in winnings.
What is the minimum bet for King of Macedonia?
The minimum bet for King of Macedonia is $0.80, but it is subject to change depending on the online casino site.
Are there any jackpots in King of Macedonia?
There is no progressive jackpot in King of Macedonia. However, players can still accumulate significant winnings from the bonus features.
Is King of Macedonia available for free play?
Yes, most online casinos that provide the game have an option for players to try King of Macedonia for free without depositing any money.
Is there a mobile version of King of Macedonia?
Yes, the game is optimized for mobile devices and can be accessed through smartphones or tablets.
What happens during the free spins feature in King of Macedonia?
During the free spins feature, players get eight free spins if the Wild and Bonus symbols appear simultaneously. The bonus symbol also gives a 10x multiplier to the winnings.
What is the RTP of King of Macedonia?
The Return to Player rate of King of Macedonia is 96.1%, which means that for every $100 wagered, players can expect to earn $96.10 on average.
Are there any similar slots to King of Macedonia?
Yes, there are many slot machines available with themes related to ancient cultures and myths, such as Ancient Egypt or Ancient Greece. Examples include Book of Ra, Eye of Horus Megaways, Kronos Unleashed, The Legend of Olympus, and Greek Gods.
What we like
Visually stunning graphics
Thematic symbols, no 'royals'
Free spins and multipliers
Suitable for novice and experienced players
What we don't like
Bonus symbol only on the first reel
No progressive jackpot