Irish Magic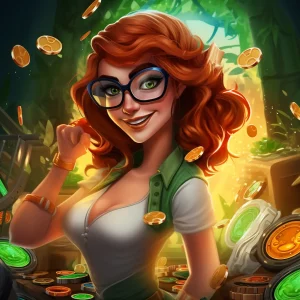 Prepare for some reel magic with Irish Magic! Nothing beats the excitement of this game that offers a 5×3 grid. But don't worry, the command bar located below the reels is pretty simple to use. Adjust your coin denomination and bet from 0.15 to 150 credits per spin. Not bad for a little luck of the Irish!
And that's not all, Irish Magic has a nifty shortcut for maximum bet, and an autoplay game mode. This game is rather high on volatility, but the paytable will keep you on your toes and dazzled with beautifully decorated card icons, harps, shamrocks, rainbows, and (of course) local beer pints. You just gotta love the cups that runneth over! Plus, get ready for a maximum prize set at 5,000 times your current bet. Cha-ching!
If you thought that was it, think again! Irish Magic also has a Lucky Leprechaun Wild symbol, which simply means your matching symbols win twice as much when landing on the first three reels. That's what we call fairytale luck on the reels! You can also trigger the Free Spins mode when you match three, four, or five Horseshoe Scatter symbols. Get eight, fifteen, or thirty free spins and let luck reign free! And, don't forget to keep the green beer flowing while you're at it.
Symbols and Sound: Music to Your Ears
Get ready to travel back in time with Irish Magic's 90s-style graphics! The overall design might be retro, but it's still a visual delight. Plus, the dynamic soundtrack is a game-changer: fast-paced music gets you pumped up when spinning the reels, and a relaxing flute tune soothes you during quieter moments. This game also features multiple jingles that play, making every win feel like a party.
Speaking of wins, the sound effects for the beer pint symbol and the harp symbol are spot on. The clinking of the glasses makes you thirsty for a cold one, and the harp melody feels like you're receiving a serenade from an Irish bard. Overall, the music and sound effects keep you engaged and excited, even if you're playing for hours. Trust us; it beats hearing your own sighs of disappointment!
Volatility and Bet Limits: The Luck of the Irish in Irish Magic
Irish Magic certainly lives up to its name when it comes to volatility – players may experience more ups and downs than a roller-coaster ride at an amusement park. Prepare your patience and prepare to roll with the punches, lest you be daunted by a few failed spins.
However, if you're looking to try your luck and get a good return on your bets, Irish Magic is definitely worth checking out. Just make sure to have your pot of gold ready, as bet limits range from 0.15 to a staggering 150 credits per spin!
With customizable coin denominations and other settings, players can tailor the game to fit their gaming style.
The Pot of Gold at the End of the Rainbow
If you're looking for a slot game that could make you richer than a leprechaun, then Irish Magic's Progressive Jackpot is the feature for you! It's like finding the end of the rainbow, only better, because instead of just a pot of gold, you could win up to 50,000 coins!
The way to do it is to land five First Prize Pot symbols of the Gold Pot. But beware! You'll need to bet big and maximize the credits per line to have a chance at the big prize. It's worth the risk though, because just like any good pot of gold, the Progressive Jackpot grows with time.
If you do manage to hit the jackpot, we recommend celebrating in true Irish fashion – with a pint of Guinness and maybe a jig or two. Sláinte!
Wild and Free Spins Features: Catch Them All in Irish Magic!
Irish Magic slot game is charmingly addictive with a twist of leprechaun magic. Get a hold of the Leprechaun Wild symbol to replace other symbols in the reels, except for Scatter, Jackpot, or Bonus symbols. These Wilds can double your payout, particularly when they pop up on the first three reels. It's a breathtaking way to amplify your chances of winning big!
But, wait…there's more! Irish Magic will surprise you with their fabulous Free Spins mode, which you could trigger by matching three, four, or five Horseshoe Scatter symbols. A pot of gold awaits as you play through eight, 15, or even 30 free spins! Hold onto your lucky charm as you go through the game and get ready to make some miraculous wins. Oh, and not to mention, players can even match three or more Scatter symbols, even outside of any payline. That's right – everyone's lucky in this game!
Irish Magic: So Good, It'll Have You Dancing an Irish Jig!
Get ready to feel the luck of the Irish with the highly appealing Irish Magic slot game. This game offers players a chance to hit the jackpot with exciting features like the Leprechaun Wild symbol and Free Spins mode – it's like finding a pot of gold at the end of a rainbow! Speaking of jackpots, the maximum prize is set at 50,000 coins, giving players even more incentive to keep spinning those reels.
Not only is this game great for high rollers with its generous paytable, but the dynamic soundtrack and design are sure to make you feel like you've been transported right to the heart of the Emerald Isle – even if the visuals may be a bit dated. So put on your dancing shoes and get ready to jig all the way to the bank with Irish Magic!
FAQ
What is Irish Magic?
Irish Magic is a slot game developed by IGT that features an Irish theme with symbols such as shamrocks, pots of gold, and beer pints. It offers players four fun slots, including progressive jackpot, free spins, and more.
What are the graphics of Irish Magic like?
The graphics of Irish Magic are somewhat like a 90s slot machine. Despite the dated graphics, there are other parts of the game that go beyond what is expected from a typical slot machine with a dynamic soundtrack and jingles that play randomly when the reels are spun.
What are the features of Irish Magic?
Irish Magic has several features, including a Leprechaun Wild symbol that doubles payments for matching symbols, a Free Spins mode that can get you up to 30 spins, and a Progressive Jackpot that you can win by landing five First Prize Pot symbols of the Gold Pot.
What is the bet range of Irish Magic?
You can bet from 0.15 to 150 credits per spin on a maximum of 15 paylines in Irish Magic.
Is Irish Magic a high or low volatility game?
Irish Magic is a high volatility game, so you may need to be patient due to some consecutive failed spins. However, the game pays out generously, with a maximum prize set at 5,000 times your current bet.
What is the Leprechaun Wild symbol in Irish Magic?
The Leprechaun Wild symbol in Irish Magic can replace other symbols that are not Scatter, Jackpot, or Bonus symbols. The Wild only appears on the first, second, or third reel, and payments for symbols that match a Wild symbol are doubled.
What is the Free Spins mode in Irish Magic?
The Free Spins mode in Irish Magic can get you eight free games by matching three Horseshoe Scatter symbols. You can also get 15 free spins after matching four Scatter symbols and get 30 spins after hitting five Scatters on the reels in a round.
What is the best strategy for playing Irish Magic?
The best strategy for playing Irish Magic is to adjust the settings, use the shortcut for maximum bet and an autoplay game mode, and take advantage of the Leprechaun Wild symbol, the Free Spins mode, and the Progressive Jackpot.
What we like
Wide range of bet limits
Progressive Jackpot feature
Leprechaun Wild and Free Spins features
Visually and audibly appealing design
What we don't like
High volatility may result in consecutive failed spins
Graphics have a 90s-style look