Icy Wilds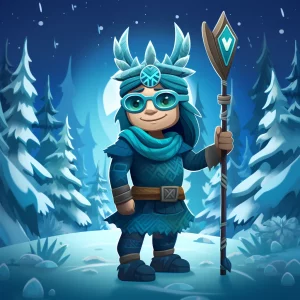 Are you ready to experience the frosty adventure of Icy Wilds? Well buckle up, my friend, because the gameplay will take you on a wild ride! This baby is smooth and easy to follow, making it perfect for experienced slot players and newbies alike.
Feeling daring? Then bet the max at $1,000 and watch those reels freeze over with excitement. But if you're not ready to go all in, don't worry, the minimum bet of just 50 cents is perfect for you.
And with a theoretical RTP of 96.15%, you can trust that this game is in line with industry standards, and will deliver satisfying rewards. So get playing and see if the Ice King will grant you his favor!
Graphics
Icy Wilds has graphics so beautiful, you'll never want to take your eyes off them. The Frozen theme brings a chillingly cool and aesthetically pleasing experience to the slot's design. The snow-covered forest, complete with an atmospheric polar aurora borealis backdrop, features pastel shades of pink and blue that are sure to take your breath away. The sound effects enhance the overall experience, bringing you one step closer to feeling like you're actually exploring the icy wilderness.
Score Big with Winning Symbols!
Prepare to frost your opponents with Icy Wilds' cool symbols! Unlike your ex's snow-cold heart, these symbols can fill your pockets with riches! There are the usual card symbols ranging from J to K. Yawn. But, watch for the snow creatures – ermine, owl, and lynx – as they can pay up to 100 times your bet. Beware the polar vortex as the jewels serve as the higher paying symbols for wins that will leave your competition in the cold. Keep an eye out for the stunning ice princess as she offers up to 500 times the bet for the highest payout. Speaking of the Scatter, look out for the Polar Bear; it might just give you up to 45 free spins!
Betting Range
Looking to win big? Well, hold on to your igloos, because Icy Wilds has a betting range that is not for the weaklings. Starting off at a chilly 50 cents and going up to a toasty $1,000, you better be prepared to bring your A-game. You know what they say, go big or go home! This game is not for the faint of heart, but we promise the potential for significant wins will make it worth your while. Just don't expect small, frequent payouts that are as common as polar bears in the North Pole.
The Polar Bear: Your Ticket to Free Spins!
Hold onto your parkas, folks, 'cause things are about to get wild! Icy Wilds' Scatter symbol is none other than the majestic Polar Bear – and let me tell you, this bear is more generous than Goldilocks' host family.
Land at least three of these frosty friends on the game's reels, and you'll be rewarded with up to 45 free spins. I don't know about you, but if I got 45 free spins, I'd probably be willing to take a dip in the Arctic Ocean, too.
Not only does the Polar Bear Scatter increase your chances of winning big, but those free spins can really help balance out the game's high volatility. So go ahead, give 'em a spin – the Polar Bear's got your back.
FAQ
What is the theme of Icy Wilds?
The theme of Icy Wilds is a snowy forest with an ice princess and animals as characters.
What is the gambling range for Icy Wilds?
The gambling range for Icy Wilds has a minimum bet of 50 cents and a maximum bet of $1,000.
Is Icy Wilds a high volatility game?
Yes, Icy Wilds is a high volatility slot game.
What is the RTP of Icy Wilds?
The RTP of Icy Wilds is 96.15%, which is decent and in line with the majority of online slot games.
What symbols are in Icy Wilds?
Icy Wilds has non-themed symbols represented by playing card letters and numbers. Thematically, it has three snow creatures, jewels, a princess, a Wild symbol, and a Scatter symbol represented by a Polar Bear.
What is needed to win on Icy Wilds?
To win on Icy Wilds, you must get at least three identical symbols on adjacent reels, starting from the left.
What is the payout for the highest-paying symbol?
The princess, which is the highest-paying symbol in Icy Wilds, offers wins up to 500 times the bet.
What is the maximum number of free spins in Icy Wilds?
The Scatter symbol in Icy Wilds can give up to 45 free spins.
What we like
Smooth and easy gameplay for both newcomers and experienced players
Outstanding graphics inspired by Disney's Frozen
Wide range of betting options with high volatility
Free spins awarded by Scatter symbol
What we don't like
Not suitable for players seeking small, frequent payouts
Limited number of primary winning symbols