Hexbreak3r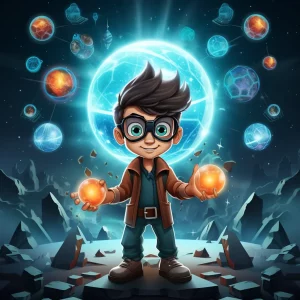 Hexbreak3r is a bewitching slot game full of witchcraft and wizardry. Its spellbinding theme is centered around witches and features all sorts of witchy symbols, such as black cats, horseshoes, bonus logos, and voodoo dolls. The graphics are so eerie, you'll feel like you're in the company of a coven.
But don't be afraid, the game also features low-value royals and other wicked symbols like the unlucky number thirteen, potions bubbling with scary surprises, and crows ready to snatch your winning payouts from under your nose. Combine these symbols with enticing features, and you'll find yourself under a spell.
Experience the Magic of Hexbreak3r Graphics and Animations
Get ready to be spellbound by the magical graphics of Hexbreak3r! With its mysterious dark blue background and black cat floating on the left side, this game sets the perfect tone for a witch-themed adventure. But the real magic happens with the winning symbols that dance around and the energy ribbons that rise from the reels after each spin. It's like watching a magical showdown in a Harry Potter movie!
The animations are simple yet enlivening, giving players a truly unforgettable gaming experience.To put it simply, Hexbreak3r graphics are the cat's meow!
Winning Both Ways Has Never Been So Fun!
Hexbreak3r turns traditional slots around with its pay-both-ways system. Now you can win from left-to-right or right-to-left on all five reels. Who doesn't love a game that offers a little flexibility? With 243 ways to win, you're already ahead of the game. But don't stop there! You can increase your reel layout up to 59,049 ways to win. That's almost as many ways to win as there are people who mispronounce 'roulette'. With individual payouts on the lower end, you won't be swimming in coins anytime soon, but fixed jackpots up to 1,412.5x offer great potential for those feeling lucky. So go ahead, play both ways and let the good times roll in Hexbreak3r!
Get Lucky or Get Jinxed in Hexbreak3r
If you're feeling lucky, you'll want to spin the central reel in Hexbreak3r's base game, which features a Lucky Zone. But don't get too confident, as the free spins round switches the central reel to a Jinx Zone. It's like the game knows when to mess with your mojo.
But fear not, because there are horseshoe symbols that trigger a column expansion when they appear, creating 1-2 extra positions on top of the reel. More positions mean more chances to win!
And that's not all! During the free spins round, the three central columns all have their own reel sets with new paytable symbols. It's like you just entered a whole new casino, but without the pesky dress code.
Experience the thrill of fixed jackpots up to 1,412.5x with Hexbreak3r!
Hexbreak3r, the witch-themed online slot game, offers fixed jackpots up to 1,412.5x. But don't let that scare you off – this game will cast a spell on you with its similar counterparts, including IGT's Hexbreaker 2 slot online. With 720 ways to win and a new set of symbols during the free games round, Hexbreaker 2 will put you under its enchantment.
Looking for more witchy fun? WGS Technology's Black Magic slot machine will have you cackling with delight. This game features five reels and 25 lines, with owls, snakes, and a witch-themed slot. Plus, the crystal collection round will give you the chance to discover massive cash prizes. Grab your broomstick and give it a spin!
FAQ
What is the maximum number of ways to win in Hexbreak3r?
The maximum number of ways to win in Hexbreak3r is 59,049.
What is the Lucky Zone and what can you win?
The Lucky Zone is a feature in the game where you can win cash prizes, bonus features, or black cats. You can win up to 5,000 coins in the Lucky Zone.
What is the Jinx Zone?
The Jinx Zone is a feature in the game that gives bonus symbols with cash prizes, as well as pink cat icons. The spheres that land on you can bring prizes up to 5,000 coins.
What is the symbol transformation feature?
The symbol transformation feature transforms from one to four symbols into examples of others, although not the wild game logo or bonus icon.
What is the pay-both-ways system in Hexbreak3r?
The pay-both-ways system in Hexbreak3r makes combinations easier to form.
What is the wild symbol in Hexbreak3r?
The game logo serves as the wild symbol and substitutes for regular symbols, which appears only on the 2nd, 3rd, and 4th reels.
How many reels does Hexbreak3r have?
Hexbreak3r has 5 reels.
What other games are similar to Hexbreak3r?
Similar games to Hexbreak3r include IGT's Hexbreaker 2 and WGS Technology's Black Magic.
What we like
Wide variety of gameplay features
Engaging witch theme with relevant symbols
Impressive graphics and animations
Pay-both-ways system for increased potential
What we don't like
Individual payouts are generally low
Limited maximum payout of only 15 coins