Ghostbusters Triple Slime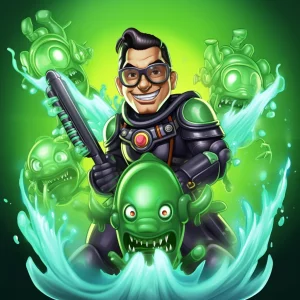 Who ya gonna call? Ghostbusters Triple Slime! This casino slot game is an ode to the 80s comedy classic, with a grid design featuring a stunning view of the Ghostbusters' headquarters – the iconic firehouse building that acts as the backdrop of the game. They say you can't judge a book by its cover, but you sure can judge a slot game by its symbols, and Ghostbusters Triple Slime definitely doesn't disappoint. The symbols include the Ghostbusters themselves, the marshmallow giant (who also acts as the game's wild symbol), the crossed-out ghost symbol, proton pack, storage system, PKE meter, tech helmet, and of course, the ECTO-1 ambulance Cadillac.
The designers of Ghostbusters Triple Slime know how to keep the players engaged with a well-curated theme song that plays during each round along with corresponding sounds. As you spin the reels, the famous Ghostbusters tune will give you a fresh dose of nostalgia, and the other eerie sounds will put you right in the middle of a ghost hunting adventure.
As a fan of the original Ghostbusters movie, playing this slot game made me feel like I was taking up arms with paranormal exterminators Peter, Ray, Egon, and Winston, chasing after pesky supernatural villains in a thrilling adventure. While Ghostbusters Triple Slime might not be as innovative as some of the more modern slot games, it still represents a great way for fans of the movie to relive its classic moments and experience the thrill of the hunt all over again. So put on your proton packs, and get ready to capture some ghosts – because Ghostbusters Triple Slime is a game that you simply can't afford to miss!
Ghostbusters Triple Slime – A Spooktacular Slot Game
Are you ready to join the legendary Ghostbusters squad and bust some ghosts for big payouts? Look no further than Ghostbusters Triple Slime! This game is packed full of slime-filled fun and ghostly surprises that will keep you entertained for hours on end.
But what really makes this game a winner is its 96.08% Return to Player rate. That means you can expect to see a fair number of payouts while playing, both big and small. It's always nice to have a chance to win back some of your hard-earned cash, eh?
So, if you're feeling brave, grab your proton pack and get ready to zap away some ghosts while winning big prizes. Just remember to stay out of any haunted hotels, otherwise you might end up facing off against a giant marshmallow man!
Ghostbusters Triple Slime – Paylines and Winning Opportunities
If you're looking for a slot game with more paylines than you can shake a proton pack at, then Ghostbusters Triple Slime is the game for you! With its unique grid layout that expands toward the center, you'll be spinning reels with 720 paylines. That's more chances to win than trying to catch Slimer after he's had a pizza pie!
But it's not just the paylines that make this game worth playing. With 19 symbols per reel, you'll encounter all your favorite Ghostbusters characters as well as some spooky ghosts. To help you score big payouts, keep an eye out for the crossed-out ghost symbol and the wild symbol, which features none other than the infamous Marshmallow Man. Who knew that something as sweet and gooey as marshmallows could be so lucrative?
Overall, Ghostbusters Triple Slime is a fun and exciting game that will have you on the edge of your seat waiting for that next big win. So, put on your proton pack, grab your ghost trap, and get ready to bust some ghosts… and hopefully, hit some big payouts along the way!
Ghostbusters Triple Slime: Busting Ghosts and Winning Big
Are you ready to join the Ghostbusters team and bust some ghosts? Then Ghostbusters Triple Slime is the game for you! But don't worry, you won't need a proton pack for this one. This game has an interface that is simple and easy to use, so players can easily grasp the mechanics from the get-go!
While the game may need a bit of time to get used to, the 720 paylines increase the winning opportunities, and the game offers an enjoyable experience for the players. The game has an intuitive design, and there's no need to scour through an extensive FAQ to understand the game's mechanics. However, as with any new game, it's best to start small if you're playing for the first time, so you're not slimed by the game's tough rounds.
But don't let the simplicity fool you; Ghostbusters Triple Slime offers a complexity that will hook you in. The game features multiple bonuses rounds, such as the Triple Slime Bonus, which grants you access to the pick-a-prize style bonus round. Choose carefully, as you can win up to 2,000 times your original bet. And let's be honest, who doesn't love a good pick-a-prize bonus round? There's also the Slimer Scatter Bonus, which gives you free spins and chances to multiply your winnings by spins and turns.
This game is perfect for fans of the original Ghostbusters movies and anyone who loves to win big! So, team up with Venkman, Stantz, Spengler, and Zeddemore on the reels, and enjoy an exciting gaming experience with Ghostbusters Triple Slime!
Comparing Ghostbusters Triple Slime to Similar Film-Themed Slot Games
IGT has a reputation for producing exceptional slot games based on hit movies, like Jurassic World and King Kong. Other software providers, such as Playtech and Microgaming, have also dabbled in creating slot games based on popular film franchises. However, Ghostbusters Triple Slime is a treat for fans of the franchise who are looking for a new way to experience their favorite ghost-busting heroes.
While Ghostbusters Triple Slime may not be the most original title in IGT's repertoire, the gameplay and potential for big wins are certainly top-notch.
Plus, who wouldn't want to see their favorite Ghostbusters characters on the reels? Catching ghosts and winning big at the same time? Sign us up!
FAQ
What is Ghostbusters Triple Slime?
Ghostbusters Triple Slime is a slot game created by IGT based on the classic movie franchise Ghostbusters.
What is the aesthetic aspect of Ghostbusters Triple Slime?
The game's design pays tribute to the film. The background is set in the Ghostbusters' headquarters, and the symbols include the Ghostbusters characters, crossed-out ghost symbol, Marshmallow Man, and Ghostbusters objects. The Ghostbusters theme song also plays in the background, adding to the overall experience.
What is the RTP of Ghostbusters Triple Slime?
The game has an RTP of 96.08%, making it a high-paying game that rewards players with small and big prizes.
How does the gaming grid work in Ghostbusters Triple Slime?
The gaming grid expands towards the center of the slot and narrows towards the two extremes. This allows the game to show 19 symbols per game and have 720 paylines, which is more than the standard 20/30 normally found online.
Is Ghostbusters Triple Slime easy to understand for new players?
The game has a rather minimalist style that may require some time for new players to get comfortable with and understand all of its functions. We recommend some caution in approaching this title for the first time.
Are there other Ghostbusters-themed slot games?
Yes, IGT has another Ghostbusters-themed slot game that players may enjoy.
Which other slot game developers create film-themed games?
Microgaming, NetEnt, and Playtech are game developers known for their film-themed games, with titles such as King Kong and Jurassic Park.
What should players keep in mind when playing Ghostbusters Triple Slime?
Players should keep in mind the game's RTP, paylines, and symbols. It's also important to take time to become familiar with the game's functions before placing bigger bets.
What we like
Elaborate grid design with tribute to Ghostbusters
Symbols include iconic characters and items from the movie
Fair Return to Player rate of 96.08%
Expanded grid layout with 720 paylines
What we don't like
May not be as innovative as previous Ghostbusters slot game
Recommended to start with smaller bets for first-time players