Ghostbusters Spectral Search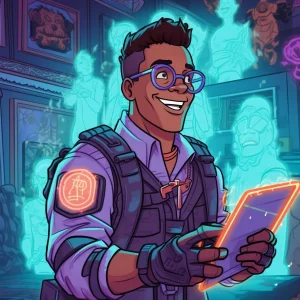 If you're a fan of the classic Ghostbusters movies, then you're sure to love Ghostbusters Spectral Search. The game combines all of the iconic elements of the film franchise with exciting slot gameplay for an experience that's sure to have you shouting 'I ain't afraid of no ghosts!'
One important factor to consider when playing any slot game is the RTP percentage. Fortunately, Ghostbusters Spectral Search has you covered with an impressive RTP of 96.4%. That means that for every dollar you bet, you can expect to win back nearly 97 cents. Not too shabby for a game featuring Peter Venkman and his ghostbusting team!
But let's be real, you're not just playing Ghostbusters Spectral Search because you're a math whiz – you're playing because you want to see some ghosts! And this game delivers on that front with stunning visuals that bring the spooky spirits to life. The proton packs, ghost traps, and even the Ecto-1 are all here to help you bust some ghosts and rack up big wins.
Whether you're a seasoned ghost hunter or just someone who loves a good slot game, Ghostbusters Spectral Search has something for everyone. So don't be afraid – give it a spin and see what kind of ghostly adventures await you!
Gameplay
Are you ready to put on your ghostbusting gear and hunt down some ghosts? Look no further than Ghostbusters Spectral Search! With the Spectral Processing Optical Operations Kit in hand, players can scour the Station, Library, Alley, Roof, Restaurant, or Hallway in search of hidden ghosts.
While the gameplay in this slot game may seem complex at first glance, it's actually quite straightforward once you get the hang of it. And let's face it, who doesn't love the opportunity to win big while hunting down ghosts?
Players can place bets as low as 1, making it a great choice for those who want to take things slow and steady. But the game really hits its stride with more practice – and the more ghosts you catch, the more you can win!
So put on your proton pack and get ready to take on the ghosts of Ghostbusters Spectral Search. Who knows? You might just catch something.
Prizes and Payouts
Are you ready to catch some of the spookiest ghosts in town? Well, make sure you're also ready to win some big prizes with Ghostbusters Spectral Search! This game offers a range of prizes and payouts that players can earn. So, let's check them out!
If you manage to capture the four White Ghosts or four Red Devils, congratulations! You've earned yourself a hefty payout of 1500x or 250x your stake, respectively. That's like catching all the ghosts in one go! It's not an easy task to achieve, but the rewards are definitely worth it.
For the three Purple Monsters, Pink Men, Red Ghosts, Yellow Ghosts, and even the one Blue Ghost, players can earn 100x, 30x, 30x, 15x, 5x, or 1x their stake, respectively. The Blue Ghost might earn you the least, but hey, at least you caught one and are on your way to catching them all!
Now, if you happen to see a green monster, watch out! Not because it's particularly dangerous, but because you're in for a treat! Players can win an instant payout of $1 of their stake if they encounter this elusive creature. That's right – just one Dollar doesn't sound like much, but think of all the penny sweets you could buy with it. Exciting, isn't it?
Lastly, completing any combination yields a win of that sum. So keep on catching those ghosts, and let's see where that takes you! Happy hunting!
Symbol values
If you're wondering why some ghosts are worth more than others, let me tell you a secret: even ghosts have to pay rent in the afterlife. The scarier they are, the higher the rent. That's why the White Ghosts are worth the most, they're always screaming and jumping around like they own the place. As for the Red Devils, they're always causing trouble, so they're worth a pretty penny too. Purple Monsters are actually pretty chill, but they're big, so they cost a lot to maintain. The Pink Men are worth less because they're just lost souls looking for love. Red Ghosts are worth something, but let's face it, they're just ordinary ghosts with a nice coat of paint. And the Yellow and Blue Ghosts? They're like those distant cousins you see once every 10 years – they're worth the minimum amount possible. Oh, and don't forget about the green monster. He's like that one roommate who never talks to anyone and is always in his room, but he still chips in his share of the rent at the right time; simple, reliable, and worth $1 of the stake.
Discover The Uniqueness of Ghostbusters Spectral Search
Who you gonna call? The best slots games for fun! Ghostbusters Spectral Search offers a unique twist to traditional slot games with its high-tech detection device gameplay. This slot game will make you feel like a supernatural detective, venturing into rooms hunting for ghosts. Don't worry, though. You won't need any actual ghost-busting experience to play. Just hit spin and let the hunt begin!
The game provides an out-of-the-box experience by using 2D graphics, making navigation and gameplay easy and straightforward. You'll love discovering the hidden ghosts as you traverse the different rooms in the game. The more you uncover, the bigger your payouts will be, making this game one of the best slot games around!
If you're worried about minimum bets, don't be! Ghostbusters Spectral Search allows players to set their bets and paylines, making it a great game for both beginners and pros alike. This slot game is available without download, so you can get right to playing.
Overall, Ghostbusters Spectral Search is a fantastic game that's worth playing. With its unique gameplay, great graphics, and fun theme, it's sure to keep you entertained for hours. So what are you waiting for? It's time to gear up and start your ghost-hunting journey!
FAQ
What is the RTP percentage of Ghostbusters Spectral Search?
The RTP percentage of Ghostbusters Spectral Search is 96%.
What is the betting amount to start playing the game?
The starting betting amount is 1, which is similar to basic slot games.
What is the maximum payout players can win while playing Ghostbusters Spectral Search?
The maximum payout players can win is based on the symbols found and the location chosen, with the highest possible payout being 1500x the stake.
What is the gameplay style of Ghostbusters Spectral Search?
The gameplay style of Ghostbusters Spectral Search is more complex than a normal 5-reel slot game, yet still simple to follow once understood.
What should players do after placing their bets in Ghostbusters Spectral Search?
Players should choose from one of the six locations provided, such as Station, Library, or Alley.
What happens if a green monster appears while playing Ghostbusters Spectral Search?
If a green monster appears, players can win an instant payout of $1 of their stake.
What is the goal of Ghostbusters Spectral Search?
The goal is to correctly predict which of the nine panels hides the ghosts and capture as many ghosts as possible to earn payouts.
What other game is recommended for players who enjoyed Ghostbusters Spectral Search?
Ghostbusters Slot, also produced by IGT and offering 30 paylines and incredible bonuses, is recommended for players who enjoyed Ghostbusters Spectral Search.
What we like
High RTP percentage
Complex gameplay style
Variety of locations to search for ghosts
Unique and thrilling gameplay experience
What we don't like
May take some time to understand the gameplay
Limited symbol values compared to other slot games