Get Clucky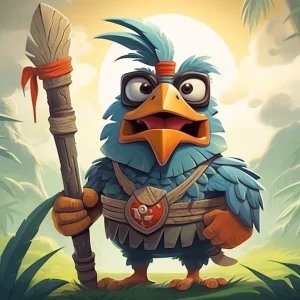 If you're familiar with online slots, then the layout of Get Clucky should definitely be nothing new. It follows the classic 5×3 pattern, which means that you'll be playing with five reels and three symbols displayed on each of those reels. But don't let that fool you into thinking that this game is as dull as plain oatmeal. No way! Get Clucky is actually filled with enough energy to keep you spinning those reels for hours on end.
The Scatter symbol for this game is just as appropriately titled as the game itself – it is none other than the Get Clucky logo. And if you happen to come across at least two of these on any one reel, then cheers to you mate! You're about to be part of the winning combination and can even get access to the bonus mode if you're lucky enough.
But enough about winning, let's talk about the fun factor. If you're a fan of chicken puns – and who isn't?! – then you're going to love Get Clucky. With witty farmyard-themed symbols like chickens, roosters, and even corn, this game will have you cracking yolks, we mean jokes, in no time. And speaking of cracking, don't you just love that sound effect when the reels come to a stop?
Symbols
Get Clucky is a feather-filled slot game that is sure to tickle your funny bone. With colorful and quirky symbols, it's a game that will keep you clucking and spinning for hours on end.
From comical chickens to proud roosters, the animal symbols in this game are bound to crack you up. You'll find yourself rooting for each and every one of them as they take center stage on the spinning reels.
The game also features classic playing card symbols like A, K, Q, J, 10, and 9. But these mundane initials are anything but boring in Get Clucky! They take on the texture of the wood in the background, making them look like they're carved right into the reels.
Whether you're a seasoned slot machine enthusiast or a brand new player, Get Clucky has something to offer. So come on down to the farm and see what kind of wacky fun you can find in this feathered frenzy of a game!
Graphics
If you're looking for a slot game that's eye-catching and amusing, then Get Clucky is the one for you! This game boasts vibrant and cartoonish graphics that are sure to capture your attention. The hilly landscape and farm will make you feel like you're out in the countryside, with rows of crops and a bright blue sky as your backdrop. The wooden beams of the gameboard provide a nice touch, reminiscent of a cozy barn.
It's clear that the designers of Get Clucky put time and effort into the details of this game, as every element is well-crafted. Even the chickens that hop across the screen are amusing and add to the game's charm. But don't worry – these chickens won't cross the road and get to the other side, they're too busy helping you score big!
Sound Effects
Get Clucky is a slot game that offers not only great graphics but also a unique soundtrack. Although the country accompaniment is a brief one, the classic cartoonish sounds of our feathered friends' eye-blinking can be heard between spins. It's like the chickens are laughing at you when you miss a spin!
But the real stars of the soundtrack are the rooster and the hen. The game features the rooster's crowing and the hen's clucking sound effects during combinations. These sounds not only add to the realism of the game but also create a fun and relaxing atmosphere while playing.
Whether you are a morning person or not, you will enjoy waking up to the sound of the rooster's crowing. And if you think that the hen's clucking sound is annoying, wait until you start winning with her help, you'll be clucking and dancing around like a chicken yourself!
Payouts
Let's talk about the payouts in Get Clucky. The game actually revolves around a very sassy rooster who acts as the Wild symbol. This guy can replace any of the other normal symbols and give you a 2x multiplier for combinations that pass through him. Now, there are some symbols that aren't very clear, so it may take a little practice before you get the hang of things. But once you do, it's a cluckin' good time!
As for the game's volatility, Get Clucky falls into the medium-high category. It's definitely not for the faint of heart or wallet – you'll need some serious chicken scratch to play this slot. But the potential rewards are worth it. If you're lucky, you could be walking away with a payout of up to 500x your initial stake. That's a lot of birds in the bank!
FAQ
What is the theme of Get Clucky?
The theme of Get Clucky is farm animals, with a focus on chickens and roosters.
What is the bonus mode in Get Clucky?
The bonus mode in Get Clucky is accessed by finding at least three Scatter symbols and can result in bigger wins.
What is the Wild symbol in Get Clucky?
The Wild symbol in Get Clucky is the rooster, which can replace other symbols and also assign a 2x multiplier to combinations.
What is the gameplay mechanics of Get Clucky?
Get Clucky uses a 5×3 pattern, with five reels and three symbols each that rotate to show different combinations.
What are some similar slots to Get Clucky?
Similar slots to Get Clucky include Fowl Play Gold and its variants, such as Fowl Play London, which are also farm-themed.
What is the soundtrack of Get Clucky?
The soundtrack of Get Clucky is a brief country accompaniment during spins, with intermittent rooster crowing and hen clucking during combinations.
What is the design of the game board in Get Clucky?
The game board in Get Clucky consists of wooden beams that fit well with the rural setting of the slot.
What symbols can be found in Get Clucky?
Symbols in Get Clucky include chickens and roosters, as well as the game's logo and classic playing card symbols.
What we like
Classic online slot gameplay pattern
Vibrant and cartoonish graphics
Attention to the design of visual elements
Wild symbol with 2x multiplier
What we don't like
Not-so-clear symbols require practice
Medium-high volatility