Fortunes of Egypt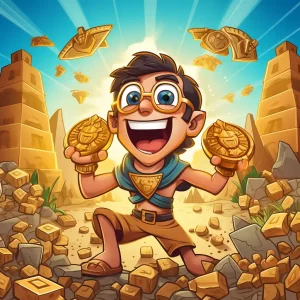 Fortunes of Egypt is an online slot game developed by IGT and takes us back to the ancient civilization that thrived in the Nile River valley. I always had a fascination with pyramids and pharaohs, so this game was an instant favorite. The overarching theme and design of this slot game are quite impressive and will transport you to the land of the pharaohs.
The background features two imposing pyramids and a sphinx, which adds to the game's authenticity. It feels like I'm walking in the shadows of these great monuments. The reels themselves feature traditional Egyptian symbols such as the Eye of Ra, the Ankh, and the Scarab Beetle. The music and sound effects in the background provide the perfect ambiance for an online gaming experience.
Overall, the theme and design of Fortunes of Egypt are delightful. I appreciate the attention to detail that IGT has put into every aspect of this game. It's always refreshing to see a game that is visually appealing and engaging.
Gameplay Features
Ah, another adventure across the sands in search of hidden treasures. Who knew a casino game could get you so excited about being buried alive by pyramids? Fortunes of Egypt is nothing like your typical sandy slot game though, it's got a unique charm to it – and it's all in the gameplay.
The 5×3 grid might seem standard at first, but with 25 fixed paylines, there's a lot more to this game than meets the eye. And hey, who doesn't love a good surprise? With a wide bet range of $0.01 up to $0.40, the game can cater to both the penny pinchers and high rollers. You heard it here first, folks – even the poorest pharaohs can be king for a day with Fortunes of Egypt!
But let's get down to the meat and potatoes of what makes this game so much fun. We're talking about the Start and Autoplay buttons. Who doesn't love a game that does the work for them? Long gone are the days of tiring your fingers out with endless clicks! Fortunes of Egypt is generous with its automatic spins too, offering players a range of 10, 20, 30, 40, or 50 spins that'll keep the game going until you hit the jackpot, a bonus game, or even some free spins.
Speaking of jackpots, Fortunes of Egypt is a medium volatility slot game with an RTP of 94.27%. With those odds, there's no telling when the game might cough up some coins, but when it does, you better believe it's gonna be an exciting ride!
Paylines And Rtp
If you're looking for an online slot game that offers more bang for your buck, look no further than Fortunes of Egypt. This 5×3 game packs a punch with 25 fixed paylines that are sure to keep you on the edge of your seat. If you're feeling extra adventurous, you can bet between $0.01 and $0.40 on each line, in your quest to strike it rich.
Of course, what's most important to players is the payout percentage, also known as RTP. With an impressive RTP of 94.27%, you can rest assured that Fortunes of Egypt has you covered.
Now, we can't promise you'll become the next Cleopatra or Pharaoh by playing Fortunes of Egypt. But, with medium volatility, you can expect a decent number of small to medium-sized wins to keep you going.
Come for the paylines, stay for the RTP, and maybe you'll leave with a few extra coins in your pocket.
Ancient Treasures: Symbols and Their Values
Step into the world of the Pharaohs with Fortunes of Egypt, the online casino slot game. The symbols in this game take you into the world of ancient Egypt and its hidden treasures. You won't find the usual royal symbols here: instead, you'll be playing with thematic symbols that make you feel like you're exploring the depths of a pyramid and discovering the secrets within.
Of course, every symbol has its own value, and it's good to know which ones to aim for. The lowest paying symbols are the ship and the cobra, which couldn't be less ominous. Then we have the scroll and the slave, which aren't necessarily winners, but they're still worth keeping. It's worth noting that as the value of the symbols increase, so do the rewards. The sphinx and the Eye of Horus start paying out some interesting sums, but the symbols that pay the most are the key of life, the pyramids, and- drumroll- the Egyptian princess! If you're lucky enough to land her, you'll be laughing your way to the bank!
The Pharaoh is the Wild symbol and can substitute any other symbol to create winning combos. The mighty scarab beetle is the Scatter symbol, and if you land three or more, you'll trigger a bonus game in which you can win free spins. However, the symbol that stands out from the rest is the jewelry-stuffed chest. Not only is it a paying symbol, but it also helps to trigger the game's bonus feature. So keep your eyes peeled for this beauty as it could lead you to that big treasure you've been searching for.
So grab your hat and whip, and let's discover ancient treasures together with Fortunes of Egypt. Just remember, if a boulder starts rolling your way, don't panic- you're not Indiana Jones… yet.
Get Ready to Win Big with Jackpots and Bonus Features!
Are you ready to go on a search for treasure in the land of the pharaohs? Then get ready to play Fortunes of Egypt – the exciting slot game that offers players three awesome jackpots to win! That's right, you have a chance to win the base, super, or grand jackpot – talk about taking home some serious gold!
The best part? The jackpot game is triggered with the special Jackpot symbol. When you hit it, get ready to choose between three coffins to reveal your jackpot prize. Just don't get scared and choose the wrong one!
But that's not all – Fortunes of Egypt also offers players the chance to win free spins and double their winnings during each free spin. To trigger these free spins, simply land three, four, or five Scatter symbols. Then, sit back and enjoy as you rack up those coins and watch your winnings climb higher and higher!
Oh, and did we mention the jewelry-stuffed chest? Not only is it a beautiful sight to behold, but it also triggers a bonus game that's incredibly fun to play. In this game, you'll need to keep the chest from falling to the ground while a little man walks on a plane. Talk about multitasking – this is one bonus game that will keep you on your toes!
So what are you waiting for? Join the adventure and play Fortunes of Egypt now. Who knows, you could be the lucky player to hit the grand jackpot and walk away with a fortune fit for a pharaoh!
FAQ
What is Fortunes of Egypt?
Fortunes of Egypt is an online slot game that features an Ancient Egyptian theme with pyramid and sphinx symbols.
How many paylines does Fortunes of Egypt have?
Fortunes of Egypt has 25 fixed paylines.
What is the minimum and maximum bet for each payline in Fortunes of Egypt?
In Fortunes of Egypt, you can bet between $0.01 and $0.40 on each payline.
What is the RTP of Fortunes of Egypt?
Fortunes of Egypt has an RTP of 94.27% and medium volatility.
What is the Wild symbol in Fortunes of Egypt?
The pharaoh is the Wild symbol in Fortunes of Egypt and replaces all symbols except special ones.
What is the Scatter symbol in Fortunes of Egypt?
The Scatter symbol in Fortunes of Egypt is represented by the scarab.
What happens when I get Scatter symbols in Fortunes of Egypt?
If you get 3, 4 or 5 Scatter symbols in Fortunes of Egypt, you're entitled to 8, 20 or 100 free spins respectively which double all winnings, except those related to special symbols.
Does Fortunes of Egypt have bonus games?
Yes, Fortunes of Egypt has a bonus game triggered by the jewelry-stuffed chest symbol, where the player must help a little man walk on a plane without dropping the chest to the ground.
What we like
Thematic symbols enhance the immersive gameplay experience
Autoplay feature allows up to 50 automatic spins
Medium volatility ensures consistent payouts
Three available jackpots increase winning potential
What we don't like
Limited variety in bonus features
RTP is slightly below average for online slot games