Fishin For Gold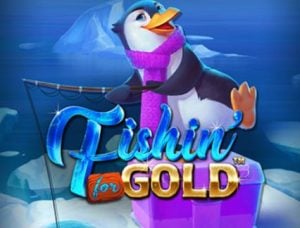 If you're a fan of fishing, or just love the ocean, iSoftBet's Fishin For Gold slot game is sure to reel you in! This exciting game is played on a 5×3 reel, with 25 fixed paylines ready to catch a big win.
The game's design is visually stunning with an icy world and cute creatures from both hemispheres on the background. And let's talk about that music… it's like an anthem for every fisherman ever. Just try not to dance along while you're spinning!
The base game is easy to understand, just match three or more symbols on a payline to win. And with no wild cards to complicate things, you'll be reeling in big catches in no time. With wagering options ranging from $0.25 to $25.00, all players have a chance to score big. And with a return to player rate of 95-97%, it's definitely worth casting your line.
All in all, Fishin For Gold is a great catch for all types of players. The graphics, sound effects, and overall experience make it a must-try for any slot enthusiast. Just don't get too caught up in the game… you don't want to end up sleeping with the fishes!
Bonus Chance Meter Feature
Who says you can't control your own luck? With Fishin for Gold's Bonus Chance Meter feature, you can take fate into your own hands and bend it to your will! Well, sort of. The bonus chance meter is the ultimate tool for making your own luck. It's like a combination of an Ouija board and a fortune cookie, but without summoning any angry spirits or confusing messages.
Simply activate it at any time and watch as the needle spins around the dial. Will it fall in the coveted green area and activate the Bonus Game, or will it stop in the dreaded red zone and leave you high and dry? Who knows! That's half the fun. And hey, even if you don't hit the jackpot, at least you get to experience the thrill of taking a chance and potentially reaping big rewards.
Every time two Scatters appear on the reels, 1% of the red zone will turn green. It's like upgrading from a plastic McFlurry spoon to a metal one – the small differences that make a big impact. So give it a go, see if you can hack the system and land yourself that elusive Bonus Game.
Fishin' For Gold Bonus Feature
Oh boy, let's talk about the real catch of the day in Fishin' For Gold, the Bonus Feature!
First things first, you get to choose which fisherman you want to go out with – the Penguin, the Walrus, the Polar Bear, or the Lion. It must be tough to choose, but honestly, you can't go wrong with any of them, they all seem determined to reel in those big bucks!
Once you've made your selection, it's time to cast your reel and hope for the best. Every symbol that you manage to catch will result in a free spin and a handy-dandy wild card. Some wild cards have multipliers of x2, x3, or x5, making it even easier to increase your winnings. You know what they say, fishing is a patience game, and your patience is about to be rewarded in spades.
And it gets even better! During your bonus spins, you can collect three Scatters to earn two extra spins. If that's not a good enough incentive to keep fishing, we don't know what is. Remember, the fish may be slippery, but those Wilds are here to help you reel in the big bucks.
Graphics and Sound Effects
If you're looking for a fun, visually stunning online slot game, look no further than Fishin For Gold. With its cartoonish look and bright, vibrant colors, this game is sure to catch your eye from the moment you launch it. And the sound effects only add to the overall immersive experience.
One of the things I love about Fishin For Gold is how cute and playful all the creatures are. From the friendly penguins to the colorful fish, you can tell that the designers put a lot of thought into the game's overall design. And the background featuring both Arctic and Antarctic creatures is a nice touch.
But it's not just the graphics that make this game stand out. The music is also cheerful and upbeat, really helping to set the tone for a fun gaming experience. It's like having your very own party on the ice!
All in all, Fishin For Gold is an excellent choice for those who want a visually appealing online slot game with fun, playful sound effects. It's the perfect way to escape the stresses of everyday life and immerse yourself in a world of cute, whimsical creatures. So, what are you waiting for? Let's go fishing!
FAQ
What is Fishin For Gold?
Fishin For Gold is a free online slot game created by iSoftBet that takes place on an icy lake and features cartoonish designs and a total of 25 on reels, 3 rows, and 25 fixed paylines.
How much can you bet on Fishin For Gold?
You can wager between $0.25 and $25.00 by selecting the appropriate token values.
What is the RTP of Fishin For Gold?
The RTP of Fishin For Gold is around 95-97%.
How do I win in Fishin For Gold?
To win in Fishin For Gold, match three or more symbols on a payline without the help of a wild card.
What is the Bonus Chance Meter feature?
The Bonus Chance Meter feature on Fishin For Gold is a probability gauge that players can activate at any time in the game if the needle lands in the green area. If it stops in the red zone, the game remains stationary, and the meter is reset to its initial level.
What is the Fishin' For Gold Bonus feature?
The Fishin' For Gold Bonus feature is part of the Bonus Chance Meter. Once activated, choose your preferred fisherman from the Penguin, Walrus, Polar Bear, or Lion and start fishing. Any caught symbol is worth a free spin and a wild card. Some wild cards can include multipliers of x2, x3, or x5, thereby increasing the winning combinations.
Can I play Fishin For Gold for free?
Yes! Fishin For Gold is a no-download slot game that you can play for free.
Is Fishin For Gold a good game?
Fishin For Gold is a great game for patient players since it may take a while for things to get exciting. If you're willing to wait, we recommend giving it a try! Alternatively, our online casino offers other games that may be more your speed.
What we like
Visually appealing cartoonish look with vibrant colors
Excellent design
Bonus Chance Meter adds excitement
Wild cards with multipliers increase winning combinations
What we don't like
Limited wagering options
RTP could be higher