Fire Opals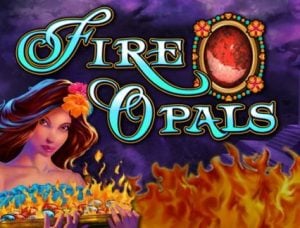 Are you ready for a tropical adventure? Then try your luck with the Fire Opals slot game. This exciting game takes you to the beautiful islands of Hawaii, where you can search for treasures while enjoying breathtaking views of the ocean and palm trees.
The Fire Opals game features a unique prism-like structure, which sets it apart from other slot games. With 19 symbols and 720 paylines, this game gives you plenty of opportunities to win big. But what's really exciting is the fact that Fire Opals offers winning combinations from both left to right and right to left. That means more chances to hit winning combinations and enjoy the thrill of the game.
But that's not all. Fire Opals also has some special symbols that can boost your chances of winning big. The wild symbol, for example, can replace all regular symbols and help you complete winning combinations. And if you manage to get three or more opals, you'll trigger the free spin mode, which can lead to even more winnings.
So, what are you waiting for? Give Fire Opals a try and discover the treasures of Hawaii. Who knows, you might even end up winning big and booking that trip to Hawaii that you've been dreaming of. And if you don't win, well, at least you can enjoy the view and pretend you're on vacation.
Graphics and Sound Design
Prepare to be dazzled by Fire Opal's graphics. The game boasts a breathtaking Hawaiian landscape with captivating settings, active volcanoes, and mesmerizing fiery-haired goddesses. The illustrations, symbols, and colors blend together seamlessly, turning every spin into an enchanting experience.
But let's talk about the game's sound design. The tribal soundtrack is, without a doubt, catchy and enjoyable. However, it is a little too playful for the game's dreamy atmosphere. We wouldn't be surprised if a few players found themselves tapping their feet and bobbing their heads instead of spinning the reels.
All in all, the graphics and sound design of Fire Opals are phenomenal. The graphics alone are reason enough to give the game a go. Once you add in the tribal soundtrack, you've got a feast for both your eyes and ears. However, if you're the type of player who prefers a more solemn soundtrack, you might want to hit that mute button before you start spinning.
Paylines and Winning Combinations
Fire Opals, the slot game that will set your heart on fire! In this slot game, the heat is on with a prism-like structure that boasts of 19 symbols and a whopping 720 paylines! That's more than enough to get those reels sizzling!
But what really sets Fire Opals apart from the rest of the pack is its winning combinations, which can be formed both from the left to the right and vice versa. Talk about innovation! You won't find that in your grandma's slot machine, that's for sure!
With all those paylines and dual winning combinations, you're in for some serious volatility! Don't say we didn't warn you about the heat! It's like trying to walk on hot coals, it's risky, but the rewards can also be red-hot.
It's time to put your luck to the test with Fire Opals! So grab a drink, sit back, and watch those flames rise as you spin those reels in the hopes of hitting that big payout!
Special Symbols and Free Spin Mode
Fire Opals is a scorching hot online slot game with special symbols that will make your gameplay more exciting. If you're tired of old-fashioned and mundane slot games, then Fire Opals is the perfect fit for you. This game offers a unique and refreshing experience that will have you hooked from the first spin.
Let's start with the game's wild symbol, which is represented by a fiery volcano. This wild can replace all regular symbols in the game, leading to more wins. It's as hot as lava and just as rewarding!
The opals, also known as the game's scatter symbol, are your key to unlocking the free spin mode. Three of these beautiful gems will trigger the bonus mode where you can earn up to 260 free spins! That's right. It's like hitting the jackpot without even spending a dime. Plus, the free spin mode can be retriggered up to four times, meaning you can earn even more free spins!
Last but not least, there's the game's scatter symbol, which is the most valuable symbol of the game. If you're lucky enough to land five on a payline, you'll be rewarded with up to 100 times your bet. That's enough to make you want to dance around the fire all night long!
How Fire Opals stacks up against other Hawaiian-themed slots
When it comes to Hawaiian-themed slots, it seems like every developer has tried their hand at them. From swaying palm trees to miles of reefs, it's hard to capture the magic of the Hawaiian islands in a slot game. However, Fire Opals manages to stand out with its refreshing prism-like structure and the eerie, dreamlike setting.
Now, let's talk about the competition. Aloha! Cluster Pays by NetEnt is undoubtedly a fan favorite, filled with colorful tiki masks and bustling scenery. While it's quite captivating, it can be difficult to keep track of the various symbols and features.
On the other hand, Big Kahuna by Microgaming offers a simpler, more straightforward experience, with lush greenery and tribal imagery. The graphics are more dated than Aloha, but the game is still fun and accessible.
Finally, we have Aloha Party by EGT, which takes a more tongue-in-cheek approach to the theme. Featuring plenty of bright and bold graphics, this slot is ideal for those who want to let their hair down and have a good time. It doesn't take itself too seriously, which is always appreciated.
Overall, each of these titles brings something unique to the table. However, Fire Opals manages to stand out in the crowded market, thanks to its inventive design and mystical atmosphere. If you're a fan of the Hawaiian theme, you're sure to love this slot.
FAQ
What is Fire Opals?
Fire Opals is a slot game that takes inspiration from the beauty and magic of Hawaii. Its symbols include opals, volcanoes, and the state flower, Hibiscus.
What makes Fire Opals different from other online slots?
Fire Opals features a unique prism-like structure with 19 symbols and 720 paylines, resulting in increased volatility and more winning combinations both left to right and right to left.
What symbols can you expect to see in Fire Opals?
In addition to opals, volcanoes, and Hibiscus, Fire Opals features classic playing cards from jack to king, which also act as scatters and wilds.
What is the soundtrack like in Fire Opals?
The soundtrack in Fire Opals is a tribal one, which is catchy and enjoyable but arguably a little too playful compared to the overall divine and dreamy atmosphere of the slot.
How many paylines does Fire Opals have?
Fire Opals has 720 paylines, resulting in an increased number of combinations and volatility.
What are the special symbols in Fire Opals?
Fire Opals features various special symbols, including a scatter that pays up to 100 times your bet, a wild that can replace all regular symbols, and opals that trigger the free spin mode.
What other slots are similar to Fire Opals?
Other slots with a Hawaiian theme include Aloha! Cluster Pays by NetEnt, Big Kahuna by Microgaming, and Aloha Party by EGT.
What is the overall experience of playing Fire Opals like?
Fire Opals offers a stunning visual experience with dreamlike settings featuring mysterious and magical elements. With its unique structure and special symbols, Fire Opals provides increased volatility and more winning combinations, making for an exciting gameplay experience.
What we like
Unique prism-like structure with 720 paylines
Special symbols and free spin mode
Visually appealing graphics and symbols
Winning combinations from left to right and right to left
What we don't like
Playful sound design may not match the game's atmosphere
Not the only Hawaiian-themed slot available