Egyptian King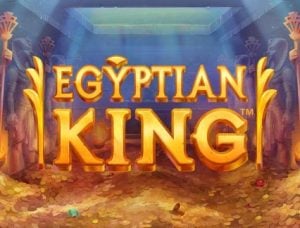 Get ready to travel back in time with Egyptian King, the 5-reel, 20-payline slot game that will transport you to Ancient Egypt. With a wide range of betting options, this game is accessible to both new and experienced players alike.
But what really takes this game to the next level is its four bonus features. When you trigger the Free Spins feature, be on the lookout for Golden Sticky Wilds. Not only do they stick to the reels, but they also come with multipliers up to 3x. That's right, you could potentially triple your winnings just by landing one of these bad boys.
And if that wasn't enough, the Random Wilds feature can add three or more wild symbols to the reels, increasing your chances of hitting a big win. The Pharaoh Respins feature is activated when the Amulet symbol appears on reels 1 and 5 simultaneously. Watch as these reels lock in place while the others spin, giving you a chance to hit even more winning combinations.
With all of these great features, it's no wonder that the Egyptian King slot game has quickly become a fan favorite. So go ahead and give it a spin, and who knows, you just might end up feeling like a pharaoh yourself.
Symbol Choices
The symbols used in Egyptian King incorporate ancient Egyptian mythology and include standard cards A, K, Q, and J. But come on, who wants to see those when you can have scarabs and cat gods? It's like ordering a salad when you can have pizza. The sacred symbols are the real MVP here, featuring Wadjet the cobra goddess, and Bastet the cat god. And if you're lucky enough to collect the Eye of Horus symbol, you'll get rewarded with 3, 7.5, or 25 times your bet. That's like finding a wad of cash on the street – except you don't have to share it with anyone.
The Pharaoh symbol is what everyone wants to see because it acts as the Wild. It even has a superpower to activate the Random Wilds feature, which is a fancy way of saying "we're about to give you even more chances to win big." The Pyramid symbol, on the other hand, is what triggers the Free Spins feature. You can't go wrong with Free Spins, especially when they come with Golden Sticky Wilds. It's like having a butler holding all the good symbols for you – you can just sit back and watch the winnings pile up.
Get Ready for Some High-Stakes Fun with Egyptian King: Volatility and Winning Potential
If you're looking for a game with high stakes, then Egyptian King might just be the slot for you. But be warned: this game is not for the faint of heart. With its highly volatile nature, players need a lot of luck to win big.
But for those brave enough to take the risk, the potential payouts are insane—up to 1,500 times your bet on each respin or free spin under the 3x multiplier. And the Free Spins feature has an overall bet of 8,752, so there's always a chance to hit it big.
Of course, with great potential rewards come great risks. The high volatility level and potential for big losses may not be suitable for all players. But if you're ready to take the chance, Egyptian King is waiting for you.
Just don't forget to practice safe gambling, folks. And by that, we mean always remember to bring your lucky charm. Whether it's a rabbit's foot, a four-leaf clover, or your trusty pair of lucky underwear, you never know what might give you the edge you need to strike it rich!
Device Compatibility
Let's talk about the elephant in the room, or should I say, the Sphinx! When it comes to playing casino games, nothing is more important than being able to play on your device of choice. With Egyptian King, you'll have no worries as it's compatible with all devices.
Whether you're lying in bed with your tablet, stuck in traffic on your phone, or pretending to be working on your computer, this game has got you covered. You won't need a special app or any crazy downloads, all you need is a web browser that supports HTML5 and everyone's favorite, Adobe Flash Player.
Plus, you won't have to worry about sacrificing quality for convenience. The game is optimized for mobile gaming, so you'll still be able to see the hieroglyphics in all their glory while spinning those reels.
So go ahead and play on your favorite device, just don't blame us if you get caught playing at work. After all, who needs productivity when you have the chance to be an Egyptian King?!
Theme and Aesthetics
Are you ready to embark on a journey to ancient Egypt and discover the secrets concealed within Egyptian King? This slot game is not only visually stunning, but also packed with fantastic features and non-stop entertainment.
The theme of Egyptian King is centered around the ancient pyramids and the history of pharaohs. The developers have done a fantastic job of capturing the essence of this time period, with symbols and imagery that blends seamlessly into the game design. The pyramids and tombs are immediate eye-catchers that make you feel you are embarking on an exciting adventure.
The graphics and animations are top-notch, and the sound effects are immersive, taking the player on an unforgettable journey. The golden hues and bold colors throughout the game set a fitting tone for the theme of ancient Egypt – it's not just a game, but a full experience for the senses. This isn't just a game folks, it's a virtual history lesson!
FAQ
What is the Egyptian King slot game?
Egyptian King is an online slot game with an ancient Egyptian theme, set inside a pyramid.
How many reels and paylines are there in the game?
The game has 5 reels and 20 paylines.
What is the minimum and maximum bet limit?
The minimum bet limit is $0.20, and the maximum is $20.00 per spin on all devices.
Are there any bonus features in the game?
Yes, there are 4 bonus features, including Free Spins, Random Wilds, Pharaoh Respins, and Golden Sticky Wilds.
What symbols should I keep an eye on in the game?
You should keep an eye on the symbols like Eye of Horus, the pharaoh, the Pyramid, and the Amulet symbols.
What is the highest-rewarding symbol in the game?
The Eye of Horus symbol is the highest-rewarding symbol in the game.
What is the Pharaoh Respins feature?
The Pharaoh Respins feature is activated when the Amulet symbol appears simultaneously on reels 1 and 5. With 3 respins assigned, extra wild symbols are randomly added on each respin, also in combination with multipliers up to 3x.
Is Egyptian King a highly volatile slot game?
Yes, Egyptian King is a highly volatile slot game, which means that you could win big, but it requires a lot of luck.
What we like
Offers multiple bonus features including Free Spins with Golden Sticky Wilds
Designed for compatibility with smartphones, tablets, and desktop computers
Immersive gameplay with appealing graphics and animations
High potential payouts for lucky players
What we don't like
A highly volatile game, not suitable for all players
May require a lot of luck to win big