Diamond Queen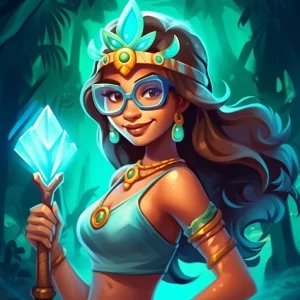 If you're tired of playing slots with predictable themes, Diamond Queen by IGT will be a breath of fresh air. The combination of diamonds and magic brings a touch of enchantment to your slot playing experience. The designers have created an elegant game with a stunning backdrop of an enchanted forest in shades of purple.
The game has a mix of classic symbols and symbols that are unique to the theme. The classic symbols are represented by colorful initials (A, K, Q, and J). The unique symbols include precious rings, scepters adorned with diamonds, scrolls, and coats of arms. But the real stars of the game are the characters. The wise wizard, young adventurer, and diamond queen herself add a magical touch to the game with their graceful movements and diamond-studded magic scepters.
It's not only entertaining to look at, but it also adds a bit of nostalgia to your gaming experience. Who doesn't want to feel like they're in a magical world while playing a game? Diamond Queen has definitely hit the jackpot in this area!
Gameplay and Paylines
When it comes to online slot games, Diamond Queen is as classic as it gets. With a 5 * 3 layout and 20 paylines, players can expect a traditional gameplay experience. Each game shows fifteen symbols in total, with five reels and three symbols each. But don't let the traditional aspect fool you – Diamond Queen still has plenty of tricks up its sleeve.
One of the features that sets this game apart is the Scatter symbol, represented by the words Mystical Diamond Bonus. Not only does this symbol allow access to the special feature, but it also provides an immediate win based on the number of symbols found on the game screen. And here's a fun fact: The Scatter symbol doesn't even have to be positioned on the same payline. So go ahead and jump for joy when you see those sparkling words pop up on the screen!
But what happens if you only find 2 symbols and can't access the bonus mode? Fear not, my slot-loving friend. You'll still receive a consolation prize equal to twice the value of your bet. It's not quite the diamond-studded palace you were hoping for, but it's certainly better than nothing.
Exploring the Special Features and Symbols of Diamond Queen
It's time to take a closer look at the special features and symbols that make Diamond Queen stand out from the crowd. First up is the Mystical Diamond Bonus, which is triggered by the Scatter symbol. Once activated, this feature rewards you with free spins and extra Wilds, which can be a real game-changer.
Speaking of Wilds, Diamond Queen has its own Wild symbol in the form of the Diamond Queen herself. This symbol can substitute for all other symbols (except the Scatter) to help create more winning combinations – kind of like having a helpful genie at your side.
Another exciting feature of Diamond Queen is its stacked symbols. This means that any of the symbols, except the Scatter, can appear stacked on the reels, increasing the chances of hitting that big win you've been dreaming of.
But what about the RTP, you ask? Well, Diamond Queen boasts a solid 96.08% RTP, which falls into the medium volatility slot category. So while you may not hit the jackpot on your first spin, you can be sure that there are plenty of opportunities to score some big wins along the way.
All in all, Diamond Queen is a fun and exciting slot game with plenty of special features and symbols to keep you entertained for hours on end. Plus, who doesn't love the idea of having a mystical queen and her shiny diamonds on their side?
Sound Effects And Music
Let's talk about the sound effects and music of Diamond Queen. First of all, let me address the elephant in the room. The game might not have background music, but do we really need it? I mean, have you ever tried listening to Adele's 'Rolling in the Deep' while spinning the reels of a slot game? It's a surreal experience that I highly recommend.
Okay, now that we've cleared that up, let's dive into the actual sounds of Diamond Queen. While there might not be a symphony orchestra playing in the background, the short jingles that accompany the animations fit perfectly with the game's magical and mysterious setting. They almost sound like the notifications of a fancy smartphone, but instead of telling you that your food has been delivered, they're letting you know that you've won some cash.
All in all, while the sound part might not be the most impressive aspect of Diamond Queen, it definitely gets the job done. And if you're feeling adventurous, feel free to put on some ABBA and see if you can sync your spins to 'Dancing Queen'.
How Does Diamond Queen Compare to Similar Slots?
Have you ever noticed how diamonds seem to make their way into so many online slot games? Sure, there's Reel Gems by Microgaming, and who could forget about the ever-popular Starburst from NetEnt… But if you're looking for something a little more magical and enchanting, Diamond Queen is the slot game for you. Because, let's be honest, what's better than combining the allure of diamonds with the excitement of fantasy?
Now, some of you may be thinking, 'But what about Da Vinci Diamonds? That game is all about diamonds, too!' And you're not wrong. But where Diamond Queen leans into its magical theme, Da Vinci Diamonds offers up a unique twist with its Renaissance art vibe. So, if you're a diamond-loving slot enthusiast looking for a little variety, you can't go wrong with either game.
All in all, there are a lot of diamond-themed slot games out there. But with each one putting its own spin on the coveted gem, there's something for everyone. And in the case of Diamond Queen, players get their fill of diamonds and a dose of enchantment all in one game. Now that's something to sparkle about!
FAQ
What is Diamond Queen?
Diamond Queen is a magical fantasy-themed slot game featuring diamonds as the main characters.
What are the graphics like in Diamond Queen?
The graphics in Diamond Queen are simple but effective, with a blurred purple background and symbols represented by initials and precious items like rings and scepters set with diamonds.
What characters can be found in Diamond Queen?
The characters in Diamond Queen include a wise wizard, a young adventurer, and the diamond queen herself.
Is there background music in Diamond Queen?
No, there is no background music in Diamond Queen, but there are cheerful jingles that match the magical and mysterious theme of the slot.
What is the game layout of Diamond Queen?
Diamond Queen uses the ubiquitous 5×3 layout with five reels showing three symbols each along the twenty paylines.
What is the Scatter symbol in Diamond Queen?
The Scatter symbol in Diamond Queen is represented by the words Mystical Diamond Bonus and can trigger the special feature and an immediate win based on the number of symbols found within the game screen.
What are some similar slots to Diamond Queen?
Similar slots to Diamond Queen include Reel Gems by Microgaming, Starburst by NetEnt, and Da Vinci Diamonds, which proposes the theme in its unique way.
Can Scatter symbols be on any payline in Diamond Queen?
Yes, Scatter symbols in Diamond Queen do not necessarily have to be positioned on the same payline to trigger a win or access the bonus mode.
What we like
Fantasy-themed slot with elegant design
Special features like free spins and stacked symbols
Magical atmosphere with diamond and enchantment theme
Medium volatility with a decent RTP
What we don't like
Lack of background music
Limited options for players who don't enjoy diamond-themed slots