Daltanious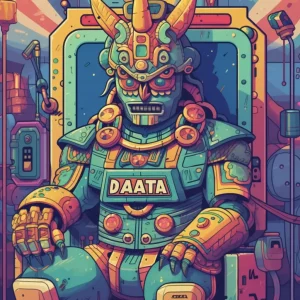 Daltanious is not just a typical slot game. It is a journey that takes you to the land of the mighty robots. The game is designed with 20 paylines, making it easy for players to hit the jackpot. As you play, you will come across different symbols, including letters, numbers, and iconic characters from the anime. Do you have what it takes to join the battle and emerge victorious? Time to spin those reels to find out!
The game offers players numerous bonus features that make the gameplay even more exciting. Some symbols act as wilds, increasing your chances of winning big. The Wild Symbol, acting as a joker, can help create winning combinations that result in prizes of up to 2,000 coins. Imagine having such a strong ally by your side during the battle.
And, that's not all! The game also features the Bonus Symbols, which are your path to the real thrill. When three Bonus Symbols land on any positions on the reels, you get ten free spins at the same bet as the valid last bet. With this, you can spin to win big without spending a dime. Sounds too good to be true, but it's not. Don't hesitate; try it out and see for yourself!
In conclusion, Daltanious is a game that will take you on an exciting adventure. The numerous bonus features, coupled with excellent graphics and sound effects, make the gameplay even more enjoyable. So, put on your hero's hat and join Daltanious in the battle. I promise you won't regret it.
Symbols and Payouts
Are you a fan of robots, aliens and adventures? Then you'll love the symbols and payouts offered in Daltanious! The game features classic alphanumeric symbols such as A, K, Q, J, and 10 as base symbols, but let's face it, the real fun comes from the highest-paying characters. You'll love seeing Dani Hibari, Kento Tate, and the supreme Kloppen symbol on the reels. Rumor has it, Kloppen is so powerful he can break through the screen and high-five you when you hit a winning spin.
But that's not all. The lion robot, Beralios, serves as the Wild symbol, so be on the lookout for him to complete any winning combination. And if you're lucky enough to land the mega robot Daltanious as the Scatter, get ready for some serious payouts. With the chance to win up to 750x your bet for a combination of five of the highest-paying characters or symbols, you might need to start making room for a new trophy case.
In conclusion, Daltanious not only offers exciting gameplay, but also some seriously fun and unique symbols and payout potential. So buckle up, put on your space helmet, and get ready for an adventure you won't forget!
Coin Sizes and Betting Limits
Are you a high roller or a penny pincher? Whatever your betting style, Daltanious has you covered. This game offers a wide range of coin sizes, from a single cent to a lofty 1.25 Dollars, giving players plenty of options to choose from. Whether you want to go all in or take it slow and steady, Daltanious has a betting level for you.
With a maximum bet limit of 25 Dollars per spin, you can really let it ride and go for broke. Just remember: with great risk comes the potential for great rewards. So if you're feeling lucky, why not give it a shot and see what kind of treasure awaits?
Of course, if you're not ready to go all out just yet, you can always dip your toes in the water and try out the game for free. After all, practice makes perfect, and with a game this fun, you'll want to be at the top of your game before you start wagering for real. So grab a beverage, sit back, and enjoy – who knows, you could be the next big winner!
RTP (Return to Player)
Are you ready for a moderately volatile game? Well then, Daltanious is the slot game for you! This game has an RTP of 93.21%. Now, I know what you're thinking… '93.21%, what does that even mean?' Simply put, the RTP is the percentage of all the money bet on the game over time that the game will ultimately pay back to players.
But don't let the moderate volatility scare you off! With some practice and a little bit of luck, Daltanious can be a great slot game to play. In fact, mastering the game's tricks and bonus features can positively impact your chances of hitting those big wins you've been dreaming of.
So grab a drink, get comfortable on your couch, and give Daltanious a spin. Who knows? You just might come out on top… or at least with a fun story to tell your friends about the time you almost won big on Daltanious.
Theme and Design
Daltanious is a superhero-themed slot game that will make you feel like you're a kid again. This slot game is inspired by a Japanese anime TV series and brings players a chance to immerse themselves in a nostalgic atmosphere. The game's unique cartoonish design is something you won't see in any other slot game, making it stand out from the crowd.
Are you a fan of robots battling with laser beams and missiles? How about cyborgs and aliens? If you answered yes to any of these, then you're going to love Daltanious. The game's symbols are all iconic elements from the anime series and are sure to bring a smile to your face.
The graphics and animations of Daltanious are fantastic and complement the game's theme exceptionally well. It's like you're watching an episode of the anime series come to life on your screen. You'll be blown away by the attention to detail that went into creating this game.
Overall, Daltanious is a great choice for anyone who loves anime or superhero-themed slot games. You'll have a blast playing this game and reliving your childhood memories. So, what are you waiting for? Suit up and get ready to save the world with Daltanious!
FAQ
What is Daltanious?
Daltanious is a slot machine themed around a 1979 Japanese anime TV series. It features symbols such as robots, cyborgs, and aliens, offering players a chance to win big while immersing themselves in a nostalgic atmosphere.
What are the bonus features of Daltanious?
Daltanious boasts numerous bonus features, with some symbols serving as wilds or triggering free spins. The Wild Symbol helps create winning combinations resulting in prizes of up to 2,000 coins, and three Bonus Symbols awards the player ten free spins at the same bet as the valid last bet.
How do I win at Daltanious?
To win at Daltanious, you need to line up at least three identical symbols on adjacent reels, starting from the leftmost column, to get cash prizes, which can go up to 2,000 coins. The slot's symbols include letters and numbers and various characters and elements from the anime, with the former associated with more frequent but lower prizes, while the latter offer higher rewards.
What is the maximum bet at Daltanious?
You can bet on coin sizes between one cent and 1.25 Dollars up to a maximum of 25 Dollars per spin.
What is the RTP of Daltanious?
Daltanious has an RTP of 93.21%.
What are the highest-paying characters in Daltanious?
The highest-paying characters in Daltanious include Kento Tate, the protagonist, and the pilot of the Antares robot, valued at 750x the bet for a combination of five, and the supreme Kloppen symbol that also pays the same amount.
What is the Wild Symbol in Daltanious?
The lion robot, Beralios, serves as the Wild Symbol in Daltanious.
What is the Scatter Symbol in Daltanious?
The mega robot Daltanious serves as the Scatter Symbol in Daltanious.
What we like
Multiple bonus features for increased excitement
Free spins triggered by landing bonus symbols
Unique and nostalgic anime theme
Fantastic graphics and animations
What we don't like
Moderately volatile gameplay
Limited betting limits