Crown of Egypt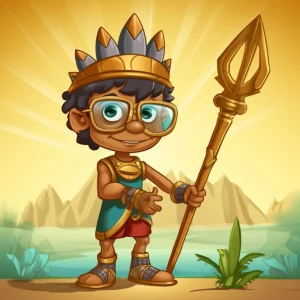 Crown of Egypt is an online video slot game inspired by the ancient Egyptian civilization. If I had to describe it in one word, I would say that it's "mummifying." Get it? Because it's about ancient Egypt? I crack myself up…
Anyway, back to the game. It has 5 reels, but get this – a whopping 1024 paylines! That's more paylines than there are grains of sand in the Sahara Desert. Okay, maybe not quite, but it's still a lot. And the best part? You can play it for free at IGT. So you can keep your own treasures safe instead of having to offer them up to the pharaoh.
When you first open the game, you'll notice that the screen is framed by golden columns decorated with precious hieroglyphs. You'll feel as though you've been transported back in time to the land of the pyramids. Just be careful not to wake any curses while you're playing. You don't want to end up like those adventurers in the movies who always end up regretting their decisions.
Gameplay
The Crown of Egypt slot game is a gem in the world of online gambling. You don't have to download anything, just simply start playing with the option of using one to thirty coins per spin. The best part? You can use the Auto Spin feature which allows you to play up to a thousand automatic plays so you can sit back, relax and watch the winnings pile up.
If you're looking for a game with a magnificent return to player (RTP), Crown of Egypt boasts a 95.03% RTP so you can expect to have a fair chance at winning. Speaking of winning, the game has a whopping 5000 coins jackpot at stake when you bet the maximum amount. That's enough coins to buy yourself a decent-sized crown, don't you think?
Winning Combinations
If you are a fan of winning big, Crown of Egypt will be your new go-to. With an incredible 1024 winning combinations per spin, it's no wonder players can't get enough of this game. This magical slot also features a unique MultiWay Xtra feature that allows spinning from both sides! I mean, who doesn't want twice the opportunity to win? With the Wild symbol that replaces any symbol to make the winning combination even better and a Scatter symbol represented by a pyramid, you'll be feeling like an Egyptian pharaoh in no time. We just hope the riches don't end up in a museum- that would be a mummy mistake!
With so many ways to win, it's no wonder why Crown of Egypt is so popular. It's a true spectacle for the eyes as you spin the reels adorned with majestic symbols from ancient Egypt. It's time to put on your explorer's hat, grab your magnifying glass, and play like an archaeologist- after all, it's all about discovering treasure, right?
Bonus Features: Get Ready to be Crowned in Riches
The Scatter symbol in Crown of Egypt is the lifeline that can make all your dreams come true. As the game progresses, the Scatter symbol ignites the Free Spins mode and opens up a treasure trove of possibilities for all you treasure-hunters out there.
If you're looking for a slot game that can keep you on your toes, then Crown of Egypt is the game for you. With its multiple bonus features, players can collect enough symbols to unlock the elusive Paytable feature. Once unlocked, you can check your winning combinations and see how that can add to your winnings. It is a slot game that guarantees endless opportunities to win big.
If there's one thing that Crown of Egypt does not skimp on – it's entertainment. The bonus features are exciting and add an entirely new dimension to the gameplay. You'll be blown away by the level of action that takes place when wild and free spins features are activated.
If Lady Luck is on your side, the bonus features and amazing graphics of Crown of Egypt will make your gambling experience even more enjoyable. Are you ready to take a spin on the Crown of Egypt? Put on your best explorer hat and get ready to be crowned in riches!
Limit Your Limits with Crown of Egypt Betting
Are you ready to embark on a journey of Mummy proportions? Crown of Egypt is the slot game that you've been waiting for. In this game, you'll travel to ancient Egypt, the land of pharaohs, sarcophagi, and of course, gambling.
But, hold on for a moment. Before you start playing, it's important to know what the limits are on your bets. The betting limits on this game are quite low. The maximum you can bet is only 2.40$! It doesn't matter how much treasure the pharaohs have buried in their tombs, you won't be able to bet more than this amount.
However, in every negative, there's a positive. Beginners will love the game's restrictions as it allows them to enjoy the game without risking too much money. More experienced gamblers may feel bored with such low limits. But, who says that life is all about gambling? You can still enjoy the game's hidden treasures and symbols, even if you don't bet the maximum amount. So, our advice for experienced players is to take things slow and enjoy the game at your own pace.
So, the bottom line is simple. Before you start betting real money on Crown of Egypt, try out the free demo mode. It's better to know what you're getting into before you start betting big. Remember, the pyramids weren't built in a day, and neither was a slots legend. Happy playing!
FAQ
What is Crown of Egypt?
Crown of Egypt is an online video slot game inspired by the ancient Egyptian civilization.
How do I play Crown of Egypt?
The game has 5 reels and 1024 paylines and can be played using one to thirty coins per spin. You can also use the 'Auto Spin' feature to play without any interference.
What is the jackpot for Crown of Egypt?
There is a 5000 coins jackpot at stake on your total bet and an RTP of 95.03%.
What symbols should I pay attention to in Crown of Egypt?
You should pay attention to the Wild symbol (which can replace any symbol), the Scatter symbol (which starts the free spins bonus), and the MultiWay Xtra feature (which allows you 1024 winning combinations per spin).
What is the maximum betting value for Crown of Egypt?
The maximum betting value for Crown of Egypt is only 2.40$.
Is Crown of Egypt a good game for experienced players?
For experienced gamblers, the betting limits may be too low.
Is Crown of Egypt a good game for beginners?
Yes, for less experienced players, the game is full of hidden treasures and symbols just waiting to be discovered.
Is there a free demo mode for Crown of Egypt?
Yes, players can try Crown of Egypt for free in demo mode to get familiar with the gameplay.
What we like
1024 winning combinations per spin.
MultiWay Xtra feature allows for rotation from both sides.
Auto Spin feature allows up to 1000 automatic plays.
Free online availability at IGT.
What we don't like