Crazy Wizard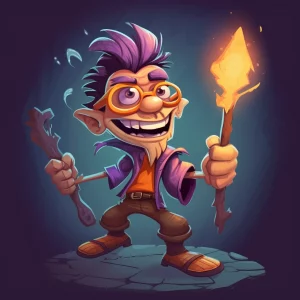 Buckle up and get ready for some wild wizardry with Crazy Wizard! This 5-reel, 3-row online slot game is packed with 10 fixed paylines for some fantastical fun. Your mission is to land at least three identical symbols adjacent from left to right to win. It's like casting a spell, but with more coins and less wand waving.
But don't worry, you won't need to break the bank to play. With a betting range from $ 0.10 to $ 20, you're sure to find a sweet spot that suits your bankroll. And if you're feeling particularly lazy today, we recommend setting the automatic spins to between 10 and 50. With win and loss limits included, you can relax and watch the magic happen without even lifting a finger.
So grab your pointy hat and robes, and get ready for a crazy ride with the lovable wizard himself. Who knows what kind of spells he'll cast and what kind of winnings you'll rack up? One thing's for sure: this game will leave you spellbound for hours on end.
Graphics
If you're a fan of fantasy themes, then Crazy Wizard slot game is definitely worth checking out. The graphics in this game are nothing short of excellent. The black texture with flames in the background will transport you to a mystical world in no time.
The animations that follow wins and activate the Free Spins feature are entertaining, and they will leave you amused and ecstatic, fist-pumping to the glory of your achievement. The game's music is upbeat without being distracting, perfect for complementing the gameplay. However, if you prefer to concentrate on the reels without any accompanying sounds, you can always turn off the audio in the menu.
The paylines are conveniently indicated on the sides of the screen, while at the bottom, you'll find the balance, winnings, token value, and total bet divided into sectors. The Start and Autoplay buttons are easily accessible, making it easy to engage in an uninterrupted gaming session for hours.
This game's graphics are genuinely impressive, and they will keep you glued to the screen for hours on end. The animation and sound effects are the cherry on top, making the playing experience incredibly immersive. So if you're a fan of great graphics and engrossing gameplay, the Crazy Wizard slot game is the perfect choice.
Bonus Features: Spellbinding Fun & Wins!
If you're itching for more riches and excitement, then the Bonus Features of Crazy Wizard are absolutely worth checking out! The game's Wild symbol is none other than the wizard himself. Not only does it pay handsomely, but it can also replace nearly all other symbols except for the Scatter. Plus, every time the wizard lands on a winning line, your payout doubles! Talk about casting a winning spell!
The dragon, on the other hand, is the Scatter symbol which can unlock a treasure trove of free spins. Three of these scaly wonders unlock a set of ten free spins. Want more? Then you'll need at least four dragons for 20 free spins, or five for 30 free spins! And during each free spin, 2, 3, or 4 regular symbols are magically replaced with Jolly symbols, which could create even more wins! The best part? You can even reactivate more free spins during the bonus game in the same way!
Go ahead and channel your inner Merlin and the power of free spins and Wilds for a chance to win up to 250 free spins. With that many free spins, you'll need some serious spell-casting stamina! So give Crazy Wizard a spin, and see if you can conjure up some big wins and riches!
Symbols
Prepare to craft some magical wins with Crazy Wizard's spellbinding symbols! You'll find a total of 10 symbols, including 6 low-level and 4 high-level, and 2 special ones – but don't worry, the playing cards from 10 to ace are worth less than all of them! The lower-level symbols consist of an ampoule, candle, magic sphere, and spellbook, all used in the wizard's craft. Just like a real wizard, the game features a powerful and paying Wild symbol – none other than the wizard himself! This mystical and wise old man can replace all symbols except the Scatter to create some truly enchanting wins. Not only that, but if the wizard appears in a paying line, it doubles the winnings! Talk about a wise investment of your time.
As if that wasn't enough magic, you can summon the dragon Scatter symbol to fly in and grant you some major wins. Who needs a knight in shining armor when you have a dragon on your side? Maybe you'll even get lucky enough to re-trigger the feature and level up your winnings even further. Whether you're a seasoned wizard or just starting, Crazy Wizard's symbols will beckon you to harness the magic within and emerge victorious!
RTP Value:
Are you ready to dive headfirst into a world of magic and mayhem? Then Crazy Wizard is the perfect online slot for you! With an RTP value of 96.56%, this game offers you the chance to have fun while also potentially winning big.
This is not your ordinary game reserved for mere mortals. Oh no! This game has enough wizardry to put even the most experienced gamers under its spell, offering an experience that will keep you hooked for hours on end. So if you think you're ready to mix it up with some crazy wizards and their wacky spells, then Crazy Wizard is the game for you.
56%, you have a fair shot at hitting that big win and summoning up some major loot. So why not give it a spin and show those wizards who's boss? They may be crazy, but you're crazier! And with Crazy Wizard as your trusty sidekick, you'll be unstoppable. This game is a true gem, and with its respectable RTP value, you can be sure that you're in safe hands.
FAQ
How many paylines does Crazy Wizard have?
Crazy Wizard has 10 fixed paylines.
What is the minimum and maximum bet for each spin?
The minimum bet is $0.10 and the maximum bet is $20.
What is the RTP of Crazy Wizard?
The RTP of Crazy Wizard is 96.56%.
What are the special symbols in Crazy Wizard?
The special symbols in Crazy Wizard are the wizard, which is a paying Wild symbol that doubles winnings, and the dragon, which is the Scatter symbol that triggers free spins.
How many free spins can I activate with the dragon Scatter symbol?
With the dragon Scatter symbol, you can activate 10, 20, or 30 free spins depending on how many symbols you land. You can also reactivate free spins during the bonus game, up to a maximum of 250 free spins.
What is the autoplay feature in Crazy Wizard?
The autoplay feature allows you to set between 10 and 50 automatic spins, including some win and loss limits. In the event of a jackpot being awarded, the spins will automatically stop.
What is the maximum token value in Crazy Wizard?
The maximum token value in Crazy Wizard is $2.
What is the rating of Crazy Wizard?
Crazy Wizard is rated 7 out of 10 for its excellent graphics and enjoyable gaming experience, but slightly lacking bonus system.
What we like
Excellent graphics with a fantasy theme
Wide betting range from $ 0.10 to $ 20
Exciting bonus features with free spins
High RTP value of 96.56%
What we don't like