Coin-O-Mania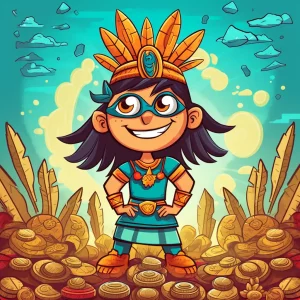 If you're looking for a slot game with a playful and adventurous theme, look no further than Coin-O-Mania. With 5 reels, 4 rows, and 40 paylines, this game has plenty of ways to win big. It's like being on a treasure hunt, but without all the dangerous pirates and scurvy.
The game has a cartoonish atmosphere that's perfect for a player who wants to enjoy slots without the stress of intense graphics. The symbols are colorful and well-designed, and the animations are smooth and entertaining. You can have fun just watching the reels spin! And with multipliers up to 21 times your bet, you can watch your winnings pile up too!
Join the crew on an adventure to hunt treasure, and don't forget to bring your lucky charm. The game is easy to understand, so even if you're new to slots, you'll be quickly caught up in the excitement. So, hoist the sails and get ready to set sail into the world of Coin-O-Mania!
Gameplay Features
Coin-o-Mania is proof that IGT knows how to make slots that can transport you from your room to the gaming floors of Las Vegas. The colorful and vivid world in this game is perfect for anyone looking for some excitement and good vibes. It may not be the most realistic slot out there, but that's kind of the point isn't it?
Despite being cartoonish, Coin-o-Mania's graphics are sharp and detailed, making it a pleasure to play on any device. If you're expecting something on par with a Pixar film, then you might want to lower your expectations a little bit.
Now for the fun part – the features. Coin-o-Mania boasts a Wilds Mania feature that lets you multiply your bets up to 20 times. Who doesn't like to multiply their winnings right? And then we have the free spin bonus feature that lets you spin the reels again without spending any more money. It's like hitting the jackpot twice! And last but not least, you can also unlock a treasure chest filled with gold coins. If you're lucky enough, the chest could be yours.
Symbols and Payouts
The thrill of the high seas is the perfect backdrop for this swashbuckling adventure in Coin-O-Mania. You'll find yourself lost in the gameplay as you help the crew search for treasure on the reels. The pirate theme is on point with wooden reels and symbols including sabers, telescopes, anchors, cannons, parrots, and of course members of the crew.
But watch out for the captain of the ship, this symbol is the highest paying and can land you a big payout of 3 times your bet if you manage to land five on a payline. The game has an impressive RTP rate of 96%, and with a maximum win of 1,147x your bet, you might just come away feeling like a pirate who has hit the jackpot!
With Coin-O-Mania, multipliers are your best friend, increasing your already substantial rewards. You're in for a wild ride playing this game, just be sure to hold onto your hat and watch out for those sneaky wild symbols!
Unleash the Wilds Mania with the Free Spin Bonus Feature
Get ready to unearth some serious treasure with Coin-O-Mania's free spin bonus feature. Not only does it offer players the chance to spin the reels on the house, but they could potentially stack up as many as 600 free spins! What's not to love about that?
So, how do you activate this generous feature, you ask? Well, scoring three, four, or five treasure chest symbols on a payline will do the trick. And once it's triggered, be prepared for an explosion of Wilds Mania that could lead to some major payouts.
But that's not all – the treasure chest symbol also comes with the potential to unlock gold coins, which can further increase your winnings. This is definitely a bonus feature not to be missed. We would even go as far as to call it the icing on the cake of the Coin-O-Mania experience.
With all of these exciting elements combined, it's no wonder so many players keep coming back for more. The free spin bonus feature adds even more thrills and excitement to this already action-packed game. So what are you waiting for? Spin those reels and let the good times roll!
Wilds Mania Feature
If there's one thing that players love about online slot games, it's the generous payouts that come with some of the bonus features. In Coin-O-Mania, there's a special feature that could potentially boost your winnings by up to 20 times their original value!
The Wilds Mania feature is triggered when you deposit five gold coin symbols in the spaces beneath the reels. These coins will then magically transform into Wilds, giving you a higher chance of hitting a winning combination. And if that's not enough, the coins also come with multipliers of up to 20x attached to them, so you can really see your winnings pile up!
Of course, you're going to want to activate this feature as often as possible. Fortunately, the Wilds Mania feature occurs quite frequently in the game, bringing even more excitement to your gameplay. So, whether you're a seasoned player or a newbie to the world of online slot games, the Wilds Mania feature is definitely something you won't want to miss!
FAQ
How many paylines does Coin-o-Mania have?
Coin-o-Mania features 40 paylines.
What is the maximum win in Coin-o-Mania?
The maximum win in Coin-o-Mania is 1,147x your bet.
What is the RTP of Coin-o-Mania?
Coin-o-Mania has an RTP of 96%.
How many free spins can you get in Coin-o-Mania?
Coin-o-Mania's free spin bonus feature can award players up to 600 free spins.
What is the Wilds Mania feature?
The Wilds Mania feature is where gold coin symbols transform into Wilds and activate the feature, with multipliers that are attached to the coins.
What kind of symbols do you find in Coin-o-Mania?
You will find various symbols such as sabers, telescopes, anchors, and cannons, a parrot, members of the crew, and a pirate ship.
What is the most valuable symbol in Coin-o-Mania?
The captain of the ship is the most valuable symbol and pays out 3 times your bet when you land 5 on a payline.
How does Coin-o-Mania differentiate itself from other pirate-themed games?
Coin-o-Mania has unique features like the Wilds Mania and the possibility of unlocking the treasure chest with its gold coins.
What we like
Colorful and cartoonish graphics
Smooth performance on desktop and mobile
Wilds Mania feature with up to 20x multipliers
Possibility of unlocking a treasure chest with gold coins
What we don't like